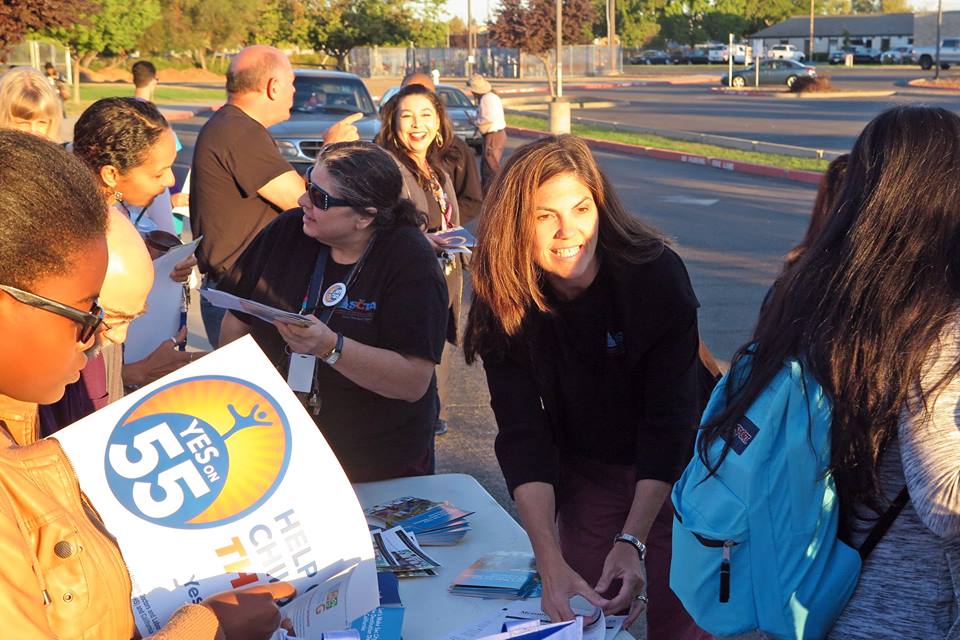 Educators in the Sacramento Unified School District have been working without a contract since last December. After 12 bargaining sessions, the Sacramento City Teachers Association has yet to reach common ground with the district. They've had one big success on the issue of testing -- going forward, and even as bargaining continues, there will be no testing in the district beyond what is mandated by the state or federal government. But the list of what they want to accomplish for their students is long and the bargaining team says its determined to win everything they have proposed to improve student learning conditions.
"Our goal is to make Sacramento a "the destination district" that families want their kids to attend," says Nikki Milevsky, President of the Sacramento City Teachers Association. "We are on the verge my making huge improvements to our schools and forcing the district to prioritize our students."
In addition to some bread and butter issues related to professional development and salary, the bulk of the bargaining team proposals are focused on students and include lowering class sizes, making arts, music, and physical education available to all students in the district, allowing for more inclusionary practices for students with disabilities, increasing the number of school nurses, psychologists, and other program specialists consistent with national standards, developing an early intervention program, and implementing a resourced, bottom-up restorative practices culture throughout Sacramento's public schools.
The district has so far rejected every single proposal.
"We are ready to stand united with students, community and educators in Sacramento and throughout the region," Milevsky said. At their last bargaining meeting January 30, SCTA hosted NEA Secretary-Treasurer, Princess Moss and a delegation of four local presidents and from Reynolds, OR, Beaverton, OR, Salem-Kaiser, OR, and Anchorage, AK, in a show of union strength and solidarity.
"We wanted to show the district that we have the strength and numbers of the entire NEA behind us and the whole country is watching," Milevsky says.
A Different Dynamic
Over the course of the bargaining campaign, SCTA worked hard to engage more community and union members in the process and to make sure all stakeholders had a voice and were able to advance their concerns. The bargaining team grew from 10 members to over 50 members present at the bargaining table. Now educators who have questions about the campaign can walk down the hall to ask the team member in their school rather than having to call the SCTA office. Also, if a specific issue comes up, there is someone on the bargaining team present to speak to the issue, instead of delaying negotiations or relying on the district's misrepresentation.
"With the new bargaining team it's a different dynamic – not only is the process now more transparent with more communication through widely dispersed team members, the team itself is also far more diverse in terms of age, race and gender." Milevsky says.
It's also more diverse in terms of job categories, allowing more voices to be heard, like that of Nafeesah Young is an early career school psychologist who now sits on the SCTA bargaining team. The concerns she and other eight-hour employees like counselors and social workers deal with weren't specifically addressed in the last contract, so she decided to speak up.
"As a school psychologist, you often feel like the needs of the teachers overshadow the needs of other members in the union because, let's face it, they have the numbers," Young says.  "I decided to join the bargaining unit because I felt working for the change I want to see is more beneficial than complaining at a roundtable with a group of colleagues. I'm hopeful that my participation in the bargaining unit, and the SCTA's willingness to present all our concerns, will show the district that psychologists are more than test givers and report writers."
Young believes everyone should get involved in the process by supporting the bargaining team and by supporting the union. Not everyone has the right, she says, and those who do are fortunate to have a voice.
"If you don't participate in your local association, you won't have a voice and decisions will be made without you," Young says. "Participation in bargaining and your local union is not something that should be taken for granted, whether you're a first year educator or knocking on the door to retirement.   Things in this country are changing and it is important for us to maintain our unions, keep them strong, and get involved."
Proposition 55
For the first time, their bargaining team also includes community members, like Carl Pinkston, from the Black Parallel School Board. Pinkston has a long history as a local Sacramento community activist and understands the value of deep engagement between local unions and the community. "When we are talking to one another we are able to identify and strategize how to address key issues affecting our students, instead of being played against one another."
According to Milevsky, the district has been pushing back on SCTA's proposals based on economics, but he says the facts don't back up their position. The Sacramento City Unified School District is in the best financial position it has ever been in its entire history, she says. For starters, SCTA members helped pass Proposition 55, a ballot proposition to continue taxing the rich at a higher rate to raise billions of dollars for public schools and health care.  Also, in its approved budget for 2016-17, the district began the fiscal year with $97 million total in its reserve fund, which is $48 million more than originally projected.  The district ended the 2015-16 year spending about $35 million less than projected in their final budget, while students attended classes often without a fully credentialed teacher leading instruction.
If no progress is made by April, SCTA and its members are prepared to strike – for only the third time since the union was founded in 1921.
"The whole community is prepared to move into action" says Milevsky. "Our city is the state capital of California, the world's sixth largest economy, and is one of the most diverse cities in the country; Sacramento must become the destination district for California."
Learn More
Stay Informed We'll come to you
We're here to help you succeed in your career, advocate for public school students, and stay up to date on the latest education news. Sign up to stay informed