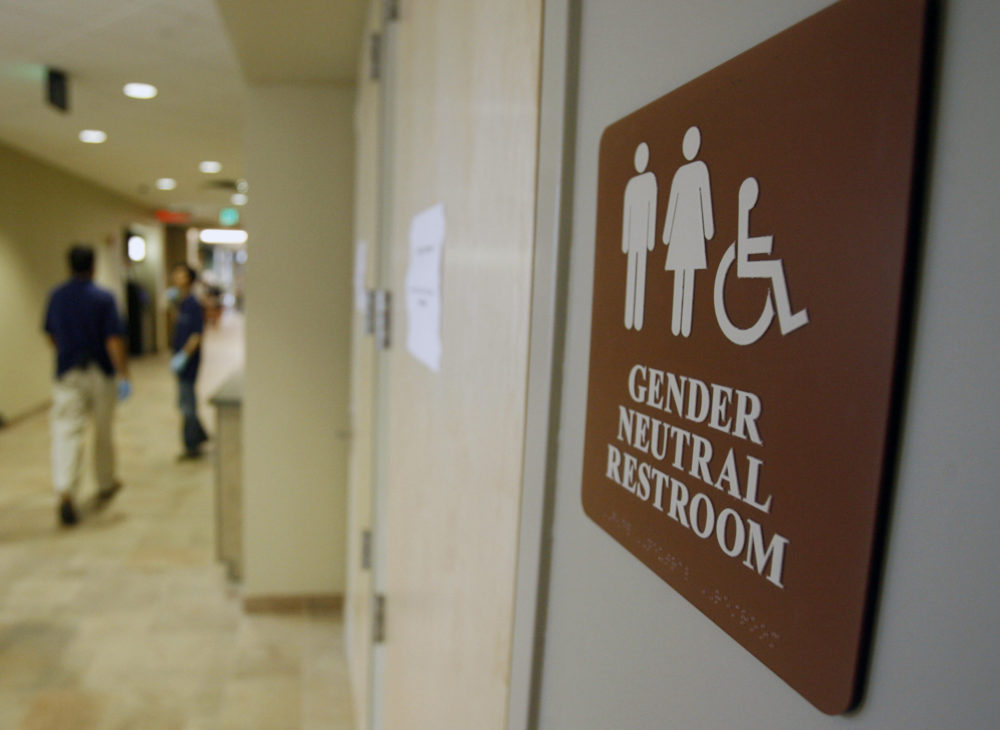 (AP Photo/Toby Talbot, File)
This year's legislative session saw a wave of anti-transgender state bills all across the country. Ten states introduced 21 anti-transgender bills, many of which have been defeated or are pending final votes. In November's general election, Massachusetts voters will have the power to strike down an anti-transgender ballot initiative. Overall, these bills and ballot measures limit people from accessing health care and updating identity documents, as well as create special exemptions that discriminate against the LGBTQ+ community. Despite these efforts, the fight for equality remains strong.
In Alaska, voters in Anchorage defeated a ballot measure that would have allowed strangers to demand to check a person's "sex at birth" before allowing access to certain restrooms and public facilities. On the opposite side of the county, the Maine House of Representatives passed legislation to protect LGBTQ+ youth from the discredited practice of "conversion therapy."
While voters and legislatures nationwide continue to push for more LGBTQ+-friendly policies, many educators are taking action in different ways.
Lindsay Buck, a special education department chair and teacher for Lawrence High School in Kansas, sponsors the Total Equality Alliance, the school's version of Gender and Sexuality Alliance (GSA) clubs. At Lawrence, educators are creating affirming/welcoming schools by, for example, normalizing gender pronouns. Educators are making it common place to ask and share gender pronouns and to never assume pronouns, explains Buck.
"Just because society says there's 'feminine' and 'masculine' pronouns, doesn't mean they should be used or assumed. Some folks use pronouns other than she/her and he/him, and feel more comfortable in the they/them area," she says.
Supporting students' gender pronouns goes along way. "This lets non-binary and transgender students know you're an ally."
As a sponsor of Lawrence's Total Equality Alliance, Buck meets weekly with LGBTQ+ students and allies. Her goal is to ensure students have access to student resources and support.
This support comes at a critical time for the LGBTQ+ community. The Human Rights Campaign (HRC) Foundation released on Tue., May 15 the findings of their 2017 LGBTQ Teen Survey, a new survey conducted in partnership with the University of Connecticut of 12,000 LGBTQ+ teens. The survey explored the experiences, health and wellbeing of LGBTQ+ teens across the country and underscored high levels of anxiety, fear, and rejection LGBTQ+ teens face in places that should be safe areas: home, school, social settings, and their communities.
"I'm a member of the LGBTQ+ community myself," says the educators of 11 years, "and I know from experience what it's like to not have a support system in place. I want my students to know that they can be their authentic selves, and that they can be successful and have careers and families."
Affirming and Welcoming Schools
The effort toward being an affirming/welcoming school has been well received by many at Lawrence. In fact, the school district, after hearing from their own LGBTQ+ advisory committee, took a stance to add gender expression to their non-discriminatory policies, after previously adding sexual orientation and gender identity.
Additionally, the district directed schools to move away from gendering activities, such as designating a "Queen" and "King" at homecoming events. Now, 12 students are selected to court. Of the 12, two are selected "Royalty," regardless of identity.
"It could be two people who identify as male or it could be a female student and a non-binary student, for example," says Buck. "Before, non-binary and transgender students felt they weren't a part of homecoming or that it wasn't even an option to be on court. Now everyone has an opportunity to participate without the fear of being discriminated against based on identity or expression."
Thousands of NEA members, like Buck, serve as GSA advisors in their schools.
At Hale-Dale Middle School and High School in Farmingdale, Maine, school counselor Tara Kierstead helped students set up a GSA in 2013 and says, "[S]tudents find it a comfortable space to meet and talk. They do not seem ready yet to become highly visible advocates for LGBT rights, but when they're ready, I will be right there to support them."
If students are interested in creating a GSA, Kierstead suggests using the GLSEN start-up kit.
Kansas's Lindsay Buck says that even if you're an educator in a conservative area or are grappling with wanting to have a safe and inclusive school, educators can still show support by wearing a button with your gender pronouns or a rainbow flag. Small gestures of support "communicate that you're a safe person who students can talk to."
While some teachers feel out of their comfort zone or are not quite there in their understanding of the LGBTQ+ community, Buck suggests to challenge your beliefs, assumptions, and expectations about the world.
"Research and interact with others who don't necessarily share your beliefs or your way of thinking," Buck says. "You can also seek resources, like GLSEN or NEA Ed Justice, to learn how you can be an affirming and inclusive teacher."
Educators are uniquely positioned to address these issues and work towards creating a safe, supportive and affirming school environment for LGBTQ+ students.
Educators can start by taking The Pledge to support LGBTQ+ equality. There's also Gender Spectrum's The Gender Inclusive School guide, which looks to expand the approaches educators can take to help all students feel safe within their schools or classrooms.
Additional Resources: Human Rights Campaign Foundation's 2017 LGBTQ Teen Survey, Schools in transition Guide, What Do You Say?, Legal guidance on transgender students' rights, GLSEN's Model Laws and School Policies, and How to Support LGBTQ by starting a GSA.
Stay Informed We'll come to you
We're here to help you succeed in your career, advocate for public school students, and stay up to date on the latest education news. Sign up to stay informed