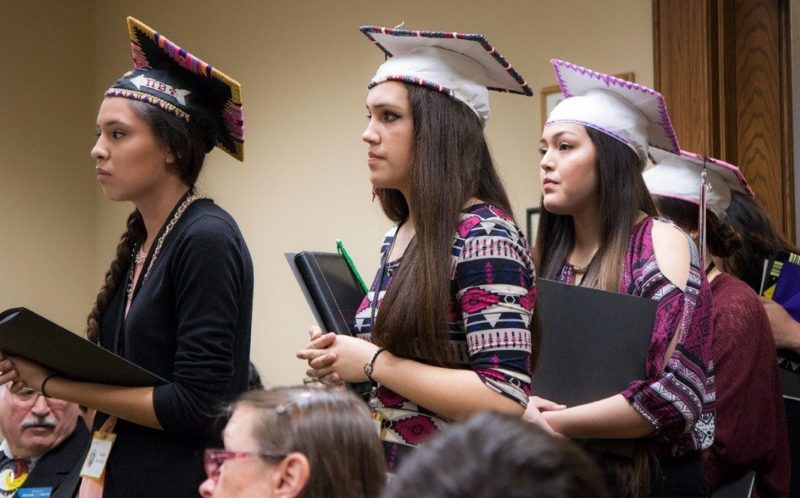 In 2015, Christian Titman, a Native American student at Clovis High School near Fresno, California and member of the Pit River Tribe, was denied his request to wear an eagle feather at his high school graduation ceremony. What's more, he was told by district officials that if he did wear the feather during his walk across the stage he would not graduate nor receive his diploma until he completed summer school and a designated amount of community service hours.
Mary Levi, president of NEA American Indian/Alaska Native Caucus, says wearing an eagle feather symbolizes the strength it took to reach the milestone and represents the strength and power of an eagle soaring through life, which is what native youth take with them as they continue on to the next stage in life.
"You don't turn your back on that. When you walk across that stage, you're not only proudly representing yourself, but your family, extended family and your tribe," explains Levi.
With Native students having the lowest graduation rates among any student demographic in the United States, Native Americans see high school graduation as a significant achievement in a youth's life.
Bring up eagle feathers for graduation, and you're told you're just remembering the past. But it's very present. The reason why these students need to represent their cultures is to show others and themselves that they are still here today" - Mary Levi, NEA American Indian/Alaska Native Caucus
Milestone ceremonies are inextricably linked to Native identity. In a ceremony, Native Americans offer a prayer and typically wear an eagle prayer feather, beads or other Native regalia, on their head or in their hair throughout the ceremony. To be given any such items to wear during a ceremony is considered an absolute honor.
By wearing these symbols, students honor those who have supported them through prayer and guidance. That's why most Native American students want to participate in their high school graduation ceremony wearing cultural items in their hair or on their graduation cap.
But like Christian Titman, most are prohibited from doing so. Districts enforce a strict dress code that prevent students from wearing anything other than school colors and graduation symbols that the districts provide "to give everyone a level playing field," says Levi.
Titman and his family turned to the California Indian Legal Services, the Native American Rights Fund and and the ACLU of Northern California for assistance. The family reached a settlement with district that allowed Titman to to wear the eagle feather in his hair during the entire ceremony and attach the feather on his cap for the traditional tassel turn.
Students should never have to to go to such lengths to celebrate and display their cultural heritage, says Levi.
"Bring up eagle feathers for graduation, and you're told you're just remembering the past. But it's very present. The reason why these students need to represent their cultures is to show others and themselves that they are still here today," Levi explains.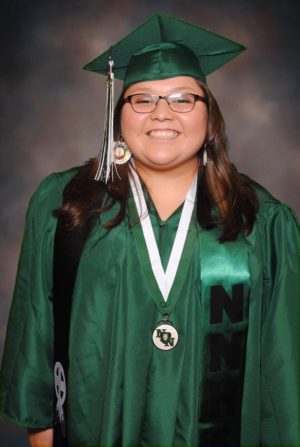 Skylar Ash in her graduation photo.
'I Stood For All These Kids'
In Oklahoma, Choctaw tribe member Skylar Ash proudly walked across stage with a beaded cap on her head to receive her high school diploma from Norman North High School. As a junior, she had watched a senior seek permission to bead her cap for graduation and was denied; and, because of this Ash made it her goal to graduate with a beaded cap.
It was one of the most significant moments in her life.
"I was one of the few in my family to receive a high school diploma. It was important to me to show this part of myself," says Ash. "To bead my cap was representing all those who didn't get to graduate before me, showing that we can overcome struggles. I was not going to take no for an answer."
With the help of English teacher Patricia McDaniels-Gomez, Ash coordinated a meeting with the principal and discussed the situation with him, asking for his approval.
"I told my principal 'You're about representing your students and these beads represent me,'" says Ash. "'It is not decoration, to flaunt. In any ceremony, it's part of us as Natives. I'm not going to use crazy colors. I'll be using our school colors. It's respecting myself, family, and elders, and it's also a dedication to those who couldn't get to this point.'
The principal then suggested that Ash write a letter to the Director of Secondary Education of Norman Public Schools to ask permission. In her letter, Ash explained how she was the first generation in her family to be accepted to college, and that she is very involved in her culture. The Secondary Director approved her request and granted permission to all other Native students to be able to wear cultural items at graduation.
"I went through it not only asking for myself, but for all of my Native American peers," says Ash. "I walked on that stage caught up in the moment, but afterwards it hit me—I stood for all these kids and we made it!"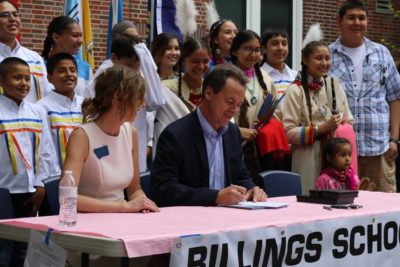 Montana Governor Steve Bullock signs Senate Bill 319 into law at Billings Senior High School.
A Milestone in Life
This year, Native students in Montana won a big victory with the passage of Senate Bill 319. In April, a group of Native high school students testified at a Montana Legislature hearing that would determine the outcome of the bill, which allows Native American students to wear traditional regalia and objects of cultural significance, including feathers and beads, at graduation ceremonies. On May 20th,  the bill passed and Governor Steve Bullock signed it into law at Billings Senior High School.
"SB 319 allows for us to showcase a part of our Native American culture, and take pride in the fact that as Native students we have accomplished a huge milestone in life," said Georgeline Moresette, a senior at West High, in a press release from Western Native Voice.
Mary Levi believes that if all districts acknowledged or allow Native students to wear cultural symbols at graduation than there would be more Native graduates.
"Everyone is not the same, and that's why our democracy works."
Photos: Courtesy of Western Native Voice and Skylar Ash
Stay Informed We'll come to you
We're here to help you succeed in your career, advocate for public school students, and stay up to date on the latest education news. Sign up to stay informed