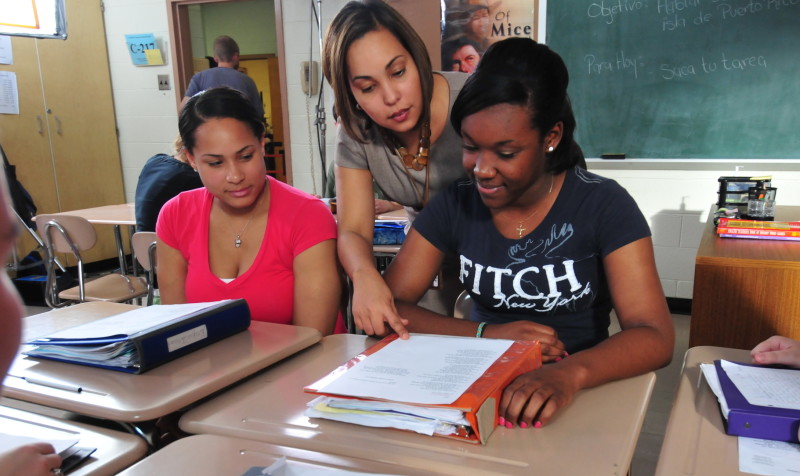 New teachers are sticking with the job far longer than previously reported, according to a new study by the National Center for Education Statistics (NCES). While previous reports estimated that 40 to 50 percent of teachers left after the first five years – sparking heated debates about why they fled –the NCES report shows that just 17 percent had left after five years.
The study's number was even lower than the estimates released by the Center for American Progress last January. Using three sources of data from NCES, that report calculated a teacher turnover rate of 30 percent after five years.
The percentages of beginning teachers who left the profession each year are the biggest surprise to experts following the trend and were much lower than would have been predicted. After year one, only 10 percent left, after year two, just 12 percent had left, after year three 15 percent, and 17 percent after year four.
Policymakers and education experts will likely have wide-ranging theories about why the number is so much lower than everyone had thought, but one possible explanation is that the study followed new teachers who began teaching in 2007-08, just as the recession hit and jobs were about to become extremely scarce.
However, "two important findings support what NEA has advocated for a long time," says Segun Eubanks, director for Teacher Quality at the National Education Association (NEA). "That high quality mentors and competitive salaries make a difference in keeping teachers."
According to the study, in 2008-2009, 92 percent of those who had first-year mentors were still teaching, compared to 84 percent of those without mentors. By 2011-12, 86 percent of those who had first-year mentors were teaching, compared to 71 percent who did not have mentors.
Teachers with higher starting salaries — above $40,000, the starting point NEA has long advocated for— were also more likely to continue teaching than those with lower salaries.
Not surprisingly, the study found that teachers who spend their first year in higher-poverty schools are more likely to leave the profession than those who spend their first year in lower-poverty schools. It does not, however, report the number of teachers who began in high-poverty schools then transferred into more affluent schools within their first five years – a leading cause of turnover in many low-income schools.
The study's results indicate that a wide range of working conditions – not only mentoring and salary, but also conditions that aren't always as easy to measure, such as the quality of school leadership, training, collegial relationships, parental support, resources, and school climate and safety – make a difference in a teacher's decision to stay in the profession.
"Working conditions and benefits are very important to teachers, just as they are to any professional," says Eubanks, "But perhaps most importantly, educators want a sense of purpose, success and a feeling that they are making a difference in their students' lives."
Learn more about how NEA advocates for new teachers and educates, recruits and retains new teachers.
Learn More
Stay Informed We'll come to you
We're here to help you succeed in your career, advocate for public school students, and stay up to date on the latest education news. Sign up to stay informed