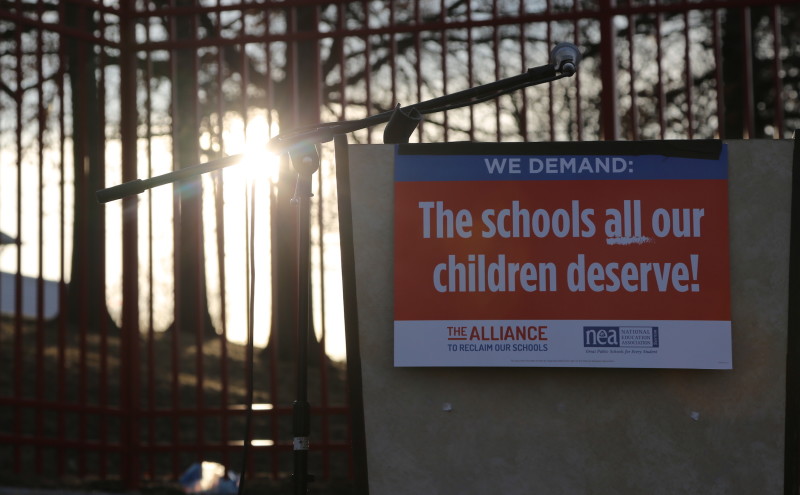 In the early morning on Wednesday, February 17, in school parking lots and playgrounds at more than 900 schools across the country, thousands of NEA members gathered side by side, arm in arm, with students, parents, and community members. Together, as part of a nationwide movement to rally for the public schools our student deserve, they "walked in" to school together.
They included thousands of educators, parents, and students in cities like Los Angeles, Milwaukee, San Diego, Seattle, Denver, and Paterson, N.J., where John McEntee, president of the Paterson Education Association, welcomed parents, school administrators, community leaders, and NEA Vice President Becky Pringle to the sign-carrying crowd outside John F. Kennedy High School.
"We are here today to say, we will not apologize for standing up for the needs of our students, our members, communities, and public schools. We will not allow our schools to be underfunded, over tested, and overlooked," Pringle told the crowd. "We will not tolerate a system of public education predicated on the false choice between delivering on the promise of a great education to the chosen few, or to none at all."
Making sure that Paterson students have the public schools they need—and deserve—is going to take the support of the entire Paterson community, McEntee said. But great things can surely happen in these classrooms, when parents and teachers work together, when educators get the funding they need to deliver challenging and relevant lessons, and when students and families have access to the services that provide critical support.
The movement was organized by the Alliance to Reclaim Our Schools (AROS), of which NEA is a partner, is an alliance of parents, youth, and community organizations. "At a time when it is a radical act to merely declare that all students, regardless of ZIP code, deserve a strong public school in their neighborhood, we're proud to have the professionals who know the names of those students walking in with us in our communities," said AROS Director Keron Blair.
In Milwaukee, where a school takeover plan calls for turning one to three neighborhood schools into privately run charter or voucher schools, thousands of educators, parents, and members of community groups including NAACP, Voces de la Frontera, and Opt-Our Milwaukee, linked arms to walk into a whopping 111 of the 132 public schools. They were sending a serious message to Wisconsin lawmakers: We want local control of local schools!
"Our schools have been purposefully disinvested in for many years," said Milwaukee Teachers' Education Association Vice President Amy Mizialko—and that state disinvestment has led to dramatically larger class sizes, and lack of access to art, music, physical education, libraries, nurses, and more. "We want public community schools that will serve the needs of our students and serve the needs of our community... We're not going to become New Orleans. We are not going to become Flint in Milwaukee."
In St. Paul, Minn., members of the St. Paul Federation of Teachers (SPFT) were joined at more than 50 schools by parents, students, and other community members in rallies to support SPFT in its ongoing contract negotiations. The union's bargaining priorities include lower class sizes, and increased staffing among school librarians, social workers, nurses, and education support professionals.
"I wouldn't be out here if it was just about financial issues," SPFT member Laurel Kuhner Berker told St. Paul's Union Advocate outside American Indian Magnet School. "I'm out here because these issues affect the kids."
Meanwhile, in San Diego, educators delivered an urgent message: More time for learning, less time on testing! A recent survey of San Diego Education Association (SDEA) members found that students lose up to five weeks of instruction every year due to test preparation, taking and analysis, and 90 percent believe students are being harmed from the overuse of standardized tests.
Parents absolutely agree—and that's why they joined educators outside San Diego schools to ask school district officials to reduce time spend on testing, and enable them to use that time for valuable instruction instead.
Photo: Matthew Stagliano/NJEA