Last year, the University of Arkansas (UA) dismissed its losing football coach, paying him $10.1 million to get off the gridiron. And yet, months earlier, university officials told the UA-Fayetteville Education Association that they simply didn't have the $3.65 million it would take to provide a living wage to their lowest-paid employees.
"If the university could find that much money to pay one man not to work, then it can afford to pay living wages to the people who do," says Michael Pierce, a history professor and vice president of the faculty and staff union. "When we dug into it, we found the university had spent $25 million in two years on buyouts for failed football coaches."
"We thought that was shameful," says Pierce.
Bolstered by information like this, and encouraged by the hundreds of people who signed their petitions, the union has fought for two years, through two administrations, for salary wages for the lowest-paid workers on campus. Finally, this month, UA's chancellor sent an email to union president Bret Schulte, committing to a phased-in series of wage hikes that will raise the salary of every full-time employee to at least $30,000. The chancellor also pledged to pay graduate assistants, who teach classes on campuses, at least $15,000.
"He understands it's for the good of the university—for morale and for competitiveness—and also for the good of the broader community," says Schulte.
What is a Living Wage?
In 2004, an MIT professor of economic geography created a "living-wage calculator" that takes into account the cost of basic needs — food, childcare, health insurance, housing, transportation, and other necessities — and figures out how much families in specific areas would need to earn to cover those costs without assistance.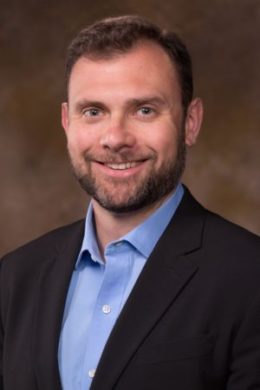 Bret Schulte
For example, because of the high cost of housing, a living wage in Washington, D.C., is nearly $17 an hour for a single adult. In Jackson, Miss., where housing is less expensive, it's $11.45 an hour.
When the UA union kicked off its campaign in 2018, it found that workers in a typical Fayetteville, Ark., family with two working adults and two children need to get paid at least $30,000 a year, or $14.42 an hour, to cover their rent, and keep clothed and fed.
It also found that 548 employees, or 47 percent of full-time, classified employees—that includes clerical staff, custodial staff, and groundskeepers—were paid less.
Instead, for their survival, these employees are forced to rely on food stamps and ARKids, a public program that provides health coverage to low-income Arkansas families. "The university basically externalizes the cost of its labor," says Pierce. "It passes along its labor costs to taxpayers, and frees up its money for other projects, like the proliferation of administrators with no teaching and research responsibilities."
Outraged Faculty Get Organized
At first, the university's answer was laughable: It started a food pantry on campus for students and employees. (Full-time employees accounted for 60 percent of visits, the union found.) Meanwhile, the union put on the pressure through petitions, letters to the editor, and community events, including regular appearances at Fayetteville's popular farmers market.
In Arkansas, state employees, like those at UA, or state prisons or public health facilities, don't collectively bargain for their wages. Instead, their power is in their collective voice — and UA's union used it effectively to shame administrators.
"Faculty were just outraged at how these people, who are our friends, are being treated," said Pierce.
While their jobs may not be glorious, these classified employees are central to the university's ability to serve students, faculty note. "These are people who work elbow to elbow with faculty and administrators to keep the wheels greased and the university running," says Schulte. "We know office staff who have never received a raise. There are full-time people making less than $20,000 a year!"
This includes graduate assistants (GAs) who typically teach classes, maintain office hours and grade papers, or run research labs. For this mission-critical work, they typically get paid very little — about $17,000 a year on average, according to the NEA Special Salary Report.
At UA, the union found that median pay for GAs is worse — $13,733 a year. Sixty earn less than $10,000, and about half reported being "food insecure," i.e., at some point in the past year they didn't know where they'd get their next meal.
"It has been simply horrendous," says Pierce.
Stay Informed We'll come to you
We're here to help you succeed in your career, advocate for public school students, and stay up to date on the latest education news. Sign up to stay informed