For more than a year, the U.S. has engaged in a much needed public dialogue about sexual harassment in the workplace, and the need to hold perpetrators accountable. The conversation marks a long overdue cultural shift toward a movement that has been driven largely by survivors of harassment and assault who have bravely gone public with their stories via the #MeToo movement.
As a result, painful questions have begun to haunt educators and parents: "What about #MeToo at school? Do some schools unwittingly foster a culture of sexual harassment and abuse? How can school administrators, educators, students and parents open up a discussion and address such issues?" Before the national conversation began, one California community was already addressing the issue via Alliance for Girls, an organization based in the San Francisco Bay area. In 2016, the non-profit conducted focus groups with 74 girls of color who attend Oakland public schools in low-income, culturally diverse neighborhoods. The project was created to hear the girls' thoughts on improving school discipline policies, but the discussions quickly veered.
Facilitators were shocked by what they heard.
In the Oakland Unified School District, some male elementary students had created a tradition they called "Slap Ass Fridays." It was so pervasive, said one 4th-grade girl, that she and all her friends would stand with their backs against a wall every recess and lunch period to avoid being slapped.
"Sexual harassment and assault starts really early," says Emma Myerson, founding executive director of Alliance for Girls. "I think sometimes we don't want to talk about it because it's scary to think that in third grade and fourth grade girls are experiencing real assault from their peers."
Other girls talked about how boys in their schools regularly called them "bitches," "sluts," or "hos." Still others talked about unwelcome sexual advances and requests for sexual favors.
"We are all hypersexualized by society," said one older girl. "Every male that you have some type of relationship with will think he is entitled to you—you are here as a girl of color for that reason, to be sexual— that's the worst stereotype."
It's not just in Oakland. According to research from the American Association of University Women, nearly half of students in grades seven through 12 reported that they had experienced verbal or physical sexual harassment in the 2010 –11 school year. Girls were harassed at a higher rate than boys, and more likely to say that the incidents caused them to have trouble sleeping and made them want to skip to school.
Brave students from across the country shared their stories of harassment
and abuse at school under the #MeTooK12 hashtag, launched in January 2018 by the nonprofit Stop Sexual Assault in Schools.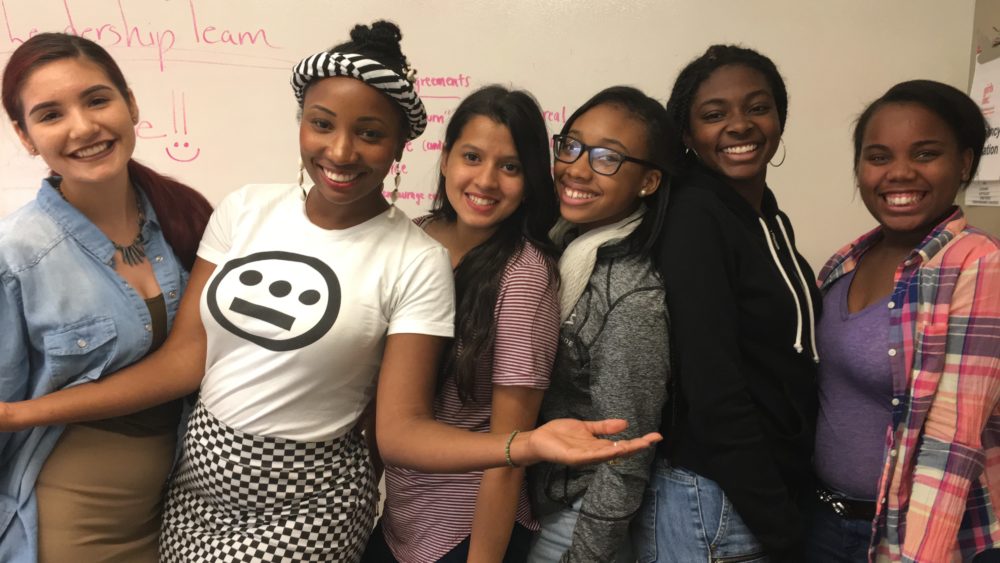 Alliance for Girls' Student Leadership Team (Photo: EdJustice.com)
Unequal Treatment Among Victims
While all girls face harassment and assault, when it comes to reporting incidents, girls of color often face more difficult challenges than white girls.
"In the research we've looked at, there hasn't necessarily been a significant discrepancy in the prevalence of sexual harassment between girls of color and white girls," says Elizabeth Tang of the National Women's Law Center.
"But when girls of color, particularly black and Latina girls, report that they've been sexually assaulted, schools aren't responding to them in the same way. They're disproportionately being ignored, disbelieved, and even punished."
Tang attributed this in part to negative stereotypes about black girls being louder or more angry. "If a young woman is having her bra snapped in class and a boy keeps doing it and she slaps him back," says Tang, "she could be suspended because suddenly now she's the aggressor in the situation. Because now she's the angry black girl."
There is also a Catch-22 of school "push-out": Students who have experienced harassment or assault are chronically absent if they don't feel safe at school, or face discriminatory and excessive discipline or suspensions.
The result? Their absenteeism rises even more, and they fall further behind in class.
"If you want girls to stay in school, you need to give them the supports they need to stay in school," says Tang.
"That can mean extra time on tests, that can be homework extensions. It means not disciplining them for skipping school because they don't feel safe at school. Because then they miss even more school and that makes no sense."
Momentum for Change
When they occur in school, sexual harassment and sexual violence are both a type of civil rights violation. Unfortunately, Education Secretary Betsy DeVos wants to roll back civil rights protections established during the previous administration to support survivors and make more equitable proceedings related to sexual harassment and violence.
"Rollback of these critical protections for survivors is discriminatory on the basis of sex, and it is arbitrary and capricious," says Myerson. "But those are a floor, not a ceiling.
"A single caring adult can make all the difference in a girl's life. It is really, really true. We heard over and over again when that one adult is saying 'Hi,' and knows their name, and asks how they're doing, that really matters." - Emma Myerson, founding Executive Director, Alliance for Girls
States can still go above and beyond what's happening now along the federal landscape, and they can restore those protections at the state and local level."
Alliance for Girls worked closely with Oakland's students, administrators, parents and community organizations to implement a stronger, revamped sexual harassment policy. Under the new policy, each school has a designated point person who handles sexual harassment and assault complaints, and the reporting process for students, educators and parents is clearly delineated.
The model policy—find it at NEAEdJustice.org—is a starting point that communities can use to create a foundation upon which to build a final policy that includes the perspectives of all key stakeholders — including students, educators, administrators, schools boards, parents and community organizations Alliance for Girls also created "Meeting the Needs of Girls," a toolkit for educators that outlines steps and suggestions for creating healthy relationships with girls. This includes making sure they have someone at school with whom they feel comfortable discussing problems.
For an individual girl who has been harrassed or abused, it can be hugely important to find one adult at school who truly listens.
"A single caring adult can make all the difference in a girl's life," says Myerson. "It is really, really true. We heard over and over again when that one adult is saying 'Hi,' and knows their name, and asks how they're doing, that really
matters."
For resources that can help your school empower girls, end sexual harassment and assault, and protect students' civil rights, visit NEAEdJustice.org.
Stay Informed We'll come to you
We're here to help you succeed in your career, advocate for public school students, and stay up to date on the latest education news. Sign up to stay informed