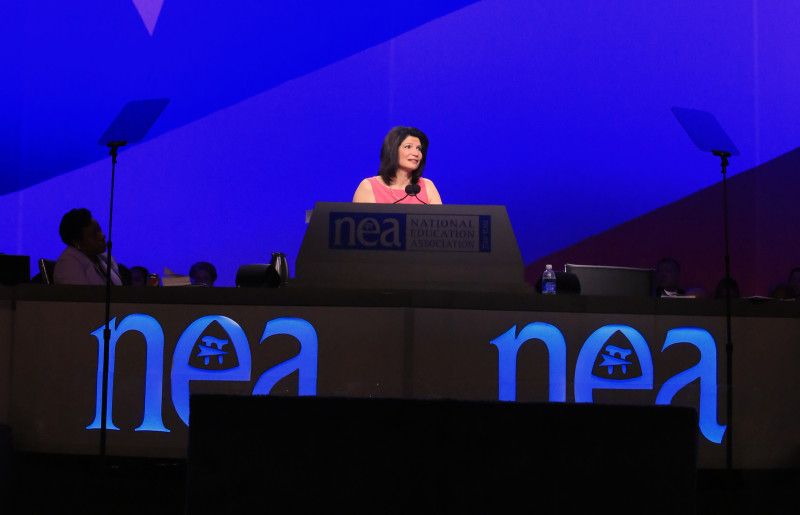 NEA President Lily Eskelsen García addresses the NEA Representative Assembly in Orlando,Fl on July 3,2015. (Photo by Scott Iskowitz)
In her first speech to the NEA Representative Assembly (RA) as NEA President, Lily Eskelsen García championed the long history of educator activism and urged the delegates to always remember that "we are what democracy looks like."
"We are the NEA. We are rabble rousers; the activists; the true believers…and this is how we are going to make our mark on the world…as educators who understand the fearless power of collective action," García told the 7,000 delegates gathered this week in Orlando, FL.
García was introduced to the assembly by NEA Vice President Becky Pringle, who praised "my friend, my sister, my president" for her boundless energy and unwavering devotion to students everywhere.
García began the keynote by recalling her first NEA RA in Los Angeles in 1987 as a 6th grade teacher in the Utah delegation. Much has changed since then, she said, but children have always depended on their teachers, bus drivers, cafeteria workers, paraeducators and others in their schools to advocate for them.
"Whatever journey brought you to this room, your hearts are wrapped around your students. From the very beginning, our mission has never changed: we wake up every day set on doing whatever we can to ensure that our students have every opportunity to learn, to grow, to succeed," Garcia said.
García spoke passionately as she extolled the role NEA has played in improving public education and advancing some of the most important social justice causes over the past century - the fight against against child labor, advocating for federal aid for education during the Great Depression, and lobbying for the GI Bill after World War II. NEA also worked with President Lyndon Johnson in passing the first Elementary and Secondary Education Act and Head Start In 1965 and pushed for the passage of the Individuals with Disabilities Education Act in 1975.
Despite a legacy of progress we can all be proud, there is still much work to be done, García told the delegates, to combat the vestiges of racism and poverty that continue to afflict U.S. society.
"This is not ancient history… It's current events," she said. "We see it in which children are bullied at school. We see it in which children have the services and supports that nurture the whole, blessed child. We see it in voter suppression. We see it today in the churches that are burning."
Inequities run deep and wide, but the right priorities for our schools can be building blocks for a better future for all students, regardless of zip code. And educators across the nation will soon have an enormous opportunity to continue to lead this effort. On July 7 - the day after the RA adjourns - the U.S Senate will be taking action on a new bill to reauthorize ESEA. Already many of the odious provisions of No Child Left Behind have been stripped , thanks to the tireless advocacy of educators.
"A minor miracle occurred because of you," Garcia told the delegates on Friday. "We demanded an end to the toxic testing produced by AYP that limits what it means to teach and what it means to learn to what fits on a standardized test. We told your Senators: Replace that failed one-size-fits-all bubble sheet with a dashboard of multiple indicators of success."
The result? Every Democrat and Republican on the Senate Committee overseeing ESEA voted to end AYP, include a dashboard of multiple indicators of success beyond the standardized test and require states to report indicators of resource equity. It's now over to the full Senate to debate and vote on the bill. To help make it even better, García said, educators can't let up - the time to speak up is now. More must be done to make opportunity for all students the centerpiece of the new ESEA.
"Again, 3 million members are being called on to act to improve the lives of someone else's child...Parents are with us. Researchers are with us. Enlightened business leaders are with us. But we must lead… as we have led for 158 years. Now is our moment."
https://www.youtube.com/watch?v=9eQa0LiqQoQ
Stay Informed We'll come to you
We're here to help you succeed in your career, advocate for public school students, and stay up to date on the latest education news. Sign up to stay informed