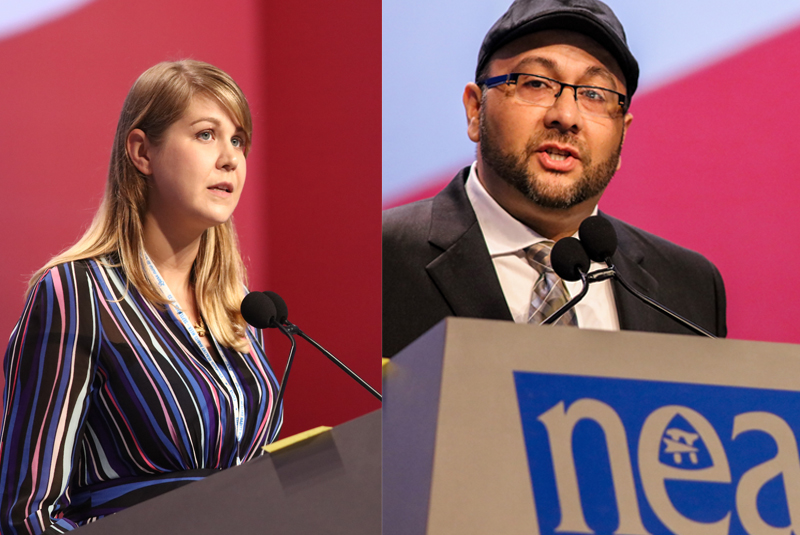 2017 National Teacher of the Year Sydney Chaffee and 2017 Education Support Professional of the Year Saul Ramos. (Photos: Calvin Knight, Scott Iskowitz)
On a day that spotlighted how NEA members advance professional practice, the more than 7,000 delegates to the 2017 NEA Representative Assembly celebrated two educators at the top of their profession: NEA Education Support Professional (ESP) of the Year Saul Ramos and National Teacher of the Year Sydney Chaffee.
In his address to the assembly, Ramos, a paraeducator at Burncoat High School in the Worcester Public School system in Massachusetts, said the professionalism and dedication of ESPs adheres to principles of service to students, parents, and members of the community,
"They (ESPs) are leaders, they are passionate about their work and the success of their students," said Ramos. "I have learned that leadership is taking what is given to you and moving it forward."
Educators don't choose which students they work with, he added, "we don't select and disregard the rest, we take who we are given and pour our hearts and souls into their lives."
We must all stand strong together, and let our elected leaders know what we need as educators to nurture successful students" - 2017 Education Support Professional of the Year Saul Ramos
Ramos urged delegates to fulfill the promise of this year's assembly theme: "Uniting Our Members and the Nation for Strong Communities, Empowered Professionals, Successful Students."
"Our hearts and spirits are in the right place," said Ramos, a self-taught braillist and advocate for the visually impaired. "We are full of passion and purpose and we will continue to work together to make a difference in the lives of our students."
Ramos called attention to the dedication of educators as exhibited by their commitment to professional development, community involvement, and service to the whole child.
"As an educator, you want the same success for all your students," he said. "You want them to grow more confident, more aware of their own abilities and inner strength, and more fearless in a world that can be unkind in so many ways."
To reach policymakers, Ramos stressed the importance of NEA members and other educators from all school job categories speaking in one voice on behalf of students.
"It is more important than ever for all of us to unite and support public education," he said. "ESP members, NEA-retired members, teachers, higher education and student members, and parents— we must all stand strong together, and let our elected leaders know what we need as educators to nurture successful students."
Teacher of the Year: Education Should Be Liberating
Successful students, said National Teacher of the Year Sydney Chaffee, depend on their teachers to be flexible and not be afraid to loosen the reins of their classroom.
Teaching shows us all how powerless we can be, Chaffee told delegates. But that's ok, because all educators should listen to student voices and be architects of "school communities," not tightly-controlled, perfectly-planned classrooms.
Let's envision education as a time machine that helps our students travel to worlds we have only imagined—ones that are built on ideals of justice and equity and collaboration" - 2017 National Teacher of the Year Sydney Chaffee
"When I decided to become a teacher, I imagined it would be a job that would nourish my deep need to be in control," said Chaffee, a humanities teacher at Codman Academy in Boston. "I didn't imagine myself as an authoritarian, but I thought, I'll write lessons, so I'll know exactly what is going to happen. I'll be in charge."
As she soon discovered, that need to be in control, to stick to the plan, can go too far. Chaffee recounted how she was deeply affected by her students' jubilant, impromptu celebration the morning after the election of Barack Obama.
"Standing there still holding my clipboard, a symbol of the rules and routines that made school feel orderly and productive to me, I realized that my stubborn insistence on sticking to the plan and following the rules had been silly," Chaffee recalled. "My neat little plan wasn't what such a historic situation demanded. ..I needed to remember that my students and I were connected by our shared humanity."
Chaffee took this lesson to heart when she inherited a 9th grade Humanities class called "Justice and Injustice," which infuses history, literacy skills, and case studies of moments when people faced injustice and fought for justice. Whether her class is studying the Soweto uprising in South Africa or the Black Lives Matter Movement, Chaffee is committed to connecting the lessons of history with her students' lives.
She urged the RA delegates to recognize that education should represent liberation to their students.
"Let's keep our ears and hearts open to our students' brilliance, even when it makes us uncomfortable," Chaffee said. "Let's envision education as a time machine that helps our students travel to worlds we have only imagined—ones that are built on ideals of justice and equity and collaboration."
Stay Informed We'll come to you
We're here to help you succeed in your career, advocate for public school students, and stay up to date on the latest education news. Sign up to stay informed