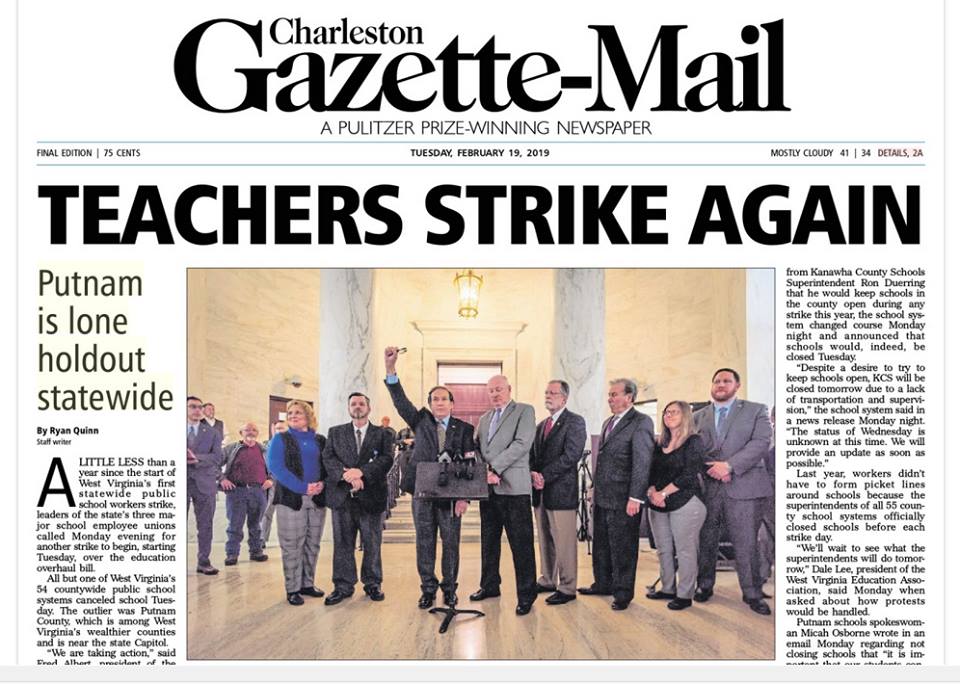 Update: West Virginia educators returned to their classrooms Thursday, after lawmakers adjourned on Wednesday night. Their two-day show of strength killed a bill that would have paved the way for private school vouchers, even through the bill also included a significant salary raise for educators. West Virginia educators will always put their students first, union leaders said.

For the second time in 12 months, West Virginia educators are acting collectively to protest state legislators' inattention to the needs of West Virginia public school students. And already they're seeing success.
As NEA President Lily Eskelsen García has said: "When we fight, we win."
Here's what you need to know:
Who? Members of the West Virginia Education Association (WVEA), the largest union of educators in West Virginia, as well as other allied education unions joined forces on Tuesday. In 54 of 55 counties, superintendents opted to close school. Thousands of educators, parents, students and supporters of public education have been present at the state capitol.
Why? After weeks of threats, on Monday, the West Virginia Senate passed an education bill that many educators consider retribution for last year's groundbreaking two-week, statewide walk out. This bill would take scarce tax dollars away from public schools to fund private school vouchers and also bring unaccountable charter schools to West Virginia, ignoring the concerns of public school educators and parents who want legislators to focus on improving the state's schools after decades of neglect. "It appears [legislators] are more interested in listening to outside interests than the educators in West Virginia," said WVEA President Dale Lee.
Is it working? Within hours of the work action, union members scored a huge victory on Tuesday. Thanks to their unified, unrelenting pressure, a bipartisan majority in the West Virginia House of Delegates voted 53 to 45 to indefinitely postpone consideration of the bill. "To the educators across the state of West Virginia, we want to say how proud we are of you for putting your students first," said Lee. "The winners in this, again, are the students of West Virginia. You showed, as you always do, that you're willing to put their interests far above your own self-interest."
What's next? Although House members voted to postpone consideration, there is still a "minute opportunity" for pro-voucher legislators to reconsider the bill on Wednesday. With that in mind, educators will continue the work action in all 55 counties, Lee said. "Ladies and gentlemen, turn off your engines!" said Joe White, executive director of the West Virginia School Personnel Association.
Stay Informed We'll come to you
From education news to action alerts to member benefits-we're here to help you succeed in your career, advocate for your students, and support public education. Sign up to stay informed.