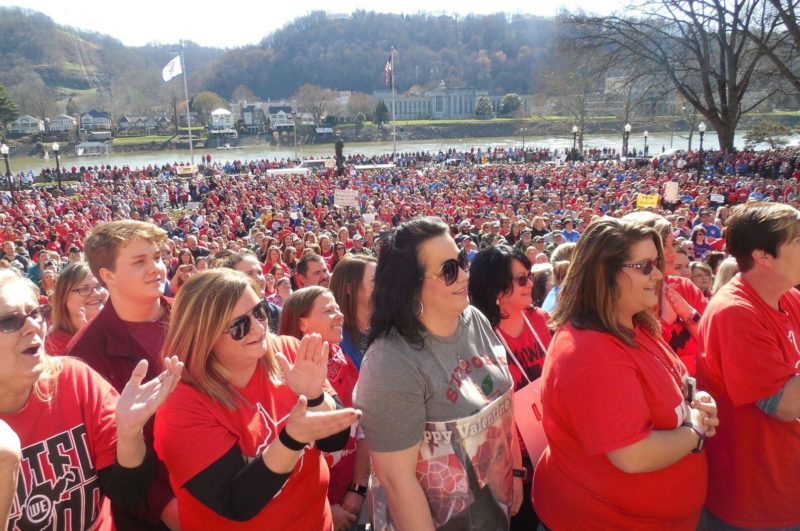 With the eyes of educators across the country on them, West Virginia teachers and service professionals in all 55 counties stood united in an historic nine-day statewide strike that ended Tuesday in victory: a deal that provides 5 percent pay raises for all educators and public employees and establishes a task force inclusive of educators to address a long-term solution to the state's rising healthcare costs.
"The winners in this are the students of West Virginia and the educators across West Virginia who finally see the first step made towards a true investment in education," West Virginia Education Association (WVEA) President Dale Lee said.
As the deal was announced Tuesday, hundreds of WVEA members at the state Capitol cheered, some wept with joy. Together, they chanted, "We love our kids!"
The statewide action began on Thursday, February 22nd, following the state legislature's vote to raise teacher pay by a meager 2 percent this year without addressing the healthcare issues that would more than eat up that increase. But the strike has been years in the making, as West Virginia's teachers and education support professionals—as well as students and parents—have grown increasingly fed-up with empty promises by state officials to invest in public education.
It took five days of sustained action, accompanied by unrelenting pressure from thousands of union members who rallied passionately at the Capitol every day, for Governor Jim Justice to strike a fair deal with union leaders around the 5 percent raises and the creation of a task force to find a long-term solution for the state's Public Employee Insurance Agency (PEIA). He also placed a moratorium on increasing healthcare premiums, or any other changes that would increase costs, until July 1, 2019.
Even as educators, and 98 of the 100 members of the state House (one voted no, and one was absent), recognized the deal as a solid first step in dealing with a huge issue in their schools—namely, the exodus of excellent teachers to neighboring states where they can earn up to $20,000 more a year, and the state's inability to recruit qualified teachers— Senate Republican leaders refused to pass the 5 percent salary bill, as had been agreed to. For several days after the House passed the agreed-upon raises, this small group of Republican Senators held the state hostage, even as the Governor and House members pledged to honor their agreement. And still, with the deal on the line, union members stood firm, dedicated and unified in their unwavering intent to get the best deal for West Virginia schools.
Finally, on Tuesday morning, after meetings between both houses and an agreement to provide the agreed-upon 5 percent raises to all educators, the Senate passed the legislation by a vote of 34 to 0. The revised bill extends the 5 percent to all public employees. At 3 p.m., as WVEA members watched, the governor signed it into law—and passed a signed copy of the legislation to Lee.
"I am so proud of West Virginia educators and the West Virginia Education Association," said NEA President Lily Eskelsen García, who traveled twice to West Virginia in recent days to speak with WVEA members and legislators, and to participate in an impromptu rally with educators on the Capitol steps. Without their strong, united voice, the Senate never would have given educators—or any other public employee—this victory, which will help lead West Virginia forward, she said.
With the 5 percent pay raise, West Virginia's average teacher pay moves from 48th in the nation to 43rd, according to NEA analysis. This is a "good first step," but the state still needs to do more to help recruit and retain the best teachers for West Virginia's students, said García. "Unless the task force charged with addressing the health care system is successful, the victory will be short lived," she said. "It is important that the task force…generate solutions that are fair, equitable, and do not balance shortfalls on the back of public service workers."
The task force's first meeting is scheduled for March 13. By executive order, it must include a WVEA member, as well as representatives from West Virginia's other education unions. The governor has said that all aspects of the plan will be under consideration, and top experts around prescription costs, Medicare and Medicaid, and other aspects will be consulted. Historically, West Virginia's state task forces have done effective work in untangling very complicated issues, including public pensions and school construction, but union leaders have promised that their members will keep a close eye on developments and will be ready to speak up again if the task force wavers from its mission.
The deal also achieved other notable victories for West Virginia teachers and students, including the elimination of bills aimed at weakening WVEA and educators' voices.
For more information, check out the Dedicated Teachers page on Facebook.
Learn More
Stay Informed We'll come to you
We're here to help you succeed in your career, advocate for public school students, and stay up to date on the latest education news. Sign up to stay informed