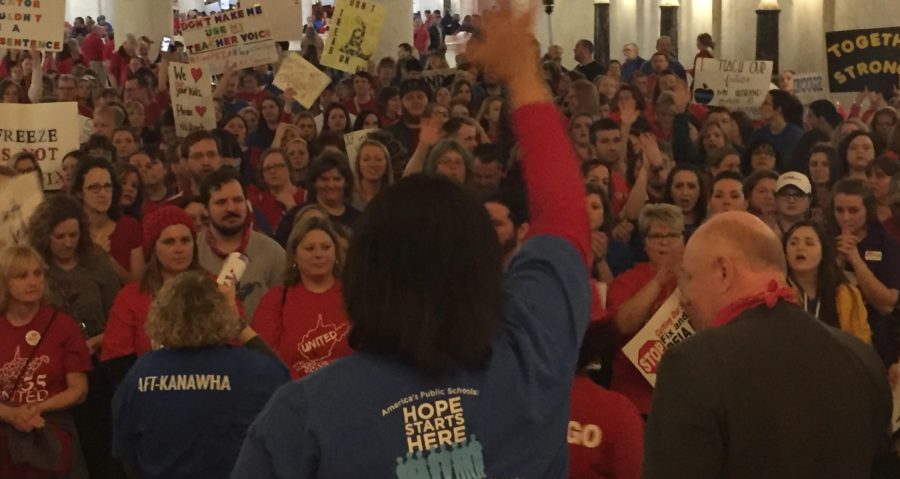 West Virginia educators stood united this week in a statewide strike that closed schools in all 55 school districts, and brought an estimated 6,000 teachers and education support professionals to the state Capitol to rally outside lawmakers' offices.
"The anger is out there," said West Virginia Education Association Dale Lee. "When thousands of people show up and say, 'this is not enough and these are the things that need to be fixed,' we hope they'll listen… I can't talk enough about how our teachers and our education support professionals are stepping up to make their voices heard."
After decades of neglect by state officials and endless empty promises to take care of educators, West Virginia's teachers and education support professionals have reached the breaking point. For as long as anybody can remember, too many qualified, experienced teachers have been forced to leave West Virginia's schools and students to find adequate pay and health benefits across the state lines. Meanwhile, state lawmakers continue to opt to cut taxes for businesses, rather than invest in educators and education. (As of Tuesday, Feb. 27, the strike was ongoing.)
"The mass exodus from teaching is not because of the long hours. It is not because of lack of passion. It is not even because of challenging environments. The exodus is because our state has decided its priorities lie elsewhere. Teachers are forced out because we can't afford to teach. It is time to step up for West Virginia teachers and support employees!" said Webster County high school science teacher Casey Compton.
The strike and rallies on Thursday and Friday, which were attended by NEA Secretary-Treasurer Princess Moss, followed an energetic pre-strike rally in Charleston last Saturday that involved thousands of students, parents, and educators, including NEA Vice President Becky Pringle.
"By walking out, walking in, rallying, and filling the state capitol, educators are making it abundantly clear that they expect to be treated with respect and dignity," wrote NEA President Lily Eskelsen García to Lee.  "I am proud that our members are refusing to sit silently by while lawmakers attempt to inflict further damage on the future of public education in West Virginia."
In 1990, the last time that West Virginia teachers went on a large-scale strike, their pay ranked 49th in the nation. Nearly 30 years later, it ranks 48th,  according to NEA Rankings & Estimates. Even as West Virginia lawmakers pay lip service to the importance of public education, teachers can earn $20,000 more a year, just by driving across the state border.
"Young people are leaving West Virginia like a gushing wound," said Allyson Perry, a seventh-grade social studies teacher at Barrackville Elementary School.
Making matters worse, as healthcare premiums from the state-controlled Public Employee Insurance Agency (PEIA) have risen over the years, many West Virginia teachers have actually seen their take-home pay decline.
Over the years, state officials have promised to pay attention to these problems. But they have not—and anger has steadily risen as educators are forced to work two or three extra jobs to pay their bills, or commute long distances to communities in Maryland and Ohio to earn a living wage. In February, WVEA members in four counties walked out. Last week, union members in four additional counties followed.
"I love teaching. I love meshing my passion for science and my passion for helping others. I love our kids. I will gladly take the workload home. Take the kids home. Take their problems home. And I pray over all of the, for safety, for health, for life. That is why I am here," said Compton. "I am here because my desire is to continue living in West Virginia and serving the children who live here, and to continue in the profession I love."
On late Wednesday, as this week's strike loomed, Republican Gov. Jim Justice signed legislation to provide 2 percent salary increases to teachers this year, followed by 1 percent in 2019 and 1 percent in 2020. He also agreed to freeze PEIA premiums this year. None of this provides a long-term solution, or signals a new priority on public education, educators point out.
Even as Justice and other lawmakers seek to appease educators with a short-term band-aid, this year's legislative agenda reveals what they really think about public education and educators. Much of their energy has been dedicated to pursuing an additional $140 million business tax break. That's lot of money that could be invested in public schools, WVEA leaders point out.
Other bills under consideration this spring aim to weaken WVEA and educators' voice in their working conditions. One would make it more difficult for the unions to collect their members' dues dollars. Another would reduce pension benefits for educators who serve as full-time release union presidents.
NEA Senior Press Officer Staci Maiers contributed to this report.