Educators may spend their careers preparing lessons, but often the most memorable are those they learn themselves. With that in mind, NEA Today asked school staff – everyone from classroom teachers and bus drivers to guidance counselors and school nurses – to share the everyday lessons they've picked up along the way in a series called "What I've Learned."
Michael Proscelle has been a teacher for 15 years at Woodlawn Hills Elementary School in his hometown of San Antonio, Texas. Before becoming an educator he spent nearly two decades as a retail manager for a Texas grocery chain.
____________________________________________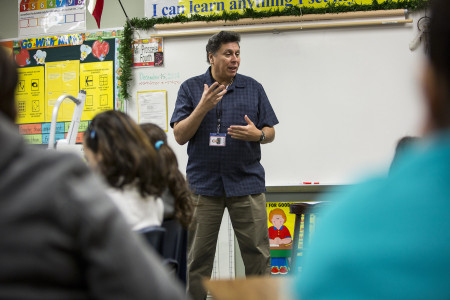 Michael Proscelle
Before I received my certification, it had always been my dream to work with children as a teacher. When I made the transition in 2000 from the world of business, I learned how to use my real world experience about the workplace to benefit of my students. Collaboration. Communication. Punctuality. Setting goals. Building self-confidence. I try every day to stress these core values I believe will help them in their academic careers and beyond.
Capturing Hearts
It can be a challenge to hold the attention of nine-and 10-year-olds. I've learned that if you capture a child's heart, even a fourth-grader's, you can capture their mind. After I hung banners in my classroom which read "BELIEVE" and "I CAN learn anything I set my mind to!" students began to write "I BELIEVE" on their homework papers. Some even started telling one another to "believe!" I have learned that the greatest reward a teacher can receive from a student is when they say, "Thank you for teaching me to believe in myself and for believing in me."
Adult Collaboration
Teamwork, teamwork, teamwork! I've learned that teachers alone can't meet all of the needs of all of the kids in our charge. It takes a village. It begins with supportive school district officials and school administrators offering sound advice to teachers and education support professionals (ESPs) when dealing with common dilemmas involving students, colleagues, and parents. I've learned that it helps morale when administrators encourage staff to sometimes work outside the box regarding lesson plans, for example. I've learned that building a cohesive school team to plan projects, meet goals, and solve workplace problems together is essential to a school's success—grade level by grade level and campus-wide. Most important, I've learned that it is vital to involve parents in the school lives of their children. Let parents know you care about their child. Share classroom victories along with opportunities for parents to participate in their child's education.
Seek Balance
Teaching can be a very stressful and demanding career. Many teachers burn out within the first five years. I have learned that educators must seek a balance in their lives to remain productive. Sometimes you simply need to leave work at work. Mountain biking has worked wonders for me. It clears my mind, melts stress away, and keeps me fit enough to keep up with my energetic students. It also provides me the opportunity to spend quality time with my son.
Comes a Time
After 15 years on the job, I have learned that an encouraging word and a pat on the back can have a lasting effect on a child's day, month, year, and even long-term future. They remember. Same with me. My most unforgettable rewards as a teacher have been intangible, but I know them when I see them in a student's eyes, gentle smile, or kind gesture. My only regret is that I didn't start teaching sooner.