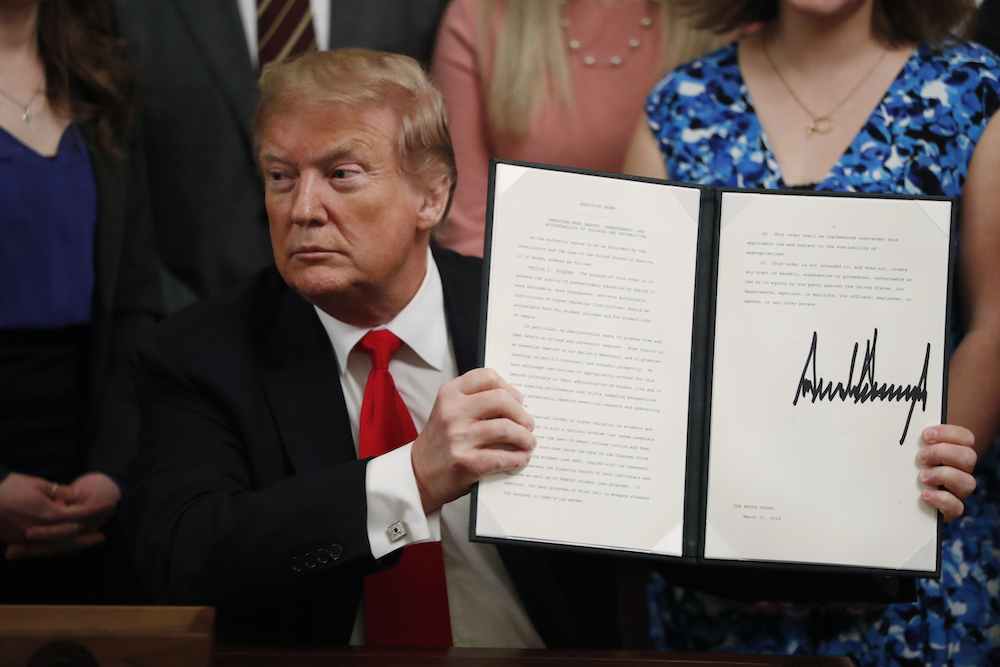 (AP Photo/Jacquelyn Martin)
What students and faculty say shouldn't be controlled—but what they think should be—are the mixed messages that lawmakers have sent this month.
In Florida, proposed legislation would require public universities to annually survey faculty and students to reveal their personal political beliefs. Meanwhile, last week President Trump threatened, by executive order, to withhold federal funds from public universities that regulate speech on their campuses, and a new South Dakota law orders state universities to protect speech that be "offensive, unwise, immoral, indecent, disagreeable..."
These measures are political MacGuffins that have nothing to do with the serious problems that face public colleges—like affordability and access, say advocates. Instead, political efforts aimed at campus free speech are about the political effort, says NEA senior policy analyst Mark F. Smith and others.
"Public universities already are covered by the First Amendment. An executive order does not increase that pressure," says Smith. "Speakers from all over the political spectrum are speaking on college campuses all the time. Controversial ideas are being explored in college classrooms all the time. This is what higher education is. Ideas can, and should, be challenged. Your commitment to them can, and should, be re-examined."
NEA's own resolution on academic freedom says "academic freedom includes the rights of teachers and learners to explore and discuss divergent points of view." At its heart is the idea that the pursuit of truth on campuses serves a common good in society.
"On our campuses, our members work to provide a safe public forum for free expression of diverse views. Freedom of expression is welcomes and encouraged. This happens on our campuses every day, without fanfare," said Frederick Kowal, president of the United University Professions (UUP), a union of faculty and staff at the State Universities of New York.
What the Executive Order Means
The executive order doesn't create any new protections for speech on campus. It just restates the obligations of public universities under current law and policy, such as the First Amendment.
But by previewing it in a speech to conservative activists, and unveiling it while surrounded by conservative activists, Trump is signaling "that this administration's focus is on the free-speech rights of only some citizens—namely, conservatives," wrote a Miami law professor recently in the Washington Post.
Trump first proposed the idea of an executive order around campus free speech in a March speech that mentioned Hayden Williams, an activist for Turning Point USA, an organization that maintains Professor Watchlist to track faculty accused of liberal bias. (NEA has condemned Professor Watchlist for its chilling effect on academic freedom, and its efforts to silence faculty.)
Williams was recruiting students at UC Berkeley when he "took a hard punch in the face for all of us," said Trump. His attackers were arrested by campus police, and the attack condemned by UC Berkeley officials. A statement from UC Berkeley's chancellor says the university "has no information indicating" the attackers are affiliated with UC Berkeley.
Most of the attention to campus free speech has been driven by conservative activists, who say they face too much hostility and vitriol on campuses. It can be ugly—but it's extremely rare for any speakers to be silenced.
Even Richard Spencer, a leader of the violent, torch-wielding white supremacist rally at the University of Virginia that left three people dead in 2017, was allowed to speak at the University of Florida (UF) last year, despite concerns by United Faculty of Florida (UFF) members that Spencer's supporters would target and endanger black, Hispanic, and Jewish students. To accommodate him, UF canceled classes and Florida's governor deployed National Guard reservists to campus. It cost UF at least $600,000, plus millions of dollars by state and local communities.
"It has become clear that Spencer's cynical invocation of free speech rights is part of a larger assault on higher education," wrote two UFF members in a NEA publication last year. "For decades, anti-intellectuals have pushed a narrative of universities as hot-beds of liberal indoctrination and political intolerance, rather than havens of free inquiry. This argument has been used as a pretext to defund public higher education and to attack whole programs…"
Spencer, in particular, they write, invokes his campus free-speech rights, so that he can get free publicity and use a university setting to legitimize his racist, white supremacist views.
As for Trump, "I don't think the man who wants to investigate Saturday Night Live truly understands what freedom of speech means," says Smith, referring to Trump's call that federal officials "look into" the comedy show after it repeatedly mocked him.
What's Next, Florida?
Now Florida faculty are alarmed by attempts to police their personal beliefs. The bill that would require the state's public universities to survey faculty and students about their personal political beliefs passed a House committee earlier this month, and has a companion in the Senate. Matthew Lata, professor of music at Florida State University and president of the United Faculty of Florida-FSU chapter, testified to lawmakers during debate.
"Are faculty and students going to be coerced into filling out such a survey?" he asked, and Inside Higher Ed reported. "If I refused to do that, am I going to be punished? Coerced speech is a violation of the First Amendment. I shouldn't be forced to tell the state of Florida what I believe about certain political matters."
And what do lawmakers plan to do with the results, he asked, according to a Tallahassee Democrat article. "Let's say in political science you have 20 people and the survey determines 15 are liberal and five are conservative. Are you going to fire the liberals and hire more conservatives? What would happen?"
Stay Informed We'll come to you
We're here to help you succeed in your career, advocate for public school students, and stay up to date on the latest education news. Sign up to stay informed