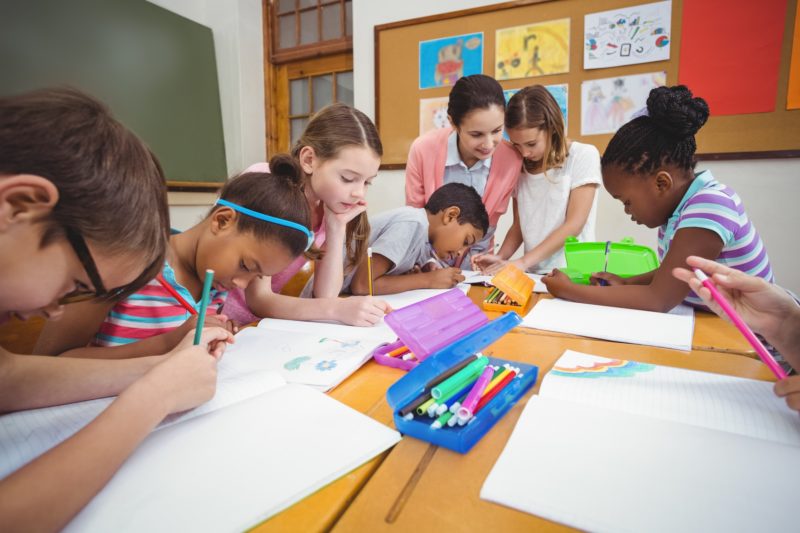 Communities across the nation will join the National Education Association Nov. 13-17, 2017, to celebrate the 96th annual American Education Week. This year's campaign emphasizes that our nation's public schools are here for each and every student —no matter the circumstance, everyone is welcome and all deserve the support, tools, and time to learn.
To join the campaign "Public Schools For All," NEA is asking people to snap a photo that represents their pride in public schools and post it to their social channels using #PublicSchoolsForAll.
"Public schools are the cornerstone of our communities. We welcome students of all backgrounds, abilities and incomes, and each of us plays a role in ensuring our schools are open to all," says NEA President Lily Eskelsen García.  "During American Education Week, it's time for us to show our public school pride to the world."
American Education Week honors students' determination to learn; recognizes the professionalism and dedication of teachers, support staff, and other educators; thanks parents and members of the community who help students succeed; and rededicates the community at large to quality public education for every student.
"Together, we'll show what makes our public schools some of the best in the world: all of us, each of us," adds Eskelsen García.
Monday, Nov. 13
American Education Week Kickoff Day will present all Americans with a wonderful opportunity to celebrate public education and honor individuals who are making a difference in ensuring that every child receives a quality education.
Tuesday, Nov. 4
On Parents Day, schools invite parents into the classroom for a hands-on experience of what the day is like for their child.
Wednesday, Nov. 15
Wednesday is a national day of recognition of education support professionals who are integral members of the education team. Education Support Professionals (ESP) Day focuses on the importance of these school employees, who make up 40 percent of the school staff and take care of students every day, making sure they have the tools they need to succeed in school.
NEA Secretary Treasurer Princess Moss, along with ESP of the Year Saul Ramos, will thank ESP in Phoenix Union High School District in Phoenix, Arizona.
Thursday, Nov. 16
On AEW's Educator for a Day, leaders across the country will be invited to serve as educators in their local public school districts to get a glimpse of a day in the life of a school employee.
Friday, Nov. 17
Substitute Educators Day honors the educators who are called upon to stand in for regularly employed teachers.
"American Education Week serves as a tribute to the team of people who work with our students--everyone from the classroom teacher and the bus driver to the cafeteria worker and the administration staff—plus countless others," says Eskelsen García. "We honor and thank them for the work they do every day to make sure that our students are safe and ready and able to learn."
Celebrated the week prior to Thanksgiving, American Education Week was first celebrated in 1921 with NEA and the American Legion as co-sponsors. The week-long celebration grew out of national concern about illiteracy. The original goal of American Education Week—to generate public awareness and support for education—continues today.
To find out more about American Education Week, visit www.nea.org/aew or contact your local public school.
Get more from

We're here to help you succeed in your career, advocate for public school students, and stay up to date on the latest education news. Sign up to stay informed.