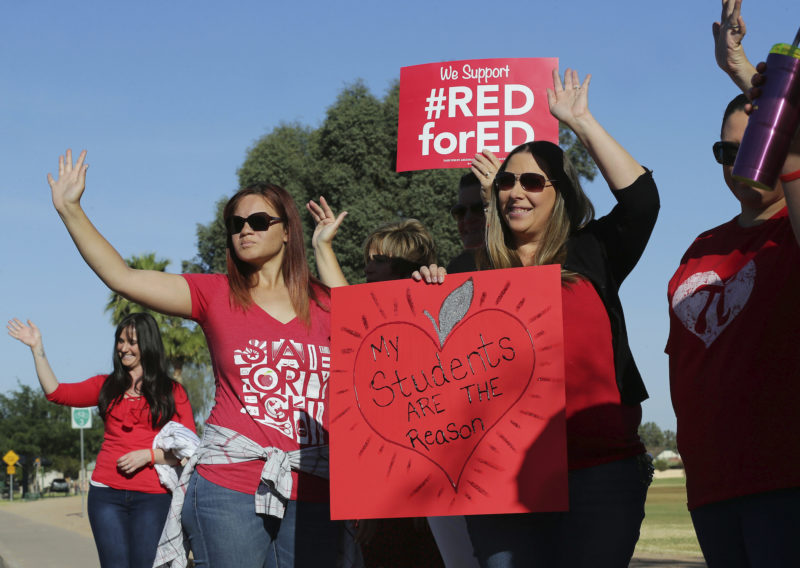 Teachers from Highland Arts Elementary School stage a final walk-in Wednesday, April 25, 2018, in Mesa, Ariz. Communities and school districts are preparing for a historic statewide teacher walkout on Thursday. (AP Photo/Matt York)
Today, the Arizona teacher with 48 students in one class period—and 43 English-language learners in another—will aim to speak with every one of her students. The elementary school counselor with exactly 1,430 children in her care will triage countless emotional and academic crises.
And at least one of their colleagues will say, "Put the rubber band back on that textbook so we don't lose the cover," or "Sit over here. The lights work here."
Tomorrow, they're not taking it anymore.
In what may be the largest educator walkout in history, these educators will join tens of thousands of teachers and educational support professionals (ESPs) across all of Arizona in walking out of their neglected classrooms. Led and supported by the Arizona Education Association (AEA) and Arizona Educators United (AEU) through its #RedforEd movement, Arizona educators are bringing their demands for adequate educational funding directly to state lawmakers in Phoenix, where they will be joined by NEA President Lily Eskelsen García.
"I'm walking out because I know that my students—and all students in Arizona—deserve more. They deserve more. They deserve to be learning in a fully funded classroom," says kindergarten teacher Amy Ball, who has taught for 12 years in central Phoenix. "Every single student in Arizona deserves to have the most opportunities for success."
No state in the country has cut school funding more than Arizona. Between 2008 and 2015, state lawmakers cut funding per student by 36.6 percent, according to a national analysis by the non-partisan Center on Budget and Policy Priorities. (Second is Florida, which cut funding by 22.2 percent during those years.)
This year, Arizona lawmakers are spending 13.6 less on students than they did in 2008. Even as the economy has rebounded from last decade's Great Recession, Arizona lawmakers have opted for more tax cuts, instead of investing in public schools. Last year, Arizona lawmakers cut school funding by another 1.2 percent.
"We can no longer allow the status quo in this state go unchanged. We need to bring the change our students and families need," said AEU leader and AEA member Noah Karvelis. "We have kids sitting in broken desks, studying out of 25-year-old textbooks in rooms with leaky ceilings. This is unacceptable.
"We are truly in a state of crisis."
Arizona teachers and ESPs have had enough. Their #RedforEd movement started this spring with teachers wearing red shirts in solidarity. It has led to multiple rallies at the state Capitol over the past few weeks, and feeble offers of salary raises from state lawmakers.
Last week, nearly eight out of 10 Arizona educators voted to walk out on Thursday. Their effort may be larger than statewide walk-outs in three considerably smaller states—West Virginia, Oklahoma, and Kentucky.
"It is your courage, it is your voice, and it is your advocacy for all of Arizona's students that have brought us to this historic [moment]," said AEA President Joe Thomas. "This is clearly a mandate for action."
Salaries are not the issue—although they are terrible. The latest NEA Rankings & Estimates, released earlier this week, shows Arizona teachers earned an average $47,402 a year in 2017, putting them at 45th in the nation. Teachers describe earning so little money that their own children qualify for free or reduced price lunch, and yet they still invest hundreds of dollars a year to buy paper, books, mousetraps, and more for their classrooms.
What's driving Arizona educators to take action is the lack of opportunities for their students. Arizona students are regularly denied physical education, music and art. Classroom technology is 22-year-old computers, held together with duct tape. Class sizes often top 30 in elementary schools and 40 in high schools.
"I'm walking out because enough is enough. I have spent 30 years in education and in that time we've seen cut after cut after cut and excuse after excuse. We've absolutely had enough," says technology specialist Thomas Oviatt, an educator for 30 years. "Not only do I think Arizona students deserve better, I think every student deserves better."
On the AEU private Facebook page, teachers describe how they struggle to provide what their students need to learn. "I teach in a self-contained special education classroom for students with high needs. Most are students with autism or intellectual disabilities. In the past four months I have spent over $500 on curriculum because I do not have any in my classroom," writes one Arizona teacher.
We're talking about school globes that spin to show two Germanys (the Berlin Wall fell in 1989…), or reading books that include "a cute dating story by Bill Cosby." Teachers are using textbooks that are older than they are. Most Arizona school libraries haven't had money to buy new books since 2008.
Forget about soap or toilet paper in the bathrooms. There are public schools that limit the use of air-conditioners from 10 am to 2 pm only. In one classroom, an inventive teacher set up a homemade air-conditioner using a Styrofoam ice chest and some electric fans. "The rooms were still about 90 degrees inside. The poor kids had headaches and couldn't learn," she describes.
"The 33 second graders in my classroom deserve to have smaller class sizes, they deserve to have updated technology, they deserve to have desks and chairs that aren't broken," says Phoenix teacher Alexis Aguerre.
Tomorrow, educators are going to let everybody know that Arizona can do better for its children: "I think the Red for Ed movement means hope," says Aguerre. "It means that we are willing to fight for our families and for our students.
"Being a part of this movement has given me a renewed hope that we can do better for our kids."
Learn More
Get more from

We're here to help you succeed in your career, advocate for public school students, and stay up to date on the latest education news. Sign up to stay informed.