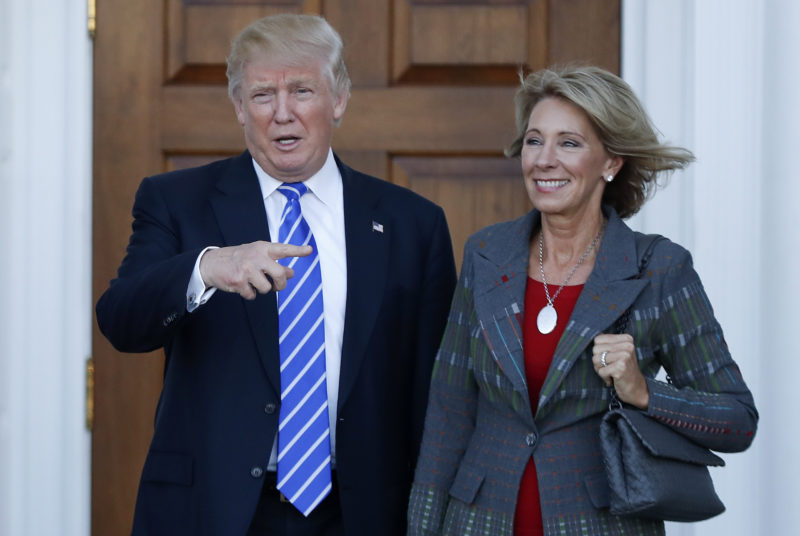 With no experience as an educator or elected official, and despite a decades-long record of undermining public schools by promoting taxpayer-funded vouchers for private and religious schools, lobbyist and Republican donor Betsy DeVos could become the next secretary of education.
The confirmation hearing for President-elect Donald Trump's pick for education secretary is set for January 17 before the U.S. Senate Committee on Health, Education, Labor and Pensions (HELP).
"It's hard to imagine a less qualified candidate for secretary of education than Betsy DeVos," says Cheryl Lake, a third-grade teacher from Michigan, where DeVos is based and has funded privatization and online learning schemes as well as an effort against a Michigan bill to hold charter schools accountable to taxpayers.
"Her complete lack of public education experience alone is troubling," says Lake, "but worse yet is her decades of work to undermine public education through for-profit charter school and voucher schemes."
While seeking to lead the nation's public education system, DeVos' lack of experience and training in public schools has been a cause of great concern.
What she's really done is use her wealth as a pay-to-play political donor, getting pro-corporate education policies passed in exchange for massive campaign contributions from the DeVos family" -  Michigan Education Association President Steven Cook
"The chances children have for success should not depend on living in the right neighborhood or whether they can afford private school. Instead, her involvement in education has been advocating for school privatization and vouchers that run contrary to supporting public education," says NEA President Lily Eskelsen García.
"We should be investing in smart strategies that we know help to improve the success of all our students, including creating more opportunities and equity for students, classes small enough for one-on-one attention, modern textbooks and a well-rounded curriculum for every student."
According to a Washington Post analysis of Federal Election Commission records, the DeVos family, heirs to the Amway fortune, has given at least $20.2 million to Republican candidates at all levels over the years. DeVos and her husband contributed more than $2.75 million to candidates, parties and PACS during the 2016 election cycle alone.
"While some claim her to be an education advocate, what she's really done is use her wealth as a pay-to-play political donor, getting pro-corporate education policies passed in exchange for massive campaign contributions from the DeVos family," says Michigan Education Association President Steven Cook.
"How this is 'draining the swamp,' to use President-elect Trump's words, is beyond me," adds Reed Bretz, a high school choir director from Kenowa Hills outside Grand Rapids. "Putting a GOP-mega donor in charge of education policy is more of the pay-to-play politics that voters don't want and that students don't need."
Funding Efforts to Gut Public Education
In Michigan, DeVos fought for tax cuts for the wealthy at the expense of public schools, for vouchers that divert taxpayer funds from public schools to private schools, and to allow for-profit charter school corporations to operate with no accountability while being funded by taxpayers.
In 2001, she founded the Great Lakes Education Project to advance charter schools in Michigan after her family had spent almost $5.8 million on a losing initiative to establish statewide school vouchers. In 2011, DeVos family members and the Great Lakes project lobbied successfully to lift a cap on the number of charter schools in the state. About 80 percent of the charter schools in Michigan are operated by for-profit companies, with little to no oversight from the state.
Nationally, DeVos has relentlessly attacked political adversaries who do not support private school vouchers. Through aggressive political action committees, DeVos has sought to influence policymakers outside the lines of campaign finance laws.
In total, DeVos has a long history of using her wealth to fund efforts to gut public education. From 1997-2008, she and her husband contributed more than $7 million to support voucher campaigns across the country. In 2000, in their home state of Michigan, they spent $5 million on an unsuccessful bid to remove the state's constitutional ban on vouchers. Sixty-eight percent of voters rejected the DeVos' voucher scheme.
DeVos helped launch and has chaired All Children Matter (ACM), a political organization set up in 2003 to promote vouchers across the nation and push for tax credits for businesses that create scholarships for children to attend private schools. According to news reports, the ACM Political Action Committee violated Ohio campaign finance law and as of December 2016, the organization had not paid the fines for breaking the laws, still owing more than $5 million to Ohio taxpayers.
Putting a GOP-mega donor in charge of education policy is more of the pay-to-play politics that voters don't want and that students don't need" - Reed Bretz, Michigan educator
Since 2009, DeVos has served as chair of the American Federation of Children (AFC), an organization that has aggressively led efforts to privatize public education through vouchers. Since 2007, AFC has spent nearly $13.5 million on its pro-voucher efforts, with much of that money coming from DeVos.
In total, DeVos and her organizations have spent at least $33.5 million to support public school privatization efforts.
As secretary of education, DeVos will be tasked with pushing Trump's plan to steer $20 billion in existing federal public education funding toward private vouchers that pay for private schools, perhaps tapping into $15 billion in so-called Title I money that goes to schools that serve the country's poorest children.
Cook reminds educators and community members that they still have a chance to level the playing field, even as DeVos prepares for her Senate confirmation hearing, against the backdrop of her high-dollar donations to senators sitting in the room.
"Donald Trump and Betsy DeVos can't put in place a corporate takeover of public education alone," Cook says. "They need the buy-in of Congress and the American people. We can stop that from happening, so long as we continue to stand up for our shared values that every student, regardless of their zip code, deserves a great public education."
Take Action:
Contact your senators now, and tell them to vote NO on Betsy DeVos.
Get more from

We're here to help you succeed in your career, advocate for public school students, and stay up to date on the latest education news. Sign up to stay informed.