This year, we're staying home during National Poetry Month. No public poetry readings or slams or school celebrations while social distancing. But that's okay. Poetry, after all, is a personal endeavor and can be fully appreciated with quiet reflection.
Every year, National Poetry Month is celebrated in April, a time of hope, when spring is in full bloom. This year, during the pandemic, it may be difficult to see the promise of renewal that spring delivers. But there are poems for every experience and emotion.
NEA Today spoke to four children's authors and poets who have contributed to NEA's Read Across America program about how poetry can help calm and center us during tumultuous times and also express the beauty and joy of nature in spring.
Stillness and Calm
"Personally, I equate poetry with the introspection that occurs when I'm taking a walk with only my thoughts as company, or when I'm working in the garden and pause to witness nature," says Lulu Delacre, the author and illustrator of many award winning children's books that celebrate her Latino heritage and promote cultural diversity. "Nature is revealed in the gentle sway of crimson newborn leaves in the wind, a pair of sparrows scouting for a nest, or the sudden mounds of dirt that dot my lawn as ground bees get busy."
Delacre enters the world of poetry from a place of stillness and calm and says she's drawn to poetry that makes her feel the same way, especially now.
A quote from John Muir she particularly likes: "Between every two pines is a doorway to a new world." It gives you permission to walk in nature, breath in the woods, and in doing so find centering calm."
A Future You Imagine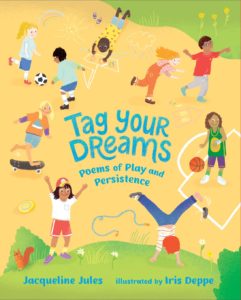 On April 1st, Jaqueline Jules poetry collection, TAG YOUR DREAMS: Poems of Play and Persistence was released by Albert Whitman Publishers. 
Even though we're taking a time out from the team sports that some of the playful poems are about, the collection looks at facing fears, dreaming big, and never giving up – themes that couldn't be more timely.
"Poetry helps me express my hopes, my fears, and my observations. When I write poetry, I often discover myself," Jules says. "During these difficult times, I hope young people everywhere will continue to reach for their dreams and write about the future they imagine."
The World Outside or the World Within
Zetta Elliott is an author of poetry, plays, novels and children's books who is currently teaching an online poetry course for teens through the Brooklyn Public Library. For their first session she shared her poem "self/care" from Say Her Name then made two lists to reflect the ups and downs of living under quarantine.
"I've lived with depression and anxiety since I was a teen; now that I'm nearing fifty, I know what I need to do to protect my mental health, but some day are better than others," Elliott says. "The turning point in the poem allows me to present on the page the same balance I strive for in my daily life."
Poetry, she says is a useful way to express yourself--you don't need much equipment or even a lot of time.
"You can write a quick haiku and take a snapshot of the world outside or capture your emotional world within," Elliott says. When you've experienced something traumatic, free verse poetry allows you to write without rules, without the need for complete sentences, or a linear narrative. Poetry can be quiet or loud, private or public. A poem can give order to our emotions when the world around us feels chaotic."
Start Your Day With a Bit of Poetry 
Former teacher Laura Salas has written more than 125 books for children. She is both a writer and a reader of poetry and says that both are helping her immensely during this stressful time.
"I think that's because both of these activities take me out of the world and out of my own head for a few minutes," she says.  "When I wake up and start my day with a bit of poetry instead of diving straight into news stories or social media, I feel like it gives me a bit of peace and calmness to deal with everything else. I don't always do that, but I notice my days start off better when I do!"
Right now Salas says nature poems are essential. They help her remember that the world is still spinning, the creatures are still migrating and emerging from hibernation, and the grasses are still greening. In other words, life still goes on.
"The Poetry of US, a National Geographic anthology edited by J. Patrick Lewis, is the NEA Read Across America book for April, and I'm honored to have several poems in it, but I'm also dipping into the two companion titles, Book of Nature Poetry and Book of Animal Poetry, even more," she says. "Somehow, poems without humans in them let me leave my worries behind a bit more. And when I return to our real world, these poems help me put even our global health crisis in a broader context of life and our planet."
Salas offers these links for more poetry inspiration:
30 Painless Classroom Poems Series
Breathe and Be, by Kate Coombs and Anna Emilia Laitinen
Great Sites for Teachers
Laura Shovan's Water Poem Project
Amy Ludwig VanDerwater's The Poem Farm 
Michelle Heidenrich Barnes' This Little Ditty
A Few Favorite Poems About Spring
Budding Scholars, by April Halprin Wayland
April Is a Dog's Dream, by Marilyn Singer
Get more from

We're here to help you succeed in your career, advocate for public school students, and stay up to date on the latest education news. Sign up to stay informed.