A good relationship takes time to build, and along the way, trust is formed, collaboration grows, and the collective does better. The same holds true when district leaders, unions/associations, and school boards work together. Decades of research support this claim, and the results show gains in student achievement, improved school climate, increases in teacher retention, and both principals and association representatives being seen as stronger resources by educators in their school.
Rutgers Professor Saul Rubinstein, co-author with Cornell University Assistant Professor John McCarthy of a national study on collaboration in public schools, says state- and district-level partnerships among unions/associations, school boards, parents/community, and management leads to collaboration within the school building.
And, "we see significant and important gains for students when there is greater collaboration," underscores Rubinstein during a recent webinar with the National Labor Management Partnership, which brings together top leaders from The School Superintendents Association (or AASA), American Federation of Teachers, National School Boards Association, and the National Education Association.
Rubinstein points to research that shows schools with the highest level of collaboration, on average have 12.5 percent more students performing at or above standards in English Language Arts, and 4.5 percent more students performing at or above standards in math than schools with the lowest levels of collaboration, after adjusting for poverty.
But to get to these positive outcomes, one thing must happen first: you must start somewhere.
Commit to collaborate today and sign the pledge.
Resources are available through NEA.
That's the message from education leaders who form the National Labor Management Partnership.
NEA Vice President Becky Pringle—including AFT President Randi Weingarten, NSBA Executive Director and CEO Thomas Gentzel, AASA Associate Executive Director Mort Sherman—announced a Call to Action to collaborate around student-centered goals.
Previously, collaboration was often built on individual leaders. When those leaders left, collaborative initiatives would dissipate.
"What we're talking about is a new way of doing our work," says Pringle. "It's not just about working together. We know that many of [our members and allies] are already doing it … But what we're now asking is that our affiliates work with our district [and state] partners to create the structure that will sustain the collaborative work over time."
Rubinstein and McCathy's research shows that the association, as a boundary spanning network, is pivotal in bringing the voice of educators, as those closest to the students, to the forefront of educational decisions.
And each national partner organization is committed to intentionally foster and support lasting structures for collaboration at all levels, so it becomes a part of how the entire school community operates and is sustained at a systemic level, beyond any individual's duration.
Get Started
The moment is ripe for collaboration, given that #RedForEd has shown a national spotlight on the needs of public education, the need for community support, and the power of educator voice on issues that matter to the school community. Additionally, the Every Student Succeeds Act provides an opportunity for educators to have an influence over the federal law as amendments to approved state plans are now being accepted and as district and school improvement plans are still being crafted.
Everyday educators can start by joining with their principals, parents/community, and building representatives to address the needs within their own classrooms and school buildings.  By working together on collaborative projects education stakeholder teams around the country have begun to address some of education's most challenging issues: achievement gaps, discipline policies, new teacher induction, peer assistance, and scheduling. Others have started with smaller, more immediate needs: one example showcases how educators worked together to figure out how to involve third graders in helping excited first graders keep down the noise level while transitioning between classrooms.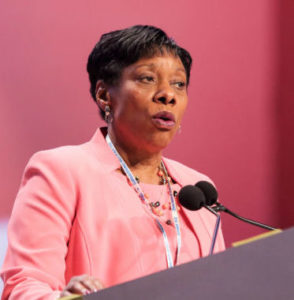 NEA Vice-President Becky Pringle (CALVIN KNIGHT / RA TODAY )
But what's the path to get started?
"There's not one path," says Pringle, but rather common elements that lead to collaboration. These elements are to prepare, act, and reflect.
Prepare: Stakeholders learn the case for collaboration (increased student outcomes, educator retention, and association & administration roles in teaching and learning); identify partners; and commit to collaboration.
Act: Structures and processes are built by identifying collaborative teams and functions to establish support and resources; defining content for collaboration and the process for collaboration; and implementing collaborative efforts.
Reflect: Groups will share lessons learned with others. This analysis is key to repeating and sustaining the work.
Collaboration Works
As Pringle noted earlier, working together isn't new. Successful collaborative efforts go back several decades. In the early 1990s, for example, the ABC Unified School District near Los Angeles, Calif., went on strike for eight days over budget concerns, and the district's plan to slash teachers' health benefits and pay while increasing class size. In the strike's aftermath, an educational partnership between the union and the district was born.
ALREADY ENGAGED?
Tell us what you're doing!  Share your collaboration story.
Today, district and union leaders recognize that a more collaborative relationship is the most effective way of improving teaching quality and student performance. In working together to solve substantive problems for students and teachers, the the union and the district built a relationship grounded in mutual respect and trust, and abide by six guiding principles:
All students can succeed and we will not accept any excuse that prevents that from happening at ABC. We will work together to promote student success.
All needed support will be made available to schools to ensure every student succeeds. We will work together to ensure that happens.
The top 5 percent of teachers in our profession should teach our students. We will work together to hire, train, and retain these professionals.
All employees contribute to student success.
All negotiations support conditions that sustain successful teaching and 
student learning.
We won't let each other fail.
Combative to Collaborative
The relationship between California's San Jose Unified School District and San Jose Teachers Association was once contentious, according to an analysis from the California Collaborative on District Reform, an an initiative of American Institutes for Research. Heated labor negotiations, hostile board meetings, and regular teacher strikes were the norm.
When the superintendent at the time invited the then-president of the San Jose Teachers Association to a cup of coffee and a conversation, the relationship took a turn, and went from combative to collaborative.
The two groups became intentional about their work. They created succession plans to ensure new superintendents and union presidents committed to continuing and growing the partnerships facilitated by their predecessors.
The district also created formal roles and responsibilities for union leaders and members, giving SJTA a voice in important districts policies. Most notable was the decision to make the SJTA president a member of the superintendent's cabinet in 2010.
Collaborative relationship between the district and union matters because it fosters trusts and enables everyone within the school community to better serve students.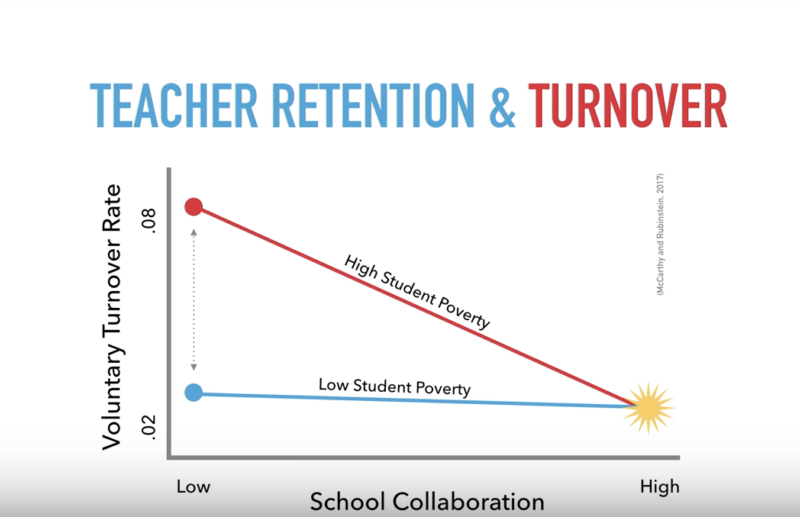 Teamwork and Trust
In New Jersey, several groups, including the New Jersey Education Association, are working together to encourage greater collaboration among administrators, educators, and union officials in 13 pilot school districts which comprise 59 schools serving more than 35,000 students.
"NJEA has joined with our state school boards association and state administrators' associations to foster district and school level collaboration, and we have seen some incredible outcomes for students, our members, and our association," says NJEA President Marie Blistan. "Decisions and processes that have been typically in the hands of administration, like strategic planning, grading equity, and exam coordination are now shared with our members.  And, by sharing in the decision-making, our building reps and local presidents are seen as greater professional resources among our members."
Superintendent Vincent Caputo of the Metuchen Public School District spoke in March during a conference on collaboration of how he and other local educators became interested in creating an educational partnerships within the district.
"Four years ago (2014), when he (Rubinstein) shared his data that union-management collaboration had a positive, statistically-significant impact on Math and English Language Arts achievement, we were more than intrigued," said Caputo.
In Metuchen, educators created district-wide committees, revamped its instructional council, and established School Leadership Teams (SLT) at most schools. Administrators learned more about what teachers require to be successful through input from SLTs and related committees. For example, the district embraced Google Classroom on the advice of the technology committee and shifted funding from white boards to Chromebook Carts on the recommendation of the budget committee. Also, parent conferences are scheduled at more convenient times based on advice from members of the Metuchen High School SLT.
It's really about the relationship," Delgado said. "You need the relationship to develop the partnership. When the relationship grew for us, the partnership grew." - Cory Delgado, principal, Montgomery Township, New Jersey
"The board, administration, and the teachers remain steadfast in our commitment to collaborate with the common goal of improving student achievement," Caputo said.
Montgomery Township High School teacher Jennifer Jones is a member of the school's solutions committee, which collects information about training, technology, office supplies, and other concerns from educators. The information is then discussed with the school principal.
"It was important for staff to be heard," said Jones, MTEA vice president. "We (administration) work together, attend conferences together, and focus on resolving any issues. When you reduce stress for teachers, it reduces stress for students."
Principal Cory Delgado from New Jersey's Montgomery Township said educators and administrators in his district used to only meet for school business. It was a dramatic departure from the status quo to begin meeting socially and even traveling together to education conferences.
"It's really about the relationship," Delgado said. "You need the relationship to develop the partnership. When the relationship grew for us, the partnership grew."
Teacher Karen Kevorkian, and MTEA vice president, collaborates with Delgado and other administrators.
"It's a process … it takes a long time to (build the relationship)," she said. "Cory and I made a promise that we would not let each other fail. If we succeed, our students succeed."
The best school year calendar "we ever had came from the staff," said Montgomery Superintendent Nancy Gartenberg.
"You have to trust each other," she added. "In Montgomery, everyone has skin in the game."
In a time when the Supreme Court case of Janus v. AFSCME (American Federation of State, County and Municipal Employees) seeks to strip educators and all public employees of voice and decision-making power, labor management partnerships that foster shared-decision making structures for educators might just be the winning strategy that results in the outcomes we know are necessary for public education: thriving students, fulfilled educators, and education associations that help to provide meaningful avenues for professional voice.
Get more from

We're here to help you succeed in your career, advocate for public school students, and stay up to date on the latest education news. Sign up to stay informed.