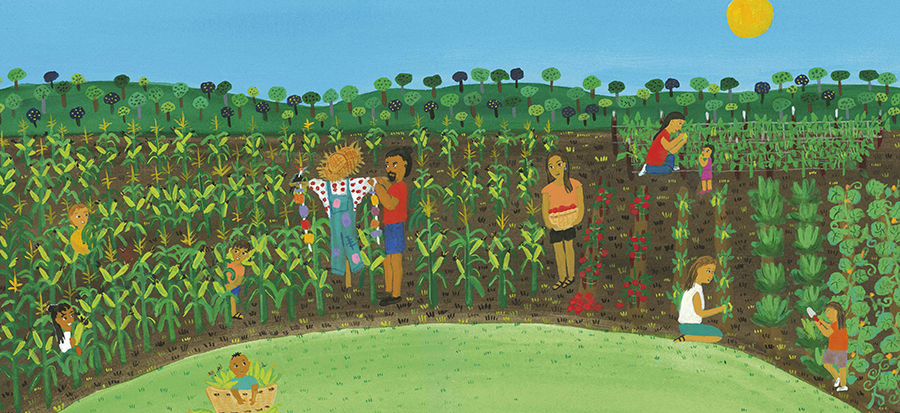 Every day, every season, we are grateful, writes Traci Sorell, a citizen of the Cherokee Nation and author of We Are Grateful: Otsaliheliga, a colorful picture book illustrated by Fran Lessac and featured on this year's Read Across America calendar. The picture book takes readers on a journey through the year with a Cherokee family and their tribal nation as they express thanks for celebrations and moments big and small. Sorell, who was born and raised in the Cherokee Nation, began writing for children when she noticed a lack of books that feature contemporary Native Americans.
NEA Today spoke to Sorell about We Are Grateful:Ostaliheliga and the lessons it contains.
Why are lessons of gratitude important for young people? Why are they important for all people?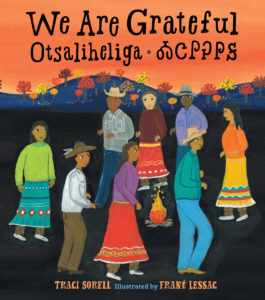 Text copyright © 2018 by Traci Sorell. Illustrations copyright © 2018 by Frané Lessac. Images reproduced with permission of the publisher, Charlesbridge Publishing, Inc.
Traci Sorell: For young readers we are cultivating newer humans, newer citizens of communities and of the world and it is important for them to recognize that gratitude is a universal value. It may manifest in different ways and be expressed differently, but gratitude is central to maintaining hope, kindness, and connectivity to each other.
It's important for people of any age to cultivate a practice of gratitude because as you get older, gratitude not only helps maintain hope, it staves off depression, which in the United States is a huge problem. Being grateful is as simple as waking up in the morning and having another day to try again.
How is gratitude taught and demonstrated in the Cherokee culture?
TS: The Cherokee culture puts value on balance. We aren't taught just to be grateful for the wonderful things in life but also the things that challenge us and make us struggle – through struggle we learn about balance and we learn how to restore balance. We know there are seasons for everything and a life cycle for humans and our animal and plant relatives. Losing a loved one is hard and part of our struggle in life, but we also learn to be grateful for the time we had with them and cherish their memories. Sending a relative off to serve in the  military is a challenge, but we learn to be grateful for their service. I appreciate that about our culture – it helps me keep perspective and create and sustain balance in my own life.
We Are Grateful is an excellent choice for educators and parents to read to children during the Thanksgiving season. Did you have that holiday in mind when writing this story?
TS: Not at all, actually. The Cherokee New Year starts in the fall and goes through four seasons to summer. We celebrate our Cherokee National Holiday over Labor Day weekend. In 1839 after the Trail of Tears -- the forced removal of our people from the East to the West -- we had to recreate our government because we lost so many people along the way. We signed a new constitution, bringing our people back together under our new government, on September 6, 1839. But my hope is that in sharing this story at Thanksgiving time readers will see it as a way to kick off a year round practice of gratitude. The book is about being grateful for all things, big and small, throughout the year.
Children have long been taught about the "first Thanksgiving" with Native Americans and Pilgrims in Plymouth. How does celebrating current Native American culture and people with books like We Are Grateful help students develop a broader understanding of America and the Thanksgiving tradition?
TS: There's a myth that Thanksgiving was this kumbaya moment with the happy Indians and smiling Pilgrims. We would all be in a much better place as a society if we could acknowledge what truly happened during that first Thanksgiving and come together on the holiday to celebrate the gifts that a variety of diverse people can bring to our lives and to be grateful for that.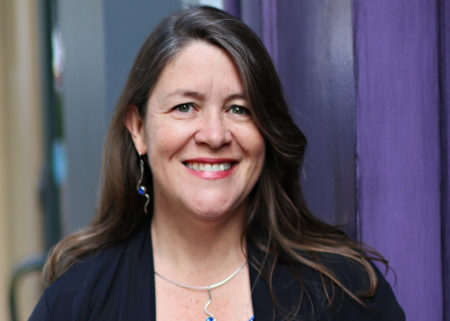 Traci Sorell
Books about contemporary Native culture help children learn that we are still here. Too often books are about Native people reflected in the past. "What did they do then? What were their houses like? How did they live?" Even in textbooks and curriculum we're spoken of only in historical contexts, and by 1900, we're gone. Books like We Are Grateful bring the reader to the present day, showing how we live now. The Wampanoag, the Native people who joined the Pilgrims who were feasting during the fall harvest, are still here in 2019, raising families, making contributions, providing services, governing.
I am so heartened that more and more Native authors and illustrators are telling their own stories and there is now an opportunity for teachers and librarians to bring these books to children. These books present the reality that Native people and culture are still very much here and we are making contributions every day. That gives me hope and it is the whole reason I started writing. When my son was in preschool in 2014, I couldn't find a contemporary picture book about the Cherokee, even though we're over 370,000 people worldwide. When we exclude voices, we don't learn the true nature of what it means to live in this country, and we're all impoverished by it.
The celebration of nature and the Cherokee's connection to the Earth reminds us to be grateful and respectful of the planet. What else can we learn from the Cherokee people about respecting the planet? What lessons do indigenous people have for the world as we experience climate change?
TS: Again, it's about balance. For everything in life there is a season. There is a season of planting, a season of growing, a season of harvesting and a season of dormancy. Our country's dominant worldview is one of continuous growth and consumption and that is completely out of whack with nature and balance. There are seasons and times when we must save and conserve. The lifecycle of the planet, animals, plants and humans does not support constant consumption.
In Cherokee culture, we learned about over-fishing or hunting and how that leads to extinction. We learned to vary what we consumed and to eat seasonally. Another tenet of many Native cultures is to never take more than you need. Always leave more for others and always leave enough for the resources to reproduce. This earth provides everything we need and our lack of respect for it is our greatest struggle.
What other lessons do you hope students will learn from the book?
TS: I'd like students to recognize how we are all much more alike than we are different. We may grow up in different areas and speak different languages or have different accents, but there are universal truths to our shared humanity. Whether its celebrating a new year, the Thanksgiving holiday or other times of celebration, we all come together around food, story and song. We all want and deserve to live and be treated with dignity.
What are you grateful for this Thanksgiving season?
TS: As always, my family. I've been away from them a lot this past year with events related to this book. I'm also very grateful that the book has been so well received. I'm grateful that we moved home back within the Cherokee Nation and that right after Thanksgiving, I will have time to settle in, write and enjoy my family.
Get more from

We're here to help you succeed in your career, advocate for public school students, and stay up to date on the latest education news. Sign up to stay informed.