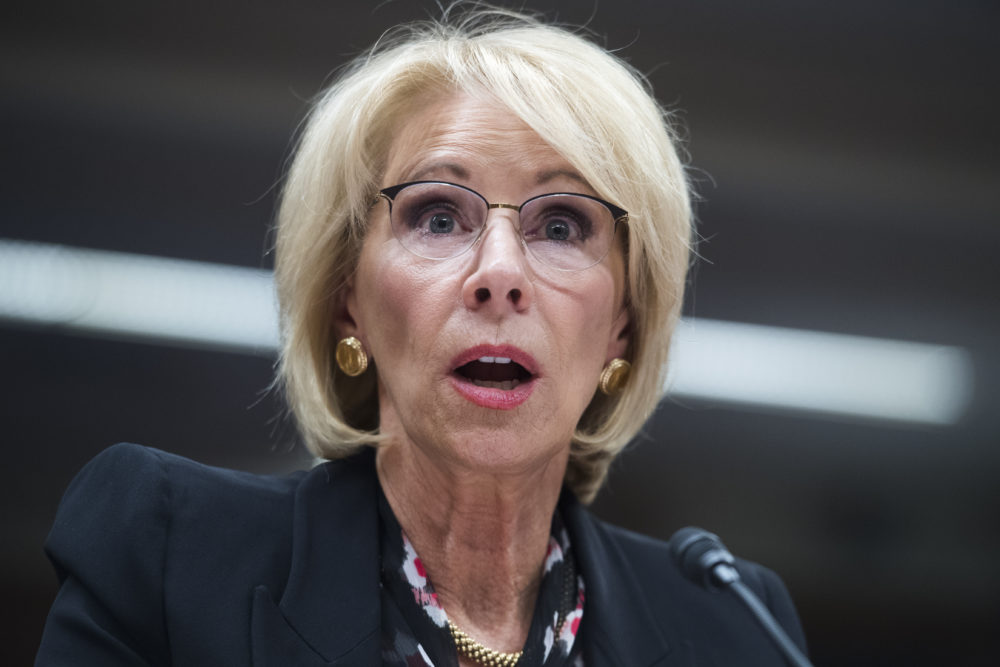 (Photo By Tom Williams/CQ Roll Call via AP Images)
It's the season for goblins and ghouls. And yet, in one federal courtroom last week, a judge unmasked Education Secretary Betsy DeVos, holding her in civil contempt and ordering her department to pay $100,000 in damages to student borrowers.
The judge found DeVos and her department had violated a 2018 order to stop collecting on the debt of students who borrowed to attend a now-defunct for-profit college. In September, the Education Department (ED) admitted that it continued to haunt 16,000 borrowers for payments, going so far as to garnish the wages of 1,800 people and adversely affect the credit ratings of more than 800.
"I feel like there have to be some consequences for the violation of my order 16,000 times," said U.S. Magistrate Judge Sallie Kim, according to CNN. "I'm not sending anyone to jail yet, but it's good to know I have that ability."
For DeVos, the scary season didn't end there. In a letter sent last week, House Democrats also threatened to subpoena the secretary to force her cooperation in a House investigation. Their earlier, repeated requests for answers and information relating to ED's alleged efforts to prop up another failing for-profit college have gone ignored for too long, wrote U.S. Rep. Bobby Scott (D-VA), chair of the House's education committee.
"If the Department continues to refuse to respond, the Committee will then be forced to conclude that the Department is purposefully frustrating Congressional oversight for reasons that are not in the best interest of the American taxpaying public," wrote Scott. "Therefore, the Committee is left to consider utilizing the full powers at Congress' disposal to obtain these critical documents."
All of this adds up to a tricky month for DeVos and her pro-privatization education agenda. On the one hand, a federal court is referring to jail time. On the other, a powerful Congressional committee is threatening subpoena. Between them, advocates say it may be more difficult for DeVos and her associates to continue their dark art of dismantling financial protections for students.
(And the list goes on! On Tuesday, 23 U.S. Senators also called on the Consumer Financial Protection Bureau to investigate FedLoan, a major loan servicer contracted by ED to manage the federal Public Service Loan Forgiveness Program, which, despite Congressional attention, has worked for less than 1 percent of applicants.)
Since taking office, the DeVos administration has worked to dismantle previous rules that protect students from the predatory practices of some for-profit colleges, and to expand the privatization of higher education. However, with the introduction of the College Affordability Act this month, House Democrats are aiming to restore investment in public institutions, fix Public Service Loan Forgiveness, and make for-profit colleges responsible to their students.
To support the College Affordability Act, go here.
Behind the Curtain
Last week's civil contempt order stems from the ED's relationship with Corinthian College, a massive for-profit operation that collapsed in 2014, after defrauding more than 60,000 students who borrowed from the federal government to pay their tuition.
Corinthian had been found to lure students based on false claims, including fake job placement rates. According to the rules at the time, which were put into place by the Obama administration and known as the "borrower defense to repayment" rules, the ED is obligated to refund Corinthians' students. Before Obama left office, about 12,000 students did get relief. But when DeVos entered the picture, the department invented a new system, saying that if students earned a living wage, they wouldn't get a refund. In 2017, former Corinthian students filed a class-action lawsuit. They won, and the court ordered DeVos' administration to stop collecting money. While the ED currently appeals, it still is bound by the judge's order.
Instead, it kept collecting. According to the Project on Predatory Lending, more than 3,000 borrowers made payments that they were not required to make; more than 800 had their credit reports tarnished; and 1,800 had their wages garnished or tax refunds seized, the New York Times reported.
Meanwhile, the ED also is in hot water for its lengthy efforts to prop up another set of for-profit colleges, owned by Dream Center Education Holdings, a subsidiary of a Los Angeles megachurch. In 2018, its chair told DeVos that, despite a total lack of educational experience, Dream Center wanted to take over a failing chain of for-profits, including Argosy University and Art Institutes chain.
They got that approval—and not even a year later, Dream Center was forced to close dozens of campuses, leaving thousands of students, who had spent or borrowed tens of thousands of dollars, without degrees.
Company emails, which Scott's House committee has acquired, show that one of the reasons that Dream Center kept going, even after some of its campuses lost accreditation—a fact that they hid from students—is that they were counting on support from the Trump/DeVos administration.
In a July letter to DeVos, which was supported by 80 pages of documents obtained by his committee, including internal Dream Center emails, Scott wrote, "The actions of Dream Center and the Department of Education's execution of its responsibility to protect students raise grave concerns. As you can see…documents obtained by the Committee raise questions about the extent to which the Department met its responsibility to protect student interests."
The ED did not respond, and now Scott is ratcheting up the pressure. All of it adds up to a very terrifying season for DeVos and company - but one that may bring relief for students and borrowers.
Get more from

We're here to help you succeed in your career, advocate for public school students, and stay up to date on the latest education news. Sign up to stay informed.