Jill Jensen's students take stock of a woodsy on-campus space: "I really don't know what they'll come up with!" she says.
Five years ago, Maine high school teacher Dan Ryder stumbled into a Twitter chat. He lurked, he listened, and what he heard he loved. It was an online conversation among K–12 teachers about "design thinking" in the classroom.
"I found my tribe!" he says.
He's not the only one. In recent years, hundreds of educators across the U.S., from kindergarten through college, have been inspired to upend their typical methods and dive into design thinking. Their classrooms work like Silicon Valley-style innovation labs with students asking questions and defining problems, and then brain-storming, prototyping, and testing solutions.
It's more than a new approach or five-step process to problem solving, and more than a 2.0-version of project-based learning, says Ryder.
"Design thinking is a mindset," he says.
And it starts with empathy.
At the heart of design thinking are students trying to solve problems that affect people. Those people might be fictional characters in a novel, or they might be their community's very real homeless adults. The process requires students to interview others about their needs, or ask themselves what it's like to be that person, the client or "end user."
"The secret sauce is the empathy piece," says Ryder. It's the idea that students are attempting to solve problems—real problems—with their brainpower, and that their level of success depends on how well they serve the needs of others.
"The human-centered piece is probably the most profound and important thing we do as educators," says Laura McBain, director of K12 community and implementation at the K12 lab in Stanford University's d.school.
"It allows students to think about the challenges the world is facing," says McBain, "and puts them in the driver's seat to be really engaged to solve those problems, to feel empowered to change the world!"
Into the Woods
In Maine, Ryder has spent most of his career as a high school English teacher. Recently, he became education director of a new Success and Innovation Center at his school, Mt. Blue High School in Farmington, Maine, a community of about 8,000 people. The goal of the center is to provide multiple pathways for students to be successful.
"I've got one kid who is bombing his English class," says Ryder, "and he's building a new classroom podium to demonstrate his understanding of [Arthur Miller's play] "The Crucible," with quotes etched into the podium that he can identify as significant to the play or meaningful to kids who might see the quote.
As a teacher, you can go from small—like your classroom as your community—and expand it in widening circles to your grade, or to your school, or to the community that your school is in." - Jill Jensen, Glacier Hills Elementary
"This morning I met with a couple of students who are designing a museum exhibit about yellow journalism, using primary source documents. They're asking questions like, 'What kind of lighting works best in a museum? What color palette?' Even if they don't make the full-on exhibit, they've done the thinking—the critical thinking piece—that serves the museum visitor and demonstrates their understanding of yellow journalism.
"It's just so much better," says Ryder, "than, 'Okay, this is sophomore English, Let's think about the themes that emerge in Chapter 2.'"
Ryder's students follow a five-step approach popularized at Stanford's d.school. First, define the problem. Second, brainstorm or "ideate" solutions—lots and lots of solutions. Third (and fourth), prototype and test those ideas. Lastly, reflect: What worked? What didn't? Why?
Jill Jensen, a K–5 science specialist at Glacier Hills Elementary in Eagan, Minn., just south of St. Paul, first stumbled across design thinking while searching for strategies to help her and her colleagues develop in their students what educators call the "4 Cs" of 21st century skills: creativity, collaboration, communication, and critical thinking.
"We had already been doing a lot with engineering challenges, and this felt like a natural next step," but with some extra benefits.
"The empathy piece connected with what we try to do here around connecting kids to the larger world," says Jensen. "As a teacher, you can go from small—like your classroom as your community—and expand it in widening circles to your grade, or to your school, or to the community that your school is in."
Recently, Jensen, who was selected for a year-long fellowship in San Francisco's Teachers Guild, a project of IDEO's Design for Learning Studio, took Glacier Hills' fifth graders into the woods around their schoolyard. This past fall, when parents cleared out an area of buckthorn, an invasive, brushy species, they left behind a large, empty space in the forest.
"I thought, 'This is an opportunity!'" says Jensen.
Students observed and measured, and then got busy brainstorming dozens of ideas. What would other students of different ages enjoy? (Zip lines, of course!) They did some persuasive writing, and brought their ideas to first- and fourth-grade classrooms for feedback. Now they're surveying Glacier Hills' teachers to fuel additional ideas around curriculum and instruction.
"I really don't know what they'll come up with!" says Jensen.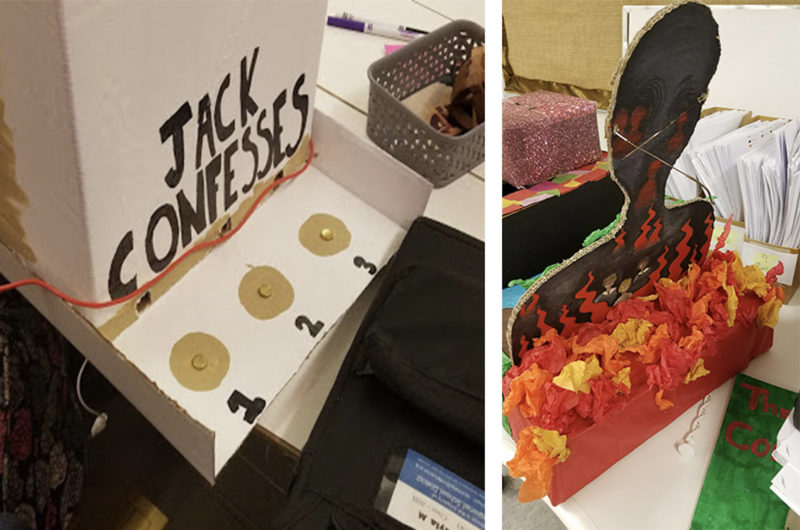 At Mt. Blue, students worked with Dan Ryder and English teacher Meadow Sheldon to apply a design-thinking lens to "Lord of the Flies." Left, an interactive museum exhibit plays three versions of Jack's confessions. Right, a portrait of Piggy that shows how his hope was subsumed.
Getting Started
With the resources available to teachers online, "You could get started tomorrow," promises McBain. A good project to kick off your efforts, she suggests, is to ask students: "What is significant learning supposed to look like in this classroom?"
"Have them ask the questions, do the interviews, and see where it goes," she suggests. "Maybe you'll end up doing a daily community circle, or maybe it will lead to more field work. They're going to ask for the learning they want to see, and that will allow me, as a teacher, to say, 'Okay, what's the next design project?'
"If I'm in the classroom tomorrow, I want to know how my students want to engage with me," says McBain, who previously taught in Los Angeles schools. "That's my act of empathy as a teacher. Then we can go out into the community and empathize with others."
Teachers embarking on design thinking in their classrooms may face two groups of skeptics: Their administrators and their students.
Administrators may be easier to satisfy. "Having done this for a while, I can tell you that design thinking will satisfy far more standards than the typical run through the textbook, and it does it in a far more authentic way," says McBain. "Our job as educators is to document those standards as we go through the process so that we can say, 'this is the design challenge we did, and these are the standards we hit.'"
A good strategy to get your administrator on board: Invite them—and parents, too—to be part of the design challenge, says McBain. Ask for 20 minutes of their time to test your students' prototypes.
When it comes to students, some of Ryder's love the creativity and the freedom to try, fail, and then try again. Others hate it. "A lot of kids just want to know 'Did I get it right? Or did I get it wrong?'" says Ryder.
"They want it that way because they've learned to play the game of school, and here I'm saying to them that it's not about right or wrong," he says. "It's about demonstrating that you've done all these layers of thinking, and the degree that you did it well. It's not fill-in-the-blank and get a 100," says Ryder, "and that sometimes bothers students, especially some of our high-performing students."
But real life—and the vast majority of jobs in the real world—aren't like a Scantron test. The skills and habits required of students who successfully "design think" in the classroom—like creativity, persistence, adaptability, and collaboration—are the skills and habits that will make them valuable to employers in America's modern, non-industrialized workplaces.
"If you're in a school where everyone needs to be doing the same thing, it can be challenging to try new things," says Ryder. But this is worth the challenge, he adds.
"This is authentic learning."
Learn More
Get more from

We're here to help you succeed in your career, advocate for public school students, and stay up to date on the latest education news. Sign up to stay informed.