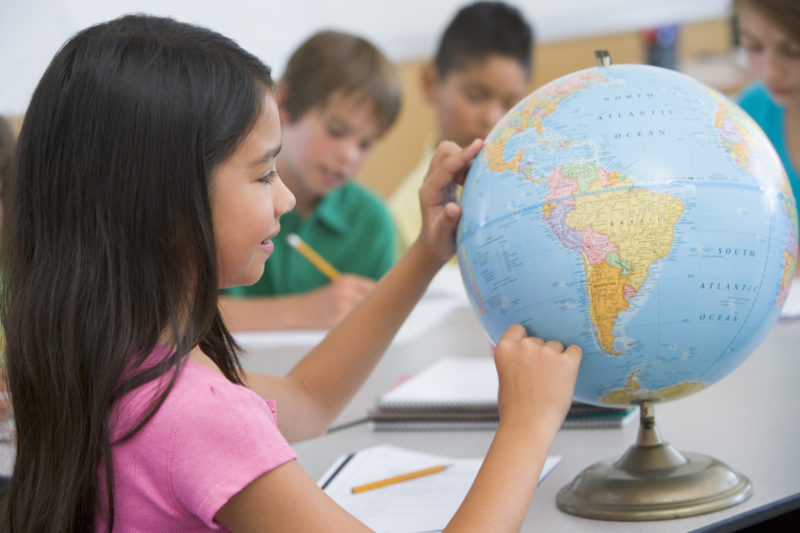 If you are an English Language Learner (ELL) enrolled in a dual immersion program, learning to speak, read, and write English is about many things. It's about new words. It's about pronunciation. It's about becoming bilingual and biliterate. Above all, it is about something very elemental: maintaining your native tongue while gaining access to grade-level classes in math, science, and other subjects.
Dual-language immersion programs are effective because they encourage students to master English but not at the cost of losing their native language, says Elizabeth Villanueva, a language and literature teacher at Burbank High School in Sacramento, Calif.
"Language is power," says Villanueva, a member of the Sacramento City Teachers Association (SCTA). "When we encourage students to use their language while learning English, academic success follows."
In Minnesota, Saint Paul Public Schools (SPPS) is one of the state's largest school districts with more than 37,000 students who speak more than 125 languages.
"Maintaining a student's native language is vital to their self-esteem, family heritage, and identity," says See Pha Vang, a teacher with the SPPS Office of Teaching and Learning. "German, French, Spanish … all native languages are critical to who we are as individuals."
Two-Way Language Learning
Numerous studies have shown that academic skills and knowledge transfer between languages, according to James Crawford and Sharon Adelman Reyes, authors of Diary of a Bilingual School, which combines narratives and analysis from a Chicago magnet school to demonstrate how dual language programs work.
"Students who learn to read well in, say, Spanish, tend to learn to read well in English over the long term," the authors state in an article for Colorin Colorado. "Developing fluent bilingualism also gives children a variety of economic, cultural, cognitive, and psychosocial advantages."
Dual immersion has proven successful precisely because "it avoids skill-building in favor of natural approaches to language acquisition," according to the authors. "Students acquire a new language incidentally, as they understand it, by making sense of it in context, while engaged in purposeful activities."
Comprehension is enhanced when children from different linguistic and cultural backgrounds interact and learn from each other in the same classroom, according to Crawford and Reyes. Immersion teachers employ sheltering strategies that adjust the language of academic lessons to students' current level of understanding.
"The emphasis is on developing children's capacity to use the language for meaningful pursuits, an approach that is far more likely to engage their interest than memorizing the syntactical forms of English or Spanish," they state. "It is also far more likely to foster proficient bilingualism."
Heritage Language Learners: Spanish
Latino students enter U.S. public schools at varying degrees of language literacy. Some are from families who have been in the U.S. for generations and happen not to speak fluent Spanish. Some are bilingual in Spanish and English. Some are immigrants who cannot speak a word of English, while others are illiterate in even their native tongue from lack of formal schooling.
"The linguistic needs of a second or third generation Latino are very different from someone who arrived in the U.S. at age 16," says Villanueva, who has conducted research and written numerous papers on language and cultural heritage. "Whatever their grasp of English, we should use their linguistic skills to empower and enrich their education and sense of self."
Dual language programs and curriculum, says Villanueva, can prompt student's interest to connect new words and knowledge with their own learning experiences and surroundings.
"When students make these connections, they create an internal relationship with the subject matter, new words, and culture that builds their confidence," she says. "This ultimately leads to academic success."
In 2017, Latinos were almost 18 percent (57.5 million) of the U.S. population. As members of the nation's largest ethnic or racial minority, many ELL Latino students exist in a familiar environment surrounded by Latino family members, music, food, and culture. For those who are literate in Spanish, learning English is enhanced when they are encouraged to immerse themselves in both cultures and languages, according to Villanueva.
"Encouraging them (heritage learners) to read and write in Spanish not only prepares them better for academic success in mainstream courses, it also enhances their learning skills in English," she says. "Dual immersion programs work well because these students are motivated to cultivate their Spanish as well as their English skills."
Heritage Language Learners: Hmong
In Saint Paul Public Schools, the top four languages are Spanish, Somali, Karen (spoken in Myanmar (Burma) and the borders of Thailand), and Hmong, a language and dialect native to China, Vietnam, Laos, Myanmar, and Thailand.
Hmong is an endangered language, says Vang, a native of Laos who speaks Hmong, Lao, and English. She also studied Spanish in high school and college.
"The main reason is that Hmong is, traditionally, an oral language," she says. "It is passed on verbally from one generation to the next."
The Hmong first began arriving in Minnesota in 1975 after the Laotian Civil War. Their population skyrocketed from almost 18,000 in 1990 to more than 77,500 in 2013. The highest concentration of the state's Hmong live in St. Paul, which forms the Twin Cities with neighboring Minneapolis.
In response to the growing Hmong community in St. Paul, the school district established the Hmong Dual Language Program for elementary school students and Hmong Language and Culture Program for students in middle and high school.
Vang, who joined the dual language program about five years ago, says there are no higher education institutions or recognized scholars in the Hmong language arts to reference regarding lesson plans, curriculum, and other etymological formalities.
"We are our own resources," says Vang, a member of the Saint Paul Federation of Teachers (SPFT). "We (language teachers) consult with each other and with Hmong elders about the language, cultural values and identity."
In SPPS, many of the enrolled Hmong students arrived in the U.S. not knowing English. The Hmong immersion program was developed to foster bilingual, biliterate students by easing them into speaking English as they progress with their peers through the public-school system.
In the early years of their education, Hmong students spend the majority of their school day reading, writing, and speaking in Hmong. Their instruction involves learning English through the use of their native language. As students gain knowledge and experience, the percentage of classroom time using English increases.
"If you live here, you have to learn English," says Vang. "But there are also tremendous benefits to speaking your own language and other world languages. The boost in self-esteem, world-view, and joy of experiencing other cultures cannot be valued enough."
Get more from

We're here to help you succeed in your career, advocate for public school students, and stay up to date on the latest education news. Sign up to stay informed.