Key Takeaways
The Department of Labor Hall of Honor was established to recognize the life-changing contributions of America's workers over the years.
From farm and sanitation workers to truck drivers, grocery staff, nurses and educators, millions of Americans went to work so others could safely stay home and be safe during the pandemic.
Education support professionals (ESPs) showed how essential they were not only during the pandemic, but in everyday school operations by acting as the glue that holds school communities together.
In recognition of their sacrifices and efforts to protect the health of all Americans during the coronavirus pandemic, the Department of Labor (DOL) inducted Essential Workers of the Pandemic into the U.S. Labor Hall of Honor today. Those inducted include educators like Andrea Beeman, a special education paraeducator from Maple Heights, Ohio.
The U.S. DOL Hall of Honor recognizes the life-changing contributions that a unique group of people have made on the American way of work over the nation's history, including the workers of 9/11, farm workers, Chinese rail workers, and sanitation workers.
Now, the critical role of essential pandemic workers – like the nurses, grocery store workers, sanitation collectors, truck drivers, farm workers, and educators -- whose contributions ensured that Americans got through the COVID-19 pandemic are being honored.
These essential workers didn't have the option that many others had to stay home and be safe during the frightening early days of the COVID-19 pandemic, said Deputy Secretary of Labor Julie Su.
They did not sign up to be on the front lines of a crisis, yet "they put their heart and soul into their work," which they performed tirelessly and selflessly, despite the fact that they are "often the most marginalized workers of our economy," Su said.
Educators Went to Work for Safety of Students
When Ohio announced the closure of schools for the rest of the academic year to help fight the spread of the coronavirus, Andrea Beeman's thoughts, like most educators, went to her students. A special education paraprofessional in Maple Heights, a suburb of Cleveland, she works with students who have severe developmental disabilities.
"At the beginning of the pandemic, when buildings were closed, we continued to educate our students...but it was a lot to manage with more than seventeen special education students in a virtual class. The students I work with need face-to-face connections and support with social-emotional learning," Beeman said at the induction event, speaking on behalf of the National Education Association and the nation's education support professionals (ESPs).
"So everyone on the education team stepped up and reimagined our roles. We were on the frontlines of the pandemic, doing everything we could to minimize the impact on our students."
In Beeman's school district, like others all across the country, tech professionals helped everyone move to online learning environments; cafeteria workers made sure students and their families received nutritious meals; bus drivers delivered learning materials to students; and paraeducators and library media clerks joined teachers in their virtual classes to ensure students had what they needed to learn.
"Together, we mobilized to do wellness checks. We made hundreds of phone calls to students and their families. When we didn't get an answer, we had our teams knock on their doors to see if there was a problem we could help them resolve," Beeman said, who was NEA's 2020 Education Support Professional of the Year.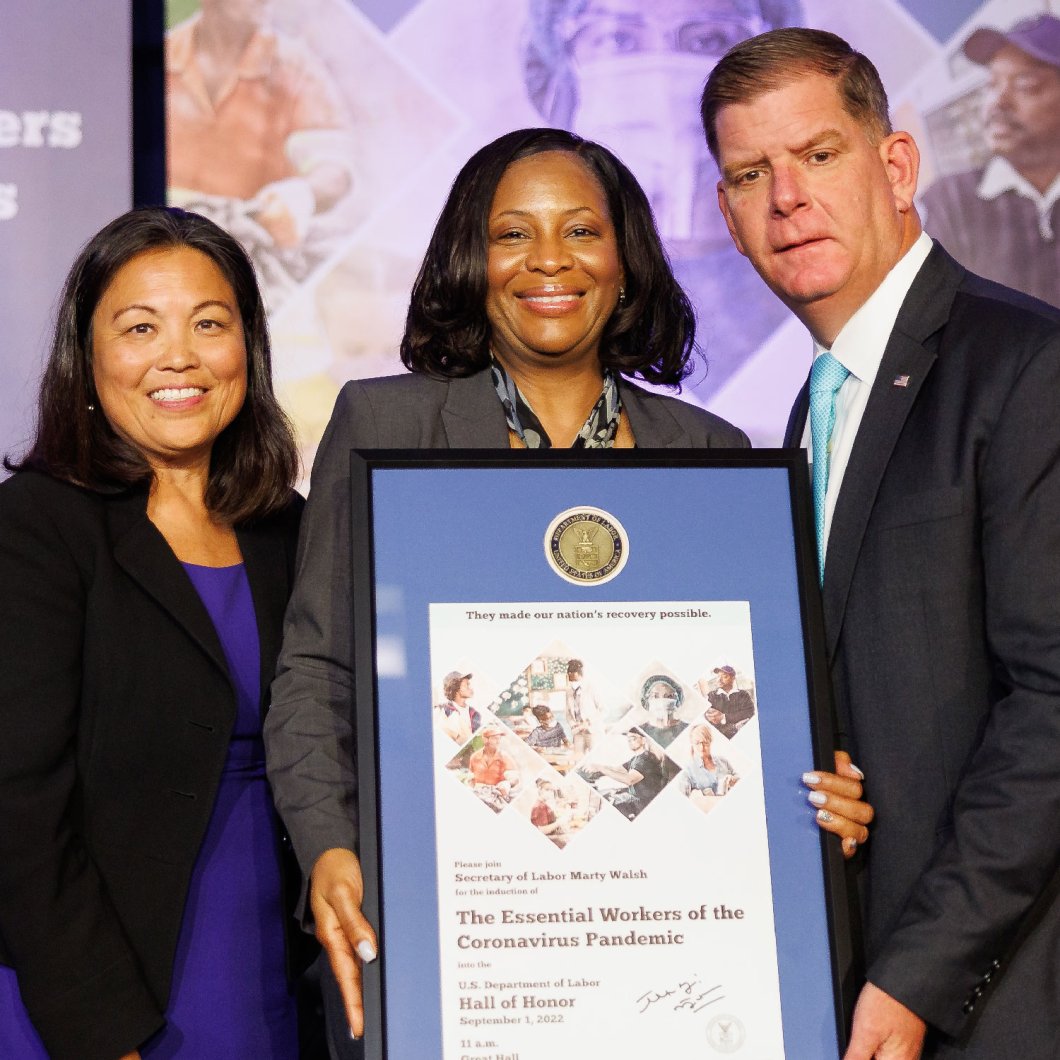 Beeman thanked the DOL for inducting ESPs as essential workers in the Hall of Honor, saying it will be a lasting reminder that education support professionals never gave up on our nation's students and continued to go above and beyond for our school communities.
"Andrea Beeman, like the essential workers inducted into the Hall of Honors, embodies the commitment, integrity, and work ethic celebrated today," said NEA President Becky Pringle. "We applaud Andrea and the ESPs she represents for their unbending commitment to helping students succeed no matter their ability, ZIP code, or color. They are the glue that holds together our public schools and communities. They think in terms of solutions rather than problems, and possibilities rather than impossibilities. It is right and necessary that our nation celebrates and remembers these essential workers—who worked tirelessly when our students needed them the most—by inducting them into the Hall of Honor."   
 The recognition of essential workers like Beeman, who also is an NEA local union president who was instrumental in securing contract language to help her members provide students with the services they deserve, comes at a time when Americans' approval of labor unions has reached its highest point since 1965, according to the latest Gallup poll. Today, nearly three-quarters of Americans approve of labor unions, the poll found. 
The pandemic highlighted the critical role essential workers play in our lives, and in our schools. ESPs were the glue holding together our school systems for students, families and communities, and the recognition of their service has helped reinforce the support their provide. 
"I am so grateful to the Biden administration and to U.S. Secretary of Labor Walsh for recognizing us as essential, and providing us with the necessary resources to meet our students and educators' most pressing needs," said Beeman. "And as we celebrate these efforts, we must also recognize that more work must be done to ensure that all our educators are seen, protected, heard, and valued in our careers."  
Get more from

We're here to help you succeed in your career, advocate for public school students, and stay up to date on the latest education news. Sign up to stay informed.