Glenda Utter has been feeding students in the Lebanon, Oregon, school district for more than 20 years and she's not about to stop now. Even as COVID-19 cases surge around the country and she worries about her husband at home with a heart condition, she arrives at Lebanon High School at 6:00 a.m., armed with gloves, hand sanitizer, and a strict maintenance of social distance from others, to prepare for the families who arrive at 9:00 for grab-and-go breakfasts and lunches.
"I asked my husband if he's nervous, and he is, like all of us, but he doesn't want me to stop. He knows how important it is," Utter says. "He told me, 'I am so proud of you guys and the work you're doing.' It made me cry!"
Utter's husband is right. It's critically important work. Schools around the country may be closed, but there are nearly 30 million students who rely on school breakfast and lunch. Without those meals, many of them wouldn't eat. And so at schools all over the U.S., families line up at grab-and-go stations like the one at Lebanon High School, where they have served close to 600 meals a day and counting. Each day when distribution begins, dozens of families are already there. They come in cars, on foot, or by bike, keep a safe distance from each other, and collect bags of breakfast and lunch, like pancakes and berries, taco salad, carrots, apples, chips, and milk.
"Anyone who has a child at home can get meals," Utter says.
Families Grateful, Relieved
She's familiar with the need for continuity in meals. As a 12-month food service employee with the district, she's worked over winter and spring break and summer to make sure kids who need meals receive them.
"Our families are always grateful, but they're so relieved that we're here and able to offer this to them now during this crisis," Utter says.
Although the district is keeping her crew to a minimum to reduce exposure, Utter says the district's custodians have stepped in to bag meals and help with distribution. She also has four volunteers from a nearby medical school helping each day, as well as school district officials.
Educators are helpers and their response to students' need for meals even in the midst of a pandemic is happening nationwide. Districts big and small, rural and urban, are making sure kids are fed, distributing meals by bus or distribution sites where they can grab-and-go.
Educators Volunteer to Help in New Jersey
Across the country in New Jersey, New Brunswick Education Association (NBEA) members worked side-by-side with administrators to distribute more than 12,000 meals to New Brunswick public school students during the first days of the closure. When the district called for volunteers, NBEA members didn't hesitate. More than 170 members volunteered to distribute meals during the first week alone.
👏🏼Thank you to all who planned, made, delivered & distributed the meals for our kids! #Allin4NB #ittakesavillage #spreadlove @news12nj @nbpschools @aubjohnson111 @MarnieMcKoy @kalanne02 @cosentinonbps @PaulRobesonNBPS @NewJerseyDOE @NJCountyTeacher @njsba @NJEA @DrLRepollet pic.twitter.com/CSLBrBYQ1F

— Jennifer Olawski (@JOlawski) March 19, 2020
The district designated four locations throughout New Brunswick, all located in public parks, so students and their families can safely pick up meals twice a week. On Tuesdays, educators provide breakfast and lunch meals for students to last through Thursday. On Fridays, meals are provided that will last to the following Monday.
"NBEA members' commitment to our students and the community extends far beyond the schools," says NBEA President LeShaun Arrington. "We are proud to work with administrators to ensure our students get what they need."
'Meals on Wheels' In Michigan
On St. Patrick's Day, Jan Kaiser decided she'd celebrate by driving up the road to get a corned beef and cabbage dinner at one of her favorite restaurants in Alpena, Michigan. But this year she ordered it by phone and picked it up curbside. Nobody is dining in during the COVID-19 pandemic.
"I still want to support our local businesses," says Kaiser, the school librarian and a special paraeducator at Hinks Elementary, a rural school with just 146 students in northeastern Michigan. A lot of the parents in her district work in the food service industry and are now jobless as the pandemic closes restaurants. She knows first-hand because she sees them on her route delivering meals, not as a driver but as one of three ride-along educators who help hand out meals at stops and take count of recipients.
All Alpena School District bus drivers and paraprofessionals are distributing food to students all over the county-wide district. There is at least one paraprofessional and one teacher volunteer on every bus run distributing food or distributing meals at grab-and-go sites at schools. There are even educators packing food at 5:00 a.m. for bus runs or building distribution.
The Alpena superintendent likened the effort to the "largest meals on wheels" in the state of Michigan in a county covering 604 square miles.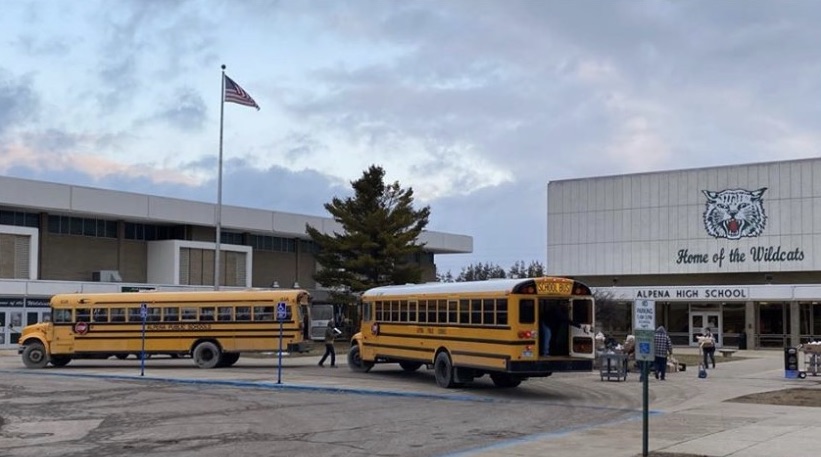 Alpena School District staff load food onto school buses. (Photo courtesy of Jan Kaiser)
Kaiser has lived in Alpena her entire life, but on her routes distributing meals she's been on roads she never knew existed. Some are paved, others are gravel or dirt, most of them are potholed. Families come to the end of long driveways, all of them waving enthusiastically. Kaiser knows all of them and wouldn't otherwise see their smiling faces since schools closed. It's a bright spot in a difficult time.
"The parents are so appreciative and have supported us, even when they didn't think their families would need meals," says Kaiser. "One mother said her family didn't really need it and that we should give the food to someone who does, but we told her to take the meals because we have them for everybody. She wasn't going to, but then she mentioned she was let go from her job at Applebee's. The need is definitely growing."
Though the Michigan Education Association does not represent secretaries and cafeteria workers, they are also involved in tallying and preparing the food bags. It is a total district effort with everyone from the administration to staff.
COVID-19 and School Meals

 
The National Education Association recognizes the vital role that public schools and child care centers play in providing healthy and nutritious meals to children throughout the school and program year. As the COVID-19 Pandemic continues to cause school closures, here is guidance for affiliates related to ensuring students continue to have access to meals.
Bus driver Annette Henski is happy to be a part of it. She's driving her regular route and delivering meals at group stops in the town where students gather and wave, calling "I miss you!"
Henski's been driving her route in Alpena for nearly a decade and is thrilled to be able to help the kids and families she's grown to love. She keeps in close contact with the other drivers during their routes and if someone runs out of meals, another travels to where they are needed to fill in the gaps.
"There are a lot of people who need meals and I think word is getting out that we're here to offer it," Henski says. "Everyone needs to eat and not every parent is working, or their hours have been cut."
At one group stop, she saw a mother in a McDonald's uniform loading her small children into her car. The kids were too young to be students, but Henski called to her to come get meals anyway.
"We handed her three bags of food and told her we'd be back at the same time on Monday," she says. "Whoever needs food, whoever is standing there, we give it to them. That's what we do."
Meeting the Needs in New Mexico
In Las Cruces, New Mexico, nearly half of the children live in poverty. School meals are literally a lifeline and educators there are working tirelessly to maintain it. Las Cruces High School is mission control where many ESPs are helping with the response. While school food service and district staff prepare and bag grab-and-go meals for distribution sites, custodians help with the heavy ice chests, pick up any trash after distribution, and help make sure safety and sanitary precautions are taken. Together they are feeding thousands of area families.
Rita Morales has been working in food service with the Classified School Employees Council of Las Cruces for 15 years and her role in the meal response during COVID-19 is making sure the counts are correct and that all the grab-and-go bags are ready for the next day's distribution.
With so many families in need they created a second shift, which Morales manages.
"My shift has 13 workers -- three bagging the breakfasts, three bagging lunches, three bagging vegetables and fruits, and three wrapping the hot main entrée, and myself," she says.
They are literally working around the clock to make sure everyone who needs a meal gets one. The first shift works from 6:30 a.m. to 2:00 p.m., the second shift from 2:00 to 8:30 or 9:00 p.m.
Anyone can get meals as long as they have one child in the car, no questions asked. "If there's at least a child inside the vehicle, they can get a bag for the whole family," Morales says.
Though she can't actually see the kids getting their meals at the distribution sites because she's working inside the cafeteria, she says she can feel it in her heart and feels honored to be in a position to help.
"I'm so proud to be part of the Las Cruces response to this crisis," she says. "I love my job, and I work for my kiddos."
Join a campaign.
We need to dismantle unjust systems. We need to fully fund public schools. We need to hold our elected leaders accountable to our communities. And we need your help to make it happen.
Get more from

We're here to help you succeed in your career, advocate for public school students, and stay up to date on the latest education news. Sign up to stay informed.