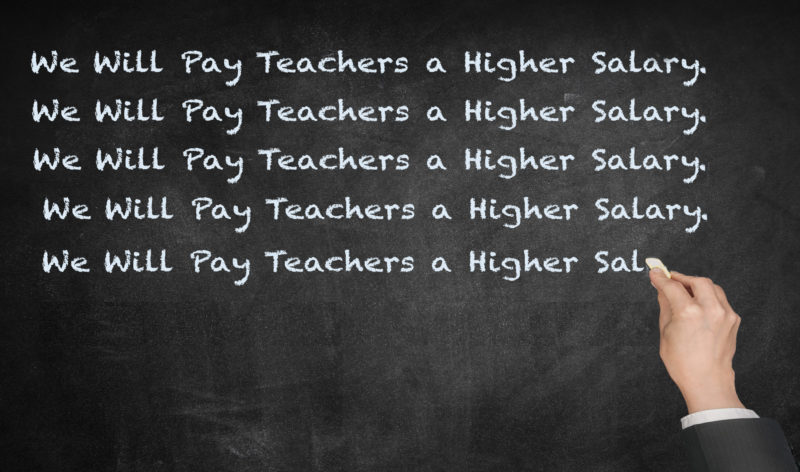 "Something has to change," says Noah Karvelis, a teacher at Trios Rios Elementary School just outside of Phoenix. Only in his second year teaching, Karvelis has already seen too many colleagues walk away from the profession in a state where the salaries are so low. Arizona ranks last in teacher pay and in per-pupil spending.
"Being a teacher isn't a viable career choice here any longer," Karvelis says."No one got into this profession to get rich. But we do expect to be able to make a living. And in Arizona, that's not the case."
Between 2014 and 2016, Arizona educators increasingly fled the state for jobs in neighboring California, Colorado, Nevada and New Mexico, where teachers make on average $10,000-15,000 more than their counterparts in Arizona.
"Each day that goes by without action by our elected officials, another teacher decides to leave Arizona," said Arizona Education Association President Joe Thomas.
In 2015, special education teacher Robin Edgerton left the Lake Havasu School District for a position in Needles, California, that doubled her salary. She commutes 40 minutes from her home in Lake Havasu.
"I went from living paycheck to paycheck, to where now I can buy a house," Edgerton told The Arizona Republic. "With Arizona pay, it never would have happened."
Over the past few weeks, educators across the state have mobilized to demand a 20 percent increase in teacher pay (which would still place Arizona below the national average) and a return of pre-recession school funding levels. With each unacceptable response from Governor Doug Ducey and the state legislature, the #RedforEd movement has grown stronger, joining educator-led protests in other states that have pushed low teacher pay and the divestment in public education into the national spotlight.
The fire was lit in February by the historic nine-day strike by West Virginia educators ("That victory has been incredibly empowering for educators in Arizona," said Karvelis). Since then, it has swept through other states such as Oklahoma and Kentucky as teachers and other school staff became fed up with inadequate resources and the penalties they have to endure to stay in a profession they love.
The dramatic resurgence of the teacher pay issue specifically, says Lawrence Mishel of the Economic Policy Institute, has been simmering for some time.
"You're seeing two factors—the debasement of the teaching profession and the erosion of wages and benefits to the point where educators are rightfully angry," says Mishel. "They're determined to protect their families and their profession."
Video: Tulsa educator Jennifer Thornton supports herself and her teenage son on less than $2K a month.
A Man-Made Crisis
"Wages for teachers have been falling relative to comparable workers all over the country for many years," says Mishel. This "teacher penalty" continues to grow,  forcing many educators out of the profession and making it less and less attractive to potential candidates.
And many who remain are forced to take second jobs just to make ends meet. A 2016 report from the National Center for Education Statistics estimated that about 16 percent of teachers across the nation work second jobs outside the school system.
According to a new EPI analysis by Sylvia Allegretto, an economist at the University of California at Berkeley, teacher pay (adjusted for inflation) fell by $30 per week from 1996 to 2015, while pay for other college graduates increased by $124. Even when accounting for benefits, the teacher compensation gap widened by 9 percent, to 11.1 percent over that same time frame.
In Arizona, teachers earn just 63 cents on the dollar compared with other college graduates—the widest pay gap in the nation. The gap is 79 cents in Kentucky, 67 cents in Oklahoma, and 75 cents in West Virginia.
It's a gap that is abated by collective bargaining, according to 2016 analysis by Allegretto and Mishel.  They found that in 2015, "teachers not represented by a union had a 25.5 percent wage gap—and the gap was 6 percentage points smaller for unionized teachers." (See Mishel's recent summary of the research into collective bargaining's impact)
Since the successful strike in West Virginia, in which teachers and education support professionals pressured Governor Jim Justice to agree to a 5 percent pay raise, the message around education funding and teacher pay has clearly struck a chord with the general public.
"We're seeing an outpouring of support and respect for teachers in these states," says Mishel.
A new poll by CBS found that 68 percent of Americans say teachers in their community are paid too little—a majority that cuts across political party lines.
This community support is absolutely critical. For too long, lawmakers have degraded the teaching profession with myths, exaggerations and outright lies, all designed to undermine public education and advance a school privatization agenda.
Oklahoma Governor Mary Fallin pulled out this rhetorical toolbox during the Oklahoma walkout when she compared protesting teachers to "a teenager who wants a better car."
There are clear cracks in the mantra that tax cuts are the panacea for everything and I think they're going to grow wider as the public becomes more aware of their impact. How quickly this pans out remains to be seen but the signs are all there." - Michael Leachman, Center on Budget and Policy Priorities
Aside from being offensive, the remark was also a clumsy attempt to divert attention away from the reckless tax cuts Fallin and other politicians have championed that have decimated public services in their respective states.
"This is a man-made crisis," NEA President Lily Eskeslen García told a rally of educators in Oklahoma City on April 2. "Tax giveaways to big business. Starving the revenue that pays for quality education—they've been digging this revenue hole for a dozen years."
Michael Leachman of the Center on Budget and Policy Priorities analyzed the impact state tax cuts have had in Arizona and Oklahoma. While the individual tax breaks differ, the effect is the same: funding education has become increasingly difficult, which it turn makes it even harder to improve teacher pay.
Arizona and Oklahoma were cutting taxes before the Great Recession and haven't stopped.
"While most states have gradually restored the school funding that they cut when the recession hit, Arizona and Oklahoma have not come close," Leachman writes. "Most states have reduced average teacher pay since 2010, after adjusting for inflation, but Arizona and Oklahoma are among the deepest-cutting states."
Although raising more revenue in these states is a daunting political challenge, the ground is shifting, says Leachman.
"There are clear cracks in the mantra that tax cuts are the panacea for everything and I think they're going to grow wider as the public becomes more aware of their impact. How quickly this pans out remains to be seen but the signs are all there."
No More Nickel-and-Diming
Arizona educators are all-too familiar with this stubborn allegiance to tax cuts for the wealthy. Derek Harris, a band teacher in Tucson, sat stunned at a meeting with lawmakers at the state capitol last month as educator protests began to gather momentum.
"They told us to our faces that the tax cuts were absolutely necessary and that the reason we had these budget shortfalls was because the district was spending the money fraudulently," Harris recalls.
This spring the legislature stands ready to approve a capital gains tax cut that will benefit almost exclusively the 183 richest Arizonans — those making more than $5 million a year — to the tune of an extra $27,000 each.
Meanwhile, all Governor Ducey offered teachers was a 1 percent pay raise - until Arizona educators stood up.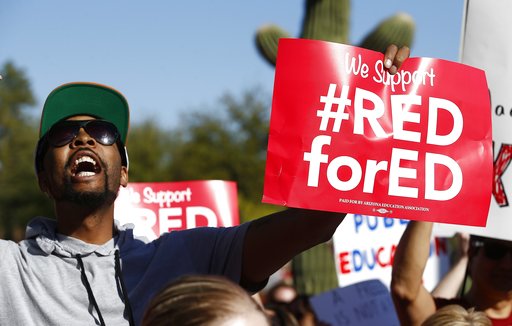 Arizona teachers and education advocates march at the Arizona Capitol highlighting low teacher pay and school funding on March 28, 2018, in Phoenix. (AP Photo/Ross D. Franklin)
"It was just another slap in the face," says Harris."It's too much. We're not going to be nickel-and-dimed anymore."
On April 11, as part of the #RedforEd movement, teachers, education support professionals, and parents across the state held "walk-ins" to educate the community about the funding shortfalls facing public schools. The goal was to mobilize as much community support as possible to pressure Ducey—who on Tuesday dismissed #RedforEd as "political theater"—and the legislature to change course.
In addition to the 20 percent salary increase for teachers and the restoration of school funding to 2008 levels (approx. $1 billion), educators are also demanding competitive pay for all education support staff, a permanent salary structure that includes annual raises, and no new tax cuts until per-pupil funding reaches the national average.
What happens next is up to the legislature. If they take no action, lawmakers should not expect educators to put down the megaphone and go home, says Joe Thomas, president of AEA. "I  have not seen this many teachers this frustrated since I've been in Arizona." (Note: On April 12, Gov. Ducey proposed to increase teacher pay by 20 percent by 2020, but the proposal didn't include education support professionals and didn't address the requirement that school funding be restored to pre-recession levels. On April 17-19, educators will vote on supporting a walkout.)
Educators will only be more empowered and determined to stand up for their students and their profession, adds Noah Karvelis.
"We are no longer willing to come to school each day unable to do the job that we love so much. An entire generation of students have not been given the education that they deserve. That's devastating to all of us."
Get more from

We're here to help you succeed in your career, advocate for public school students, and stay up to date on the latest education news. Sign up to stay informed.