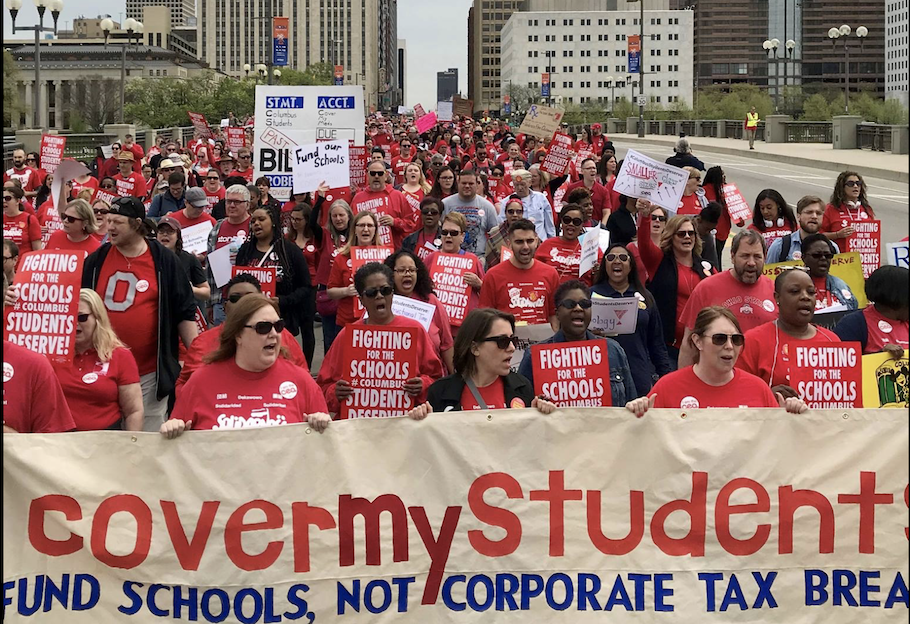 Something remarkable is happening. It happened recently: more than 35,000 members of the Chicago Teachers Union and SEIU Local 73 went on an 11-day strike for the schools Chicago students deserve. Sound familiar? It should.
More and more educators across the country are organizing around issues that extend beyond wages, hours, and professional working conditions and are unifying around a set of demands that benefit students and the wider community. It's called student-centered bargaining and advocacy.
We've seen it in California where member of the United Teachers of Los Angeles included in its bargaining demands a stop on the so-called random wanding of students, which has resulted in racial profiling in schools.
And it happened in Minnesota, where members of the St. Paul Federation of Educators put a proposal on the table to forbid the school district from doing business with banks or other financial institutions that foreclose on the homes of school-age children during a school year, do not pay their employees a $15 an hour minimum wage, and do not offer paid sick leave to their employees.
Efforts like these have increased, and many local unions have launched impressive bargaining campaigns that elevate educators, advocate for students, and advance the common good. Columbus, Ohio, home to the largest school district in the state with over 56,000 students, is one such place.
The Tipping Point
In 2018, after years of neglect by the Columbus City Schools, frustration reached a tipping point. Class sizes were high, art and music were taken out of classrooms and put on a cart, and teachers were tired of being blamed for bad test scores and their student's behavior.
When bargaining talks surfaced, Columbus Education Association (CEA) members were asked what they wanted; they didn't hold back.
 These are no brainer issues that weren't being addressed by the district. I always laughed when people asked 'is there anything in the contract for kids?' It's all for kids." - John Coneglio, Columbus Education Association
"Through a survey, members listed their priorities, and we took those priorities to the table," says John Coneglio, a high school social studies teacher of 19 years and head of the 4,000-member CEA.
From there, CEA put together an impressive bargaining campaign dubbed, "Schools Columbus Students Deserve."
The campaign was built on a platform of six major components: reduced class sizes and caseloads; adequate staffing of student support professionals; dedicated space for art, music, and P.E.; expanding alternative programs for discipline; reducing turnover by compensating educators as professionals and funding schools; and saving taxpayers money by ending handouts for wealthy corporations that don't need them.
"These are no brainer issues that weren't being addressed by the district," Coneglio explains. "I always laughed when people asked 'is there anything in the contract for kids?' It's all for kids."
With that, members took action for Columbus students.
'Quiet People Get Nothing'
Most of the work that went into CEA's campaign wasn't new to the world of organizing or bargaining, like asking members for input, developing a common platform that members could support, and having a solid building rep structure. What was different was how members were engaged throughout the entire 7-month campaign.
"The energy around this campaign was great," says Regina Fuentes, a high school English teacher of 21 years and an active CEA member. "We felt united and informed at all times. We were involved and we had a say, and CEA's message was clear: CEA is not leadership versus members. CEA is all of us."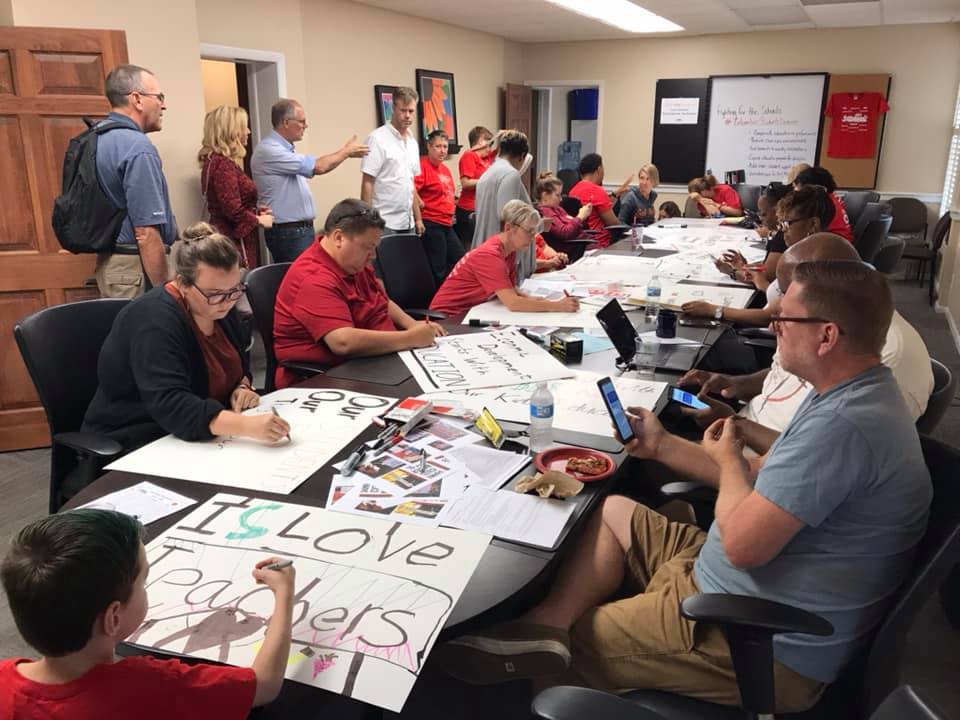 During picket-prep week, CEA held an open house, sign-making party for members to come, any time of the day, to make sign for the Columbus Schools Students Deserve rally. All week, CEA had hundreds of members making signs.
No stone was left unturned in making negotiations as transparent as possible.
A Member Action Team was formed for internal and community organizing, which was instrumental in gathering signatures in support of the campaign. CEA hosted sign-making parties and organized phone banks. Members spoke and community events and festivals.
Social media was a major driver of information sharing. CEA pushed the hashtag #columbusstudentsdeserve for members and the community to connected with the campaign. Additionally, bargaining updates were given in real time by way of Facebook Live.
CEA kept pressure on the city council, the business community, and school board. And when push came to shove, members and the community showed up—and they took to the streets.
Two massive marches took place during negotiations. The first brought out more than 1,000 members of the CEA, labor allies, and community members while the second was double in size, with 2,000 people. The message: "fund the schools Columbus students deserve, not tax breaks for wealthy corporations that don't need them."
"They weren't expecting teachers to be so vocal," says Coneglio. "Quiet people get nothing."
CEA for the Win!
After 17 hours of negotiations, CEA signed an agreement and in early morning hours (1:45am) of August 2, 2019 that made progress in nearly every one of its six priorities.
Columbus educators saw the first reductions in class size cap for grades K-3 in 25 years; 60 additional CEA student support professional positions, such as school nurses, social workers, and social emotional learning practitioners; new language requiring educator input before an art or music room is repurposed; a commitment for each building with any combination of grades 7 through 12 to provide space and staffing for a trauma-informed in-school discipline program as an alternative to out-of-school suspension; and raises for all of the educators in each year of the contract, as well as the first ever parental leave for non-birth parents.
"The agreement represented a huge, tangible step forward for our students, educators, and community," says Coneglio. "However, our fight for the Schools Columbus Students Deserve continues."
Tax abatements weren't resolved at the table. However, CEA's campaign put a spotlight on the corporate handouts that steal millions of dollars from students.
"I got to find out a lot about tax abatements and how much money is taken from our schools and district—and how hush, hush it is," shares Fuentes. "Even though we didn't get this issue in the contract, our efforts succeeded in creating such an awareness, that it opened the publics' eyes to tax abatements and what they're doing to our community."
With a strong structure in place, CEA plans to take this fight to the political arena.
__________________________________________________________________________
Lessons Learned
Community Engagement
Engage community allies early on and work toward building long-term authentic relationships. Strong partnerships between parents and the wider community help educators respond more effectively to the health, well-being, and learning of all students. Like in Columbus, these partnerships also help secure wins for students, educators, and the greater common good.
Unlikely Allies
CEA was transparent about their allies. Of course, there were organizations that naturally aligned with the union's core values, such as the Central Ohio Labor Council and parent organizations. CEA, however, also looked toward unlikely allies, such as conservative taxpayer groups who oppose the huge payouts of tax money to developers in the form of tax abatements. Despite opposing views on certain topics, CEA worked to find common ground to build support for the Columbus Schools Students Deserve campaign.
Take Risks
Getting thousands of members and community allies to march on the streets of Columbus was a risk worth taking. This type of action was historically not a part of CEA's repertoire, but the level of outreach and actions taken prior to the rallies helped to build trust and inspired, more than 3,000 people to march with CEA.
Some Members Will Disagree—and You'll Still Want and Need Them
In spite of major wins at the table and ratification by about three-quarters of members, a vocal minority was unhappy with the final agreement. After decades of disinvestments, some educators wanted to continue to fight for more. These voices were a crucial part of the organizing efforts and "obviously we'll continue to engage them," shares John Coneglio, president of the CEA. Though CEA channeled educators' anger and frustration over the state of education to galvanize its members around its student-centered bargaining demands, Coneglio noted, with some irony, that "it's ridiculous to have to go to the table to negotiate for smaller class sizes, for more nurses and more psychologists."
The Work Goes On
"Just because the contract is over doesn't mean we go quietly behind the scenes," says Coneglio. "We're going to continue to fight. We're going to win on some things and we're going to lose on others. But we're going to constantly go back and advocate for our members and students."
Get more from

We're here to help you succeed in your career, advocate for public school students, and stay up to date on the latest education news. Sign up to stay informed.