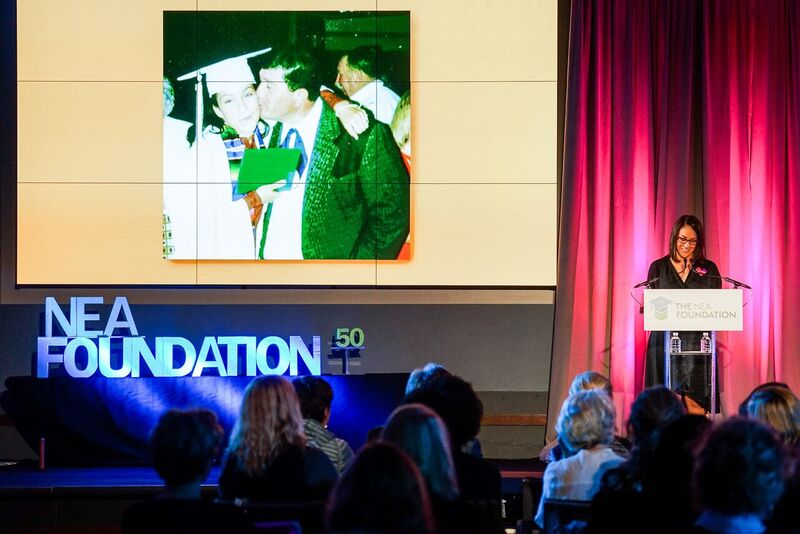 Sonia Galaviz at the "Keeping the Promise of Public Education" symposium.
"I shouldn't even be here... I shouldn't even be breathing...for much of my youth, I lived in this darkness," Jake Miller, a middle school history teacher from central Pennsylvania, told a packed auditorium of educators, parents and public school advocates at NEA headquarters in Washington, D.C. October 5.
"In an economically depressed area of a Rust Belt, forgotten America, I lived in more homes than I attended grades," Miller recounted. "I made bad decisions. I chose drugs and drinking — and my friends reflected that. They ended up in jail, psychiatric hospitals, and in the obituaries. But I escaped this darkness because of my teachers. They were my light. And they saved my life."
He spoke of the educators who "smothered him in high expectations and love," and of those who taught him to think critically, to become a math nerd, and to walk in the fire. He credits his senior year English teacher with inspiring him to "enter this noble profession of bringing light."
Miller was one of fifteen storytellers invited to share their wisdom, passion and experience at an NEA Foundation symposium, Keeping the Promise of Public Education.
Stories Lead to Diverse Thinking
"Everyone's story matters. We have learned through our work over the years that it is only through our collective and diverse thinking, and actions, that the true promise of public education is held — and kept," said Harriet Sanford, President and CEO, The NEA Foundation.
The symposium kicked off the NEA Foundation's 50th year, and brought together storytellers from education, philanthropy, and business, including Daniel Lubetzky, a Mexican-American social entrepreneur and founder and CEO of KIND Healthy Snacks, whose mission includes elevating kindness and empathy in society. To scale this mission, Daniel established The KIND Foundation and its signature initiative, Empatico, to connect classrooms around the world through meaningful interactions that help students explore their similarities and differences and expand their worldviews.
Rachna Sizemore Heizer, a public school parent from Fairfax County, Va., shared the story of her son, Jake, a teenager with autism. Jake is a musical prodigy whose unique needs have helped, rather than hinder, his education, and Heizer explained her hard won fight to get the district to focus on his abilities rather than his disabilities. The audience got a first-hand look at his abilities when he came onstage to perform.
Other speakers talked about the migrant student experience and what it's like to walk in their shoes, how poetry can reach students grappling with depression, incarceration, and other challenges, and how mindfulness can help students resolve conflicts in school and life.
'We Are All Ellis Island'
Sonia Galaviz, a fifth grade teacher from Boise, Idaho, told the story of her father who, along with his 12 brothers and sisters, was a migrant worker picking cotton along the border of southern Arizona. He'd head to the fields before and after school, and while his siblings stopped school in third or fourth grade, he made it to eighth grade before his circumstances forced him to stop.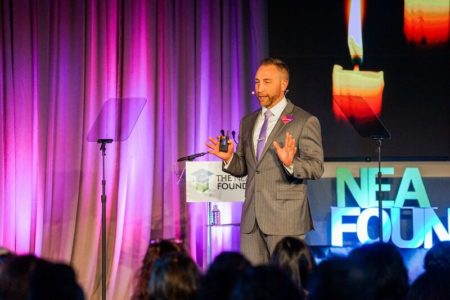 Jake Miller
"Growing up in the '40s and '50s in the segregated migrant towns of southern Arizona was no easy feat -- the Chicano workers and families were treated as second-class citizens, and my father remembers signs in store windows saying 'No dogs. No Mexicans,'" Galaviz said.
But his promise to her was to give her the opportunities he never had in education. He made clear that hard work was non-negotiable. That service was a necessity. But that because she was poor and Chicana, she'd need ganas, a Spanish word for something stronger than desire.
"The notion of hard work, service, and ganas became my mantra in the classroom, with my students, in my union work, and with my own children," Galaviz said. "I find myself echoing my father in my classroom, not allowing any of us to make excuses for our responsibility to our education. I want my students to have the opportunities so many of our family members were denied because they were immigrants, because they were poor, because they were marginalized in some way."
We are all still Ellis Island, she reminded the audience.
"Public education is still the gateway to all those who have hopes and dreams and the ganas for something more."
Chimamanda Ngozi Adichie closed the storytelling symposium. The award-winning Nigerian novelist spoke of the power of stories -- of sharing your own story, but importantly, of listening to the stories of others, particularly students.
"It's important to listen to children," she said. "They can teach you how to teach them if you listen."
She encouraged the educators in the audience to always choose truth, have honest conversations, guide curiosity, and to pay attention. Her best teachers, she said, paid particular attention to her and her classmates, truly saw them for who they were, and that she will always be grateful for that gift.
Learn More
Get more from

We're here to help you succeed in your career, advocate for public school students, and stay up to date on the latest education news. Sign up to stay informed.