Key Takeaways
Nearly one-fourth of students in the U.S. have struggled to afford period products.
This lack of access can take a severe toll on on the physical, emotional and mental health of students.
Thanks to educator and student advocacy, Hawaii recently became the seventh state in the U.S. to require free menstrual products in public schools.
Three years after teacher Sarah "Mili" Milianta-Laffin and her students began lobbying the state legislature for menstrual equity, Hawaii became the seventh state to make period products free in public schools. Gov. David Ige signed the bill into law on June 20 and it went into effect on July 1.
Their advocacy started after a student and classmate was bullied for bleeding though their pants from an unexpected period. Milianta-Laffin and her students in her after-school clubs wanted to change the way menstruation was seen and prevent embarrassment from a period from happening again.
They found their motivation in menstrual equity, which aims to ensure all students have access to what they need while menstruating.
As a middle school teacher at a Title I school, Milianta-Laffin became concerned about the cost barrier to accessing period products, often referred to as period poverty.
"We found out that the school nurse charged students for period products," said Milianta-Laffin, a member of the Hawaii State Teachers Association (HSTA) and 2022 recipient of the NEA Mary Hatwood Futrell Human and Civil Rights Award. "Basically, if you can't afford lunch, you probably can't afford a period product."
Milianta-Laffin and her students did research on how to fight stigma or embarrassment over menstruation and created a Menstruation Station, where students have easy access to a cart filled with pencil pouches with free period products inside. The pouches have a variety of products with a variety of heaviness levels to fit all student's needs.
"Because middle schoolers are amazing, they asked me, 'what if there is no menstruation station at other schools?' And I was like, 'that's a great question. Let's see what we can do.'"
Student-Led Activism
After reading about a bill passed by New Hampshire legislators in 2019 that guaranteed free period products in all public schools, students asked Milianta-Laffin if they could propose a bill.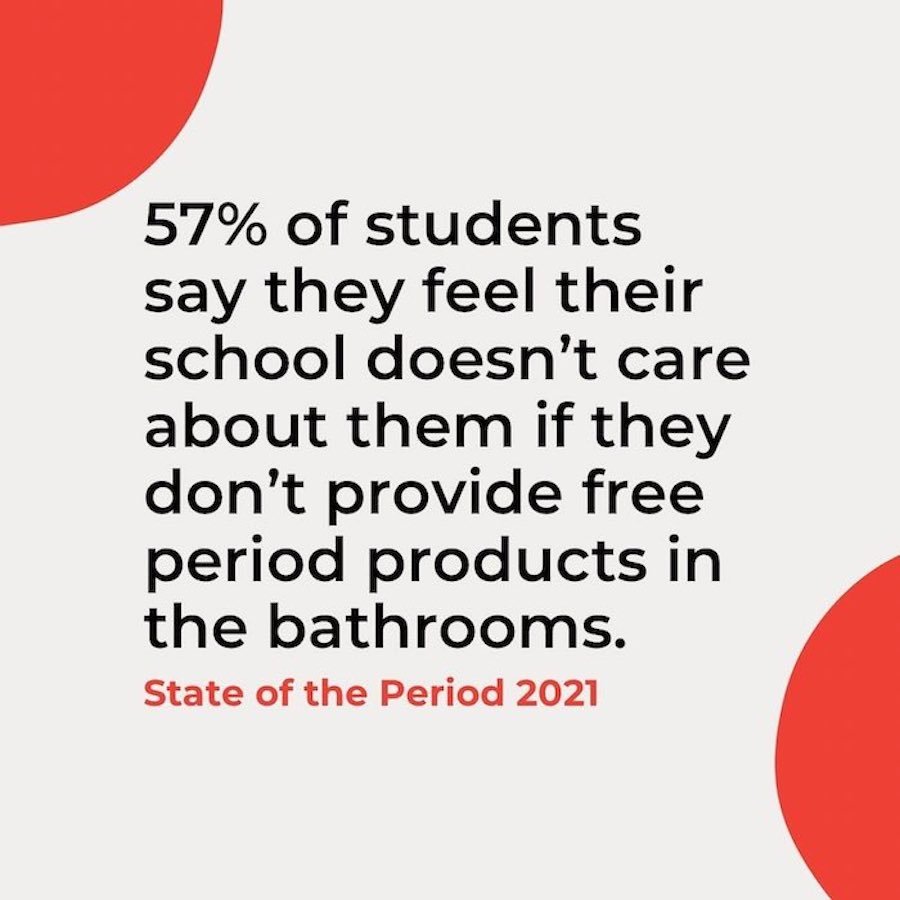 With connections and support from HSTA, Milianta-Laffin was able to work with a former educator turned legislator to get started on a bill. Two years and two failed bills later, legislation to make period products free in public schools was finally passed in Hawaii.
The law aims to curb period poverty to prevent strain on one's physical, emotional and mental health from lack of access to period products.
Data from the Ma'i Movement, a grassroots organization in Hawaii aimed at ending period poverty, helped show legislators the impact of the lack of access to period products on students and those who menstruate in the state, said Milianta-Laffin.
The report by the Ma'i Movement and the Hawaii State Commission on the Status of Women found that 42 percent of respondents had to leave class early or miss class because they did not have access to period products. Nearly 85 percent believe menstrual equity is just as big of a problem as food and housing insecurity.
Addressing Period Poverty Nationwide
Hawaii joined only six other states and the District of Columbia in making period products free in public schools. So far, Delaware, California, New York, Illinois, New Hampshire and Virginia have implemented similar legislation.
Laura Strausfeld, founder of Period Law, said though Hawaii's law is a step forward for menstrual equity, and there needs to be necessary policies across the country that ensure people who menstruate have equitable standing in society.
"That requires free access to products for people who can't afford them, free access for all kids in school so they don't have to leave the classroom or stay home from school so they can get an education that matches that of their classmates who don't menstruate," she said.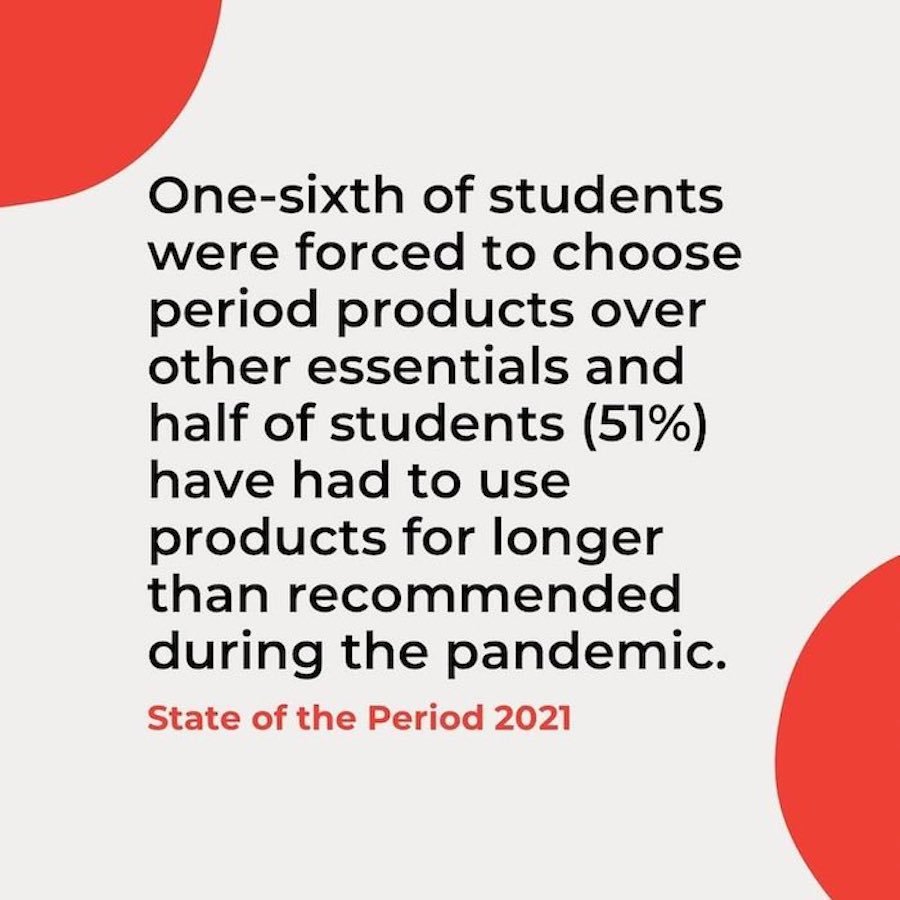 According to the 2021 State of the Period study, released by PERIOD and Thinx, 23 percent of students in the U.S. have struggled to afford period products. Seventy percent of respondents said the school environment makes them especially self-conscious of their period, and 62 percent agree the world is not set up for them to manage their periods with full confidence.
Currently, there is no federal legislation providing free period products in public schools. But a bill proposed in 2021 hopes to change that.
The Menstrual Equity For All Act of 2021 aims to increase the availability and affordability of menstrual products for individuals with limited access. If passed, the bill would allow states to use federal grants to provide students with free period products while incentivizing higher education institutions to designate such products as free.
The bill would alleviate pressure for those experiencing poverty, especially students, as period products are not covered by government assistance problems like Supplemental Nutrition Assistance Program and Supplemental Nutrition Assistance Program for Women, Indents, and Children.
"Anywhere that toilet paper and soap is provided, an adequate supply of menstrual products should also be there," Strausfeld said.
States Taking Action
As California's legislation to make period products free in public school will be implemented for the upcoming 2022-23 school year, teacher Yurii Camacho believes the free products will help empower students.
Camacho said she would notice how certain students would continuously ask her for period products and say they forgot their stash at home. Just like she would have extra school supplies and snacks handy, Camacho would keep a range of period products, too, for any student that asked.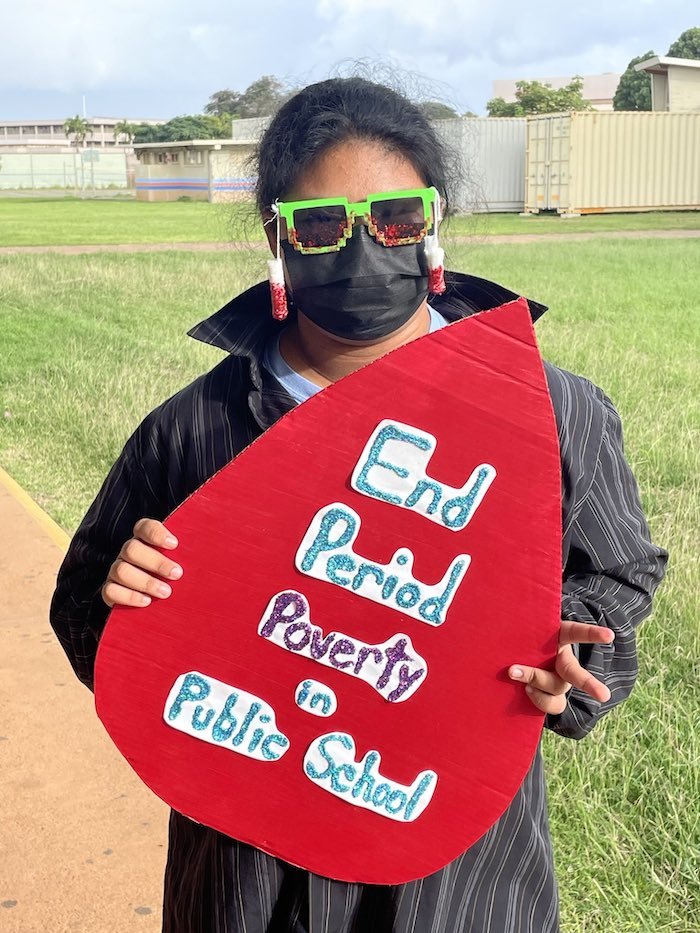 "Much like food, school supplies and other basic necessities, students often are too embarrassed to admit that one, there's a lack of such things in their own homes and two, they need assistance acquiring them," said Camacho.
At a school district where she worked, so many teachers had brought up concerns over access to period and hygiene products that the site administrator created "good hygiene" bags to distribute to students twice a year. Students were encouraged to ask for extras of some items if they needed them, creating a culture at the school where it was okay to ask for help accessing hygiene items.
A bill in New York designating free menstrual products in public school serving students grades 6 - 12 has been in effect since 2018. New Hampshire's legislation has been in place since 2019. Virginia's legislation has been effective since 2020, where public elementary, middle and high schools are required to provide free period products. In 2021, Illinois and Delaware public and charter schools were required to provide period products at no cost to the student.
Legislation enacted to help alleviate stress and worry surrounding menstruation to students helps boost confidence and raises expectations of how healthcare needs should be met. In these states and the District of Colombia, students no longer must choose between attending school that day or staying home while on their period.
"The more time you spend in institutions like your school that is providing for your need in ways that seem equitable to you, it will be more comfortable to be vulnerable at such institutions," said Strausfeld.
"An Empowered Generation"
After the bill in Hawaii passed, Milianta-Laffin said one of the best outcomes was receiving calls from parents of students involved in the lobbying. She heard how proud they were, and how this experience had unlocked a passion inside their children.
"As a public school teacher, I don't think it gets better than that, right?" said Milianta-Laffin. "Students belong anywhere policies being made about students happen. I want legislators who make policy about students to think that you can't make policy about students if you've never talked to them."
In advocating for menstrual equity, students are chipping away at the stigma and embarrassment around menstruation while educating the public about period poverty.
"Now, you have an empowered generation willing to talk about periods so that it's not an uncomfortable or dirty dialogue," said Milianta-Laffin. "With the power of education, we taught people what period poverty was, how it was a problem locally, and how it isn't just a problem out there in the world but an everyday one for students in classrooms."
Learn More
Get more from

We're here to help you succeed in your career, advocate for public school students, and stay up to date on the latest education news. Sign up to stay informed.