Getting parents more engaged in school is a necessary variable in the equation of student success. In fact, parent engagement can have a direct impact on student engagement itself. Multiple studies prove that students whose parents are actively engaged in their schooling typically show the following:
Higher grades
Higher test scores
Greater social skills
Better reported behavior
Easier adaptation to school
Greater likelihood of continuing into post-graduate education
It's only logical that involved parents positively impact student achievement. According to an NEA 2008 report, when schools, parents, and families work in partnership to support students, then those students succeed at a higher level. It's also important to note that when a school engages more parents, all children benefit, according to a 1995 study called A Generation of Evidence: The Family is Critical to Student Achievement.
That's great, Heather. You might be saying to yourself. But how? How do we engage parents in our schools when they themselves are busy and stressed and many are just struggling to get their students to school on time?
So I've developed what I'm calling The Eight Ps of Parent Engagement. These are meant to help guide a teacher or school or district in making outreach decisions to increase parent engagement.
Of course, it's easy to know how to increase parent engagement, but it's not as easy to actualize the steps to make it happen. Don't worry, however, you don't have to do it alone. Partner with parents to create a think tank devoted to outreach and dedicated to increasing the numbers of engaged parents. And don't limit those you partner with to those who are already engaged. Call directly to invite others. Create a shared vision where school is seen as a positive place for all stakeholders, and get ready to launch a campaign to engage more parents than ever.
Your students will thank you for it and they, too, will be more engaged.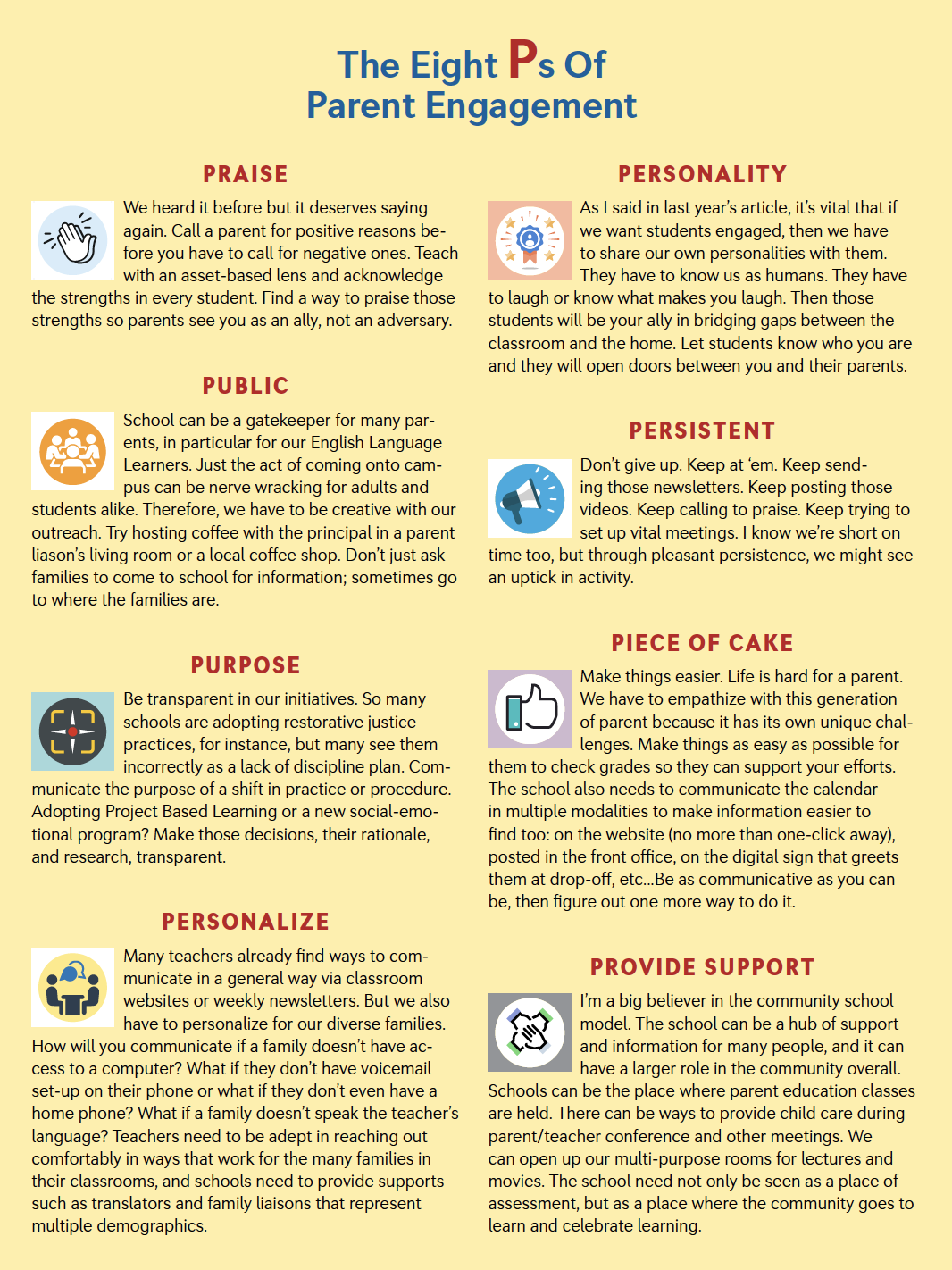 Heather Wolpert-Gawron is a teacher at Jefferson Middle School in San Gabriel, Calif., and the author of Just Ask Us: Kids Speak Out on Student Engagement.
Learn More
Get more from

We're here to help you succeed in your career, advocate for public school students, and stay up to date on the latest education news. Sign up to stay informed.