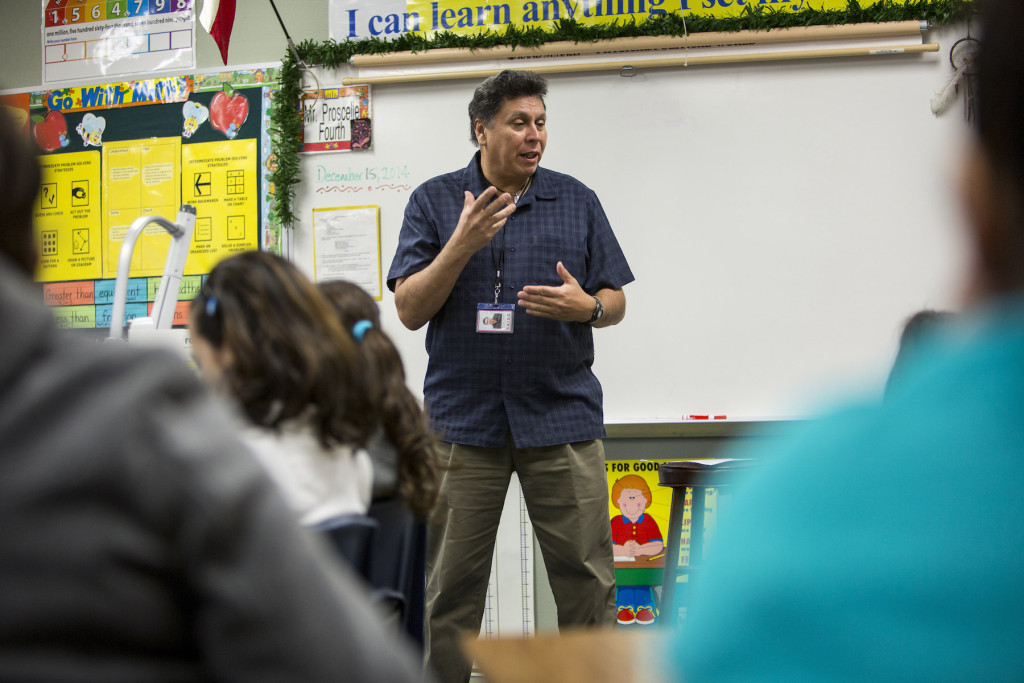 Four leading education groups brought some of the best and brightest minds from around the country to the 2016 National Summit on Teacher Leadership in Washington, D.C. on Feb. 5-6 to turn ideas into action and empower more educators to lead their professions.
The National Education Association (NEA), along with the American Federation of Teachers (AFT), Council of Chief State School Officers (CCSS0), and the U.S. Department of Education, organized the summit to allow participating teachers, state superintendents, and union representatives to share ideas, best practices, and examples of existing teacher-leadership efforts. Additionally, the group identified common challenges and created concrete, actionable teacher leadership plans to address them back home.
Nineteen states were represented at the summit, and included an education team from the U.S. Department of Defense.
Teachers and Leadership Not Mutually Exclusive

"[Teacher leadership] needs to be so embedded in the profession that it's an expectation… I am supposed to lead," said NEA President Lily Eskelsen García to the group. "It's not separate from your routine as teachers."
Educators and leadership is a combination that makes sense because teachers are the experts, said Aman Dhanda, a sixth grade teacher from California, now serving as a Washington Teaching Ambassador Fellow for the federal education department.
"What's been resonating with me is that a lot of teacher leaders have felt this is the first time their voices are being heard," said Dhanda of the teachers participating in the summit, which, she adds, is intended to "make sure [teachers] always ask for a seat at the table because we are the experts."
For Deborah Hollis, a sixth grade English Language Arts teacher at Molasky Jr High School in Clark County, Nevada, the summit was an eye-opening experience.
"I kept questioning myself: 'why am I here? I'm just a classroom teacher,'" she said. But after two days of engaging with fellow educators from across the country, "the summit has made me open my mind and views. There are so many teacher leaders at my school. We just don't know it."
Hollis explained that being a teacher leader doesn't mean you have to leave the classroom and become an administrator. Leading the profession could be sharing with other educators something that is working well in your classroom and inviting them to observe—"that's a teacher leader," explained Hollis, who has been in the classroom for 14 years.
Upon returning home, Hollis says she will connect with her fellow educators to share with them her experience during the summit and to let them know: "We have a voice; we have input to give."
Taking the conversation a step further was Randi Weingarten, president of AFT, who also attended the summit. She told the group, "It's not simply what I think and feel in my own classrooms, but that what I think and feel is heard and acted on in places of labor policy."
Build the Structures
Often new policies and initiatives are introduced in schools without the infrastructure to support it or the input for those who are expected to implement these policies—educators.
Karuna Skariah, a National Board Certified Teacher and an instructional program coordinator for Prince George's County Public Schools, has a solution for that.
Skariah and a group of teachers have been working with the Education Department to establish a Teacher Advisory Council. The council is being designed to give more educators decision-making authority. The group has already created a model and has presented their proposal to district leadership.
One of the key elements to the council is for it to be solutions based.
"You just can't have a concern," says Skariah. "Every concern should come with a solution so there's a pool of possibilities [that address] student learning."
The team is scheduled to present their proposal to a larger group, where they can begin to put the council in motion.
This year's national summit on teacher leadership stemmed from the 5th annual  International Summit on the Teaching Profession held last year in Canada, where education ministers and leaders of teachers' unions and associations gather to discuss education issues. The 6th annual summit is scheduled for March in Berlin.
Get more from

We're here to help you succeed in your career, advocate for public school students, and stay up to date on the latest education news. Sign up to stay informed.