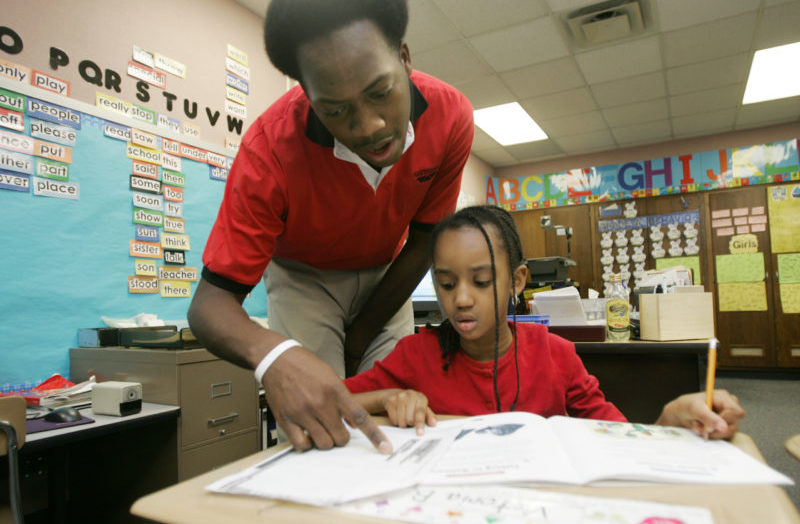 Dante Little, a former public middle school teacher in Boston, Massachusetts, was one of only a few black males teaching in the city. But then he reached his breaking point. While he was administering a state test, the assistant principal came in to ask if all the students had handed in their cell phones. Even though they told him they had, he wasn't satisfied and began to search and frisk each of them to be sure. According to Little, the students were treated that way regularly. "This isn't a prison," he said before he decided to quit. "I'm just done."
There's a national shortage of teachers of color, and as Dante Little's experience highlights, it has as much or more to do with retention than recruitment. Teachers of color leave the profession at a higher rate than white teachers, with most reporting dissatisfaction with working conditions, like the criminalization of students, as the main reason.
"We need to fix and change the way schools are run and organized," Richard Ingersoll, a University of Pennsylvania professor and expert on teacher workplace issues, said at panel discussion at the 2017 Education Writers Association National Seminar on June 1, "Finding and Keeping Teachers of Color."
The vast majority of initiatives focus on recruiting teachers of color, which has been relatively successful, particularly in hard to staff low-income schools. But those schools are hard to staff for a reason – conditions are difficult when resources are scarce. Without focusing on improving the school conditions that will keep teachers from leaving, investment on recruitment will be lost.
He said the problem is like a leaky bucket.
"We need to take some mud and fix some of the working conditions to repair the holes in the bottom of the bucket."
Institutional Racism
Becky Pringle, vice president of the National Education Association (NEA), told the panel participants that NEA has committed $7 million to increasing equity, opportunity and access for all public students, and that part of that is to address institutional racism that not only diminishes learning opportunities but creates negative working conditions for teachers of color.
"In 2015 the delegates to NEA's national convention voted to commit NEA to taking on and dismantling institutional racism. We knew that attracting and retaining teachers of color had to be an integral part of our work to ensure racial justice in education ," she said. "We've also worked very hard to help craft and pass the Every Student Succeeds Act (ESSA) to increase access and build equity for students of color and to empower educators."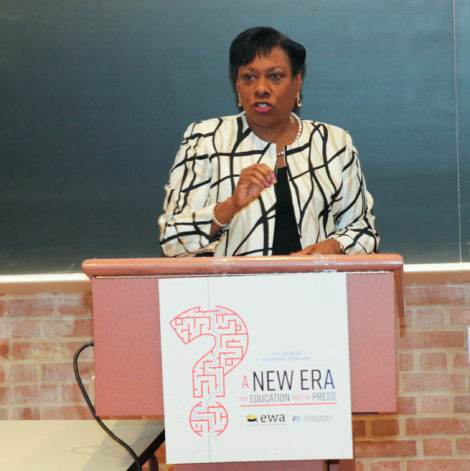 NEA Vice President Becky Pringle talks about teacher diversity at the 2017 Education Writers Association National Seminar on June 1. (Photo: James Minichello)
Poor working conditions caused by institutional racism have prompted many teachers of color to leave the Boston Public School system, according to Travis Bristol, an assistant professor of Boston University who researches the prevalence of black teachers in his city.
As part of the research he shared with the panel attendees, Bristol interviewed 27 black male teachers, including Dante Little.  Not only did educators encounter criminalized schools, he said they often had their ideas dismissed by white colleagues and were regularly called upon to act as disciplinarians, especially for students of color. With this added burden of de facto disciplinarian, they had less time to hone their practice and develop their classroom lessons.
Growing Culturally Responsive Teachers
Margartia Bianco is a professor at the University of Denver and founder of Pathway2Teaching, a "grow your own" program to introduce high school students to educational justice and to teaching as a potential career path. The program encourages students to attend college and then return to their communities as culturally responsive teachers.
"I work with primarily low-income students of color who consistently tell me they've had only one or two teachers of color or none at all. That's why becoming a teacher is foreign to them," she said. "Young people need to see who they can become -- you can't be who you don't see."
Bianco said that finding and keeping teachers of color is not just about numbers, but also about emphasizing the value of having a diverse teaching workforce.
"Teacher diversity is central to any discussion about the quality of schools for all kids, of all races," she said.
"Grow Your Own" programs like Pathways2Teaching are rooted in the community and focus on keeping young community members from leaving while you "grow" them into educators.
One of the main obstacles students encounter is financial, which is something Bianco relates to personally.
"I'm the first in my family to graduate high school and I worked as a paraeducator to finish school," she says. "Students in the Pathways2Teaching program complete nine credits to get a paraeducator certification so they can work as paraeducators while they go to school to become a teacher. "
NEA partners with Pathways2Teaching and other "grow your own" programs and Pringle said it is critical to address other obstacles students and teachers of color face in the education system.
"If research is finding that teachers of color are dissatisfied, what that shows us is that teachers aren't having the opportunity to be leaders in their schools," she said. "We are investing in creating teacher leaders with programs like our Teacher Leadership Institute where teachers of color comprise fifty percent of the cohort and are being trained on how to become formal and informal leaders and help  improve some of those working conditions, like the criminalization of our schools. When teachers become leaders that's when we see those things begin to turn around."
Learn more about NEA's efforts to train teacher leaders and promote social justice.
Get more from

We're here to help you succeed in your career, advocate for public school students, and stay up to date on the latest education news. Sign up to stay informed.