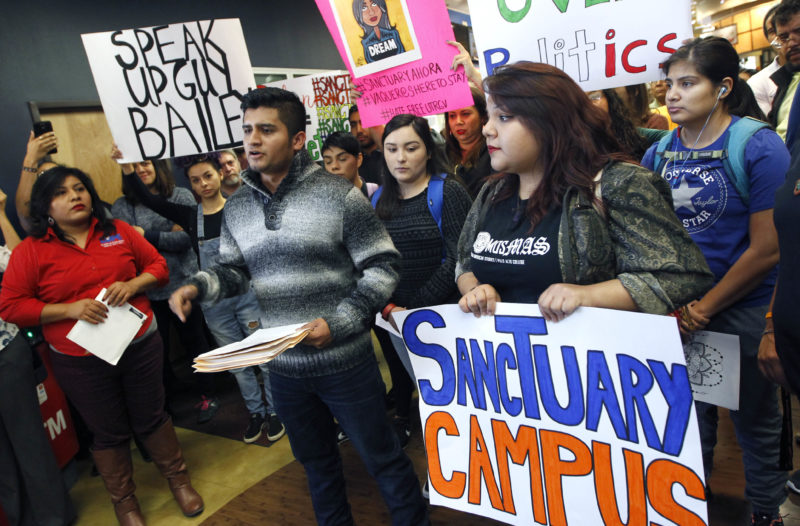 University of Texas Rio Grande Valley student Abraham Diaz Alonso, left, talks about his fear of being deported during a news conference asking University President Guy Bailey to make UTRGV into a sanctuary campus, Tuesday Dec. 6, 2016, at the campus in Edinburg, Texas. (Nathan Lambrecht/The Monitor via AP)
As the idea takes hold that college campuses should be "sanctuaries" for undocumented immigrant students, the NEA-affiliated California Faculty Association (CFA) last month adopted a resolution calling for every California State University (CSU) campuses to be a "safe zone" for students and families threatened by immigration enforcement.
Between 200,000 and 225,000 U.S. college students are undocumented immigrants, the Pew Research Center has estimated. In the 23-campus Cal State system alone, there are more than 20,000.
"CFA stands in solidarity with all our students and families in the spirit of inclusion and justice," wrote union leaders, in the resolution that was adopted by the CFA General Assembly in March.
They're not the only ones standing with students. During his campaign, President Trump called the federal immigration policy known as DACA, the Deferred Action for Childhood Arrivals, which temporarily protects some students from deportation, an "illegal amnesty." Since his election, federal Immigration and Customs Enforcement (ICE) officials have swept into neighborhoods and wreaked chaos in the lives of immigrant families.
In response, hundreds of colleges have announced publicly that they will support their undocumented students. Many are using the term "sanctuary," a term that has angered some federal and state officials.
"The rhetoric of the Trump campaign was filled with threats of mass deportation and so a natural response to that was trying to find a way of expressing a refusal to cooperate with what was then described as a new deportation force," said Michael Roth, president of Wesleyan University, a private college in Connecticut that was one of the first schools to declare itself a sanctuary campus, to The Washington Post.
Public colleges and universities have been warier to say the same, most likely because they depend on state and federal funding to operate. In December, U.S. Rep. Duncan Hunter (R-CA) introduced the "No Funding for Sanctuary Campuses Act," which would cut federal funds to colleges that "violate immigration laws" through their policies or practices. It also would require the Department of Homeland Security to maintain a list of sanctuary campuses.
Meanwhile, Republican state legislators are gearing up to punish state universities that would seek to protect all students, too. In response to Texas State University students who petitioned their administrators to make their campus a "sanctuary," Texas Gov. Greg Abbott tweeted that "Texas will not tolerate sanctuary campuses or cities. I will cut funding for any state campus if it establishes sanctuary status."
Who Are Our Undocumented College Students?
What we know about these students, according to a 2015 University of California Los Angeles report, reads like a story of the American Dream:
On average, each has lived in the U.S. for nearly 15 years, and more than 90 percent said they'd become citizens if they could.
More than 60 percent come from families where the household income is less than $30,000 a year.
28 percent are majoring in STEM fields, such as computer science or pre-med, while another 10 percent are majoring in public service fields, such as education.
They are high achievers: 86 percent at public universities are earning greater than a 3.0 GPA.
But then there's this, which reveals the nightmare: Almost all worry constantly about deportation, and more than half said they knew personally somebody who had been deported, including parents and siblings.
"Nov. 8 shook my entire life," said Rose Barrientos, a student at Sacramento State, which is part of the CSU system, to the Los Angeles Times. Since then, her fear of deportation is a constant companion, as well as fear of losing the two jobs that help her to pay for school, and fear for the safety of her East L.A. family.
"Yes, I'm undocumented, yes, I'm proud—but this is too much. Sharing with you that I'm undocumented is scary," she said.
In November, the Cal State system affirmed its commitment to fostering a "safe and welcoming" community, and vowed not to help federal immigration officials "unless required by law." But so far, their efforts have fallen short of creating the "safe zones" that students deserve.
The CFA Resolution: Do's and Don'ts
In its resolution, which aims at creating a "safe and inviting" campus, the CFA lays out the proper conduct for university officials.
Among the things they shouldn't do: Enable campus police officers to participate in any way with Immigration and Customs Enforcement (ICE) raids or detentions, or have staff assist in any way with the development of a federal registry based on any protected characteristic, such as religion or national origin. Also, no campus personnel should ask a student, or his or her family members about their status.
Among the things they should do:
Refuse immigration agents access to campus, unless provided with a warrant signed by a state or federal judge that specifies the name of the person under arrest, as well as written authority from ICE.
Provide legal support to immigrant students and their families.
Offer mental-health counseling by culturally competent professionals.
Host "Know Your Rights" trainings in appropriate languages for students and parents.
Offer housing for students who can't return home.
Ensure all students, regardless of their status, are aware of opportunities for grants, scholarships, and other financial aid.
Get more from

We're here to help you succeed in your career, advocate for public school students, and stay up to date on the latest education news. Sign up to stay informed.