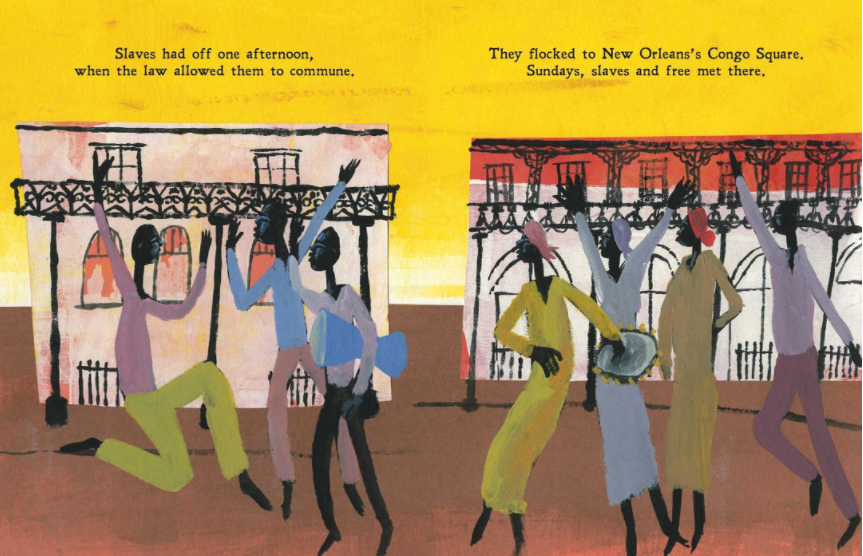 Down in swampy, sultry Louisiana in the 19th century, slaves toiled in the fields from sunup to sundown every day of the week. The only exception was Sunday, when they had half a day in the afternoon to gather in New Orleans' Congo Square – an open space that is now part of the city's Louis Armstrong Park in the Treme neighborhood. There the slaves were free to set up an open air market and remember their African heritage through dance, song, and other cultural traditions.
Freedom in Congo Square a picture book written by Carole Boston Weatherford, and illustrated by R. Gregory Christie, is a poetic, nonfiction children's book that celebrates the dominance of spirit over suffering.  Last week it was named a Caldecott Honor Book, just in time for Black History Month, and it is February's featured book in the NEA Read Across America calendar as a poetic, vibrant reminder of how humans can come together to find joy, hope and dignity, even under the cruelest circumstances.
"The main challenge was to make slavery understandable for children," says Weatherford. "I did so by framing the relentless labor and inhumanity with a day of the week [and a] countdown rhyme. The book underscores the persistence and preservation of African cultural traditions, and attests to the spirit and endurance of African descendants," author Weatherford told E. Ce Miller of Bustle.com.
Mondays, there were hogs to slop,
mules to train, and logs to chop.
Slavery was no ways fair.

Six more days to Congo Square.
Each day of the week is counted down with rhythm and lyricism and illustrations evocative African folk art, all while conveying the cruelty of the slave system.
Wednesdays, there were beds to make,
Silver to shine, and bread to bake.
The dreaded lash, too much to bear,
Four more days to Congo Square.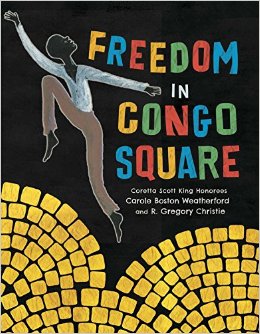 In Freedom in Congo Square, the tyranny of slavery isn't sugar coated for young readers. It's presence helps them to understand how jubilant Sundays would be for slaves, when at last they could cast off their shackles, even just for half a day.
They rejoiced as if they had no cares;
half day, half free in Congo Square.
This piece of earth was a world apart.
Congo Square was freedom's heart.
Freedom in Congo Square can bring history alive for students, portray a shameful and horrific period in our nation's history, and spur discussions about race in America.
"I believe it's an obligation for each generation to leave tools behind for future generations. It's important not to let our schools' history lessons become too stale," illustrator Christie told Bustle.com. "Many cultures make up America; they've all contributed to the infrastructure, habits, and overall culture of the country. At the end of the day, the root of this story begins with enslavement, something that still goes on today in other parts of the world. I want people to read the book and empathize with the dynamics it speaks about, and to see that period in history as a shameful time, when, if the people had dug deeper, they could have come up with a better solution than harsh enslavement."
Bring African American History into the Classroom
Engage Readers With Music
From congos, gourds and bells to banzas, flutes, fiddles and shells, Sundays at Congo Square were alive with music. Select music from the time period to play for students in a free writing exercise. Ask them to write about how the music makes them feel, especially after knowing the history of the music and where it was played. Select music from other books students have read and ask them to do the same exercise.
For Older Readers
Jazz Day: The Making of a Famous Photograph, by Roxanne Orgill and illustrated by Francis Vallejo, shares in verse how Art Kane gathered together a group of beloved jazz musicians in Harlem in 1958.
Rhythm Ride: A Road Trip Through the Motown Sound, by Andrea Davis Pinkney tells the story of the founding of Motown and its impact on the music world.
More Resources
ArtsEdge offers African American History Through the Arts, a collection for students of all ages to explore black history through a variety of artistic disciplines, including music, poetry and dance. Lesson plans as well as primary multimedia sources are available.
Get more from

We're here to help you succeed in your career, advocate for public school students, and stay up to date on the latest education news. Sign up to stay informed.