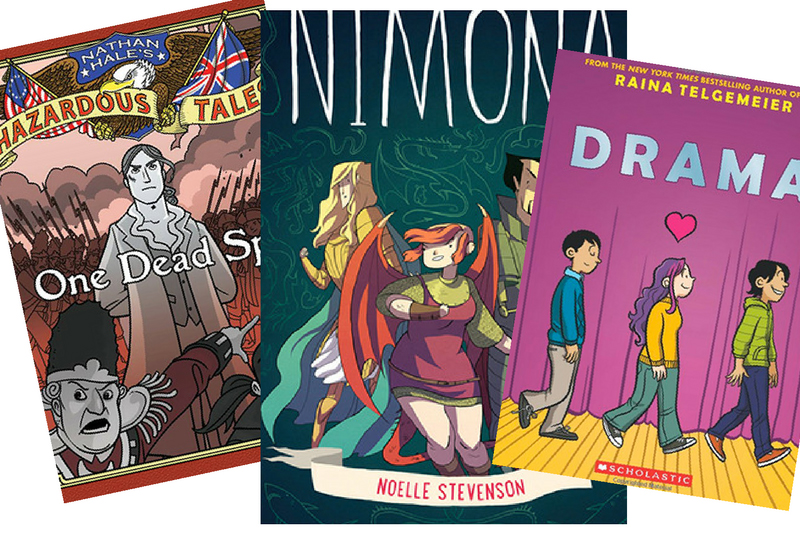 You know a book or genre has made it big when it lands on "banned book" lists. In 2015, the top 10 most challenged books in the U.S. included two graphic novels. In 2014, it included three, including Raina Telgemeier's Drama, which has spent more than three years on another bellwether list—the New York Times bestseller list.
What leads to a book being challenged? Nobody challenges books they've never heard of . . . so popularity, for one thing. But also, according to an American Library Association analysis, books by authors of color—and those including issues or themes that concern communities of color—are more likely to be challenged and banned. With that in mind, it's no surprise to find graphic novels on the blacklist. They're popular, and they engage with issues that matter to our increasingly diverse students, such as immigration or sexuality.
These same attributes also make them interesting to English teachers. Even as graphic novels have moved onto banned-book lists, they also have moved from the fringes of English or reading classrooms, where they once were reserved for struggling or reluctant readers, to the forefront of instructional materials.
"I believe they've become much more mainstream," says Beth Sanderson, an English teacher at Swanson Middle School in Arlington, Virginia. "People are starting to recognize that these are not the comics that you had as a kid. These are very complex texts."
In Sanderson's classroom, which is full with nearly 1,500 books, including at least 100 or more graphic novels, students are asked to consider the dual elements of a graphic novel—text and illustrations. How do the illustrations provide meaning to the story, she asks. Why would the author have a series of small-panel illustrations on one page, and a full-page illustration on another? What happens in the white space between panels? "The kids really get into it," she says.
Other questions educators might consider for students to answer: How does the author use color? Does it relate to mood and tone? What's a better way to convey mood: With text or with pictures? Sometimes a switch from color to black and white indicates a flashback in the narrative—an abstract concept made concrete through illustration. (For more ideas on teaching with graphic novels, visit getgraphic.org.)
Meanwhile, including diverse authors and characters also is a concern for Sanderson and her colleagues. "There is a lot of missing text today. Some kids aren't seeing themselves in books—and other kids aren't getting to experience what [their peers] experience. We often talk to our students about reading books where the characters are nothing like them!"
Over the years, Sanderson has discovered a few favorite graphic books. They include:
1. Nimona by Noelle Stevenson. The title character is a young, confident shapeshifter, who is sidekick to a supervillain. "It's like a fairy tale, with a good guy and a bad guy, and you think you know who is good and who is bad, but then you start to wonder," says Sanderson, who organized a Nimona book club last year. Stereotypes and identities were themes—and the girls especially loved it, she says.
2. El Deafo by Cece Bell. Loosely autobiographical, the main character has permanent hearing loss. In several scenes, other characters' speech balloons are empty or filled with gibberish—the perfect way to show readers what it's like to be deaf. Last year, Sanderson's students Skyped with Bell to talk about why she chose to tell her story in this format.
3. Hazardous Tales by Nathan Hale. To date, Hale has produced half-dozen graphic books that explore events in U.S. history, such as the Underground Railroad, through facts, maps, and detailed illustrations. Sanderson's students particularly love the gruesome story of the Donner party—the 19th century pioneers who became snowbound in Nevada and resorted to cannibalism to survive.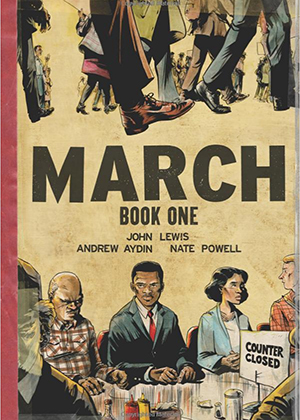 4. March, co-authored by Rep. John Lewis (D-Ga.), congressional aide and award-winning comics writer Andrew Aydin, and best-selling graphic novelist Nate Powell. This three-part autobiographical series shares Lewis' lifelong struggle for civil rights. Book 1 includes his rural childhood in Alabama, his life-changing meeting with Martin Luther King, Jr., and their battle to end racial segregation. "Spectacular," says Sanderson.
5. Shackleton: An Antarctic Expedition by Nick Bertozzi. Another favorite of Sanderson's students, Bertozzi's graphic book heats up their imagination, even as he describes how the explorer's vessel was trapped in polar ice. "They're fascinated by it," says Sanderson.
Gene Luen Yang: The Genius of Graphic Novels

The sixth-graders at Swanson Middle School in Arlington, Virginia, are chanting "Gene Yang! Gene Yang!" Or maybe it's "Genius! Genius!" It's been 24 hours since the former teacher, a 43-year-old author of young-adult graphic novels like American Born Chinese, was named a winner of a MacArthur Foundation "genius grant."
Yang is here to introduce his latest work, the six-part graphic series Secret Coders. It's a little bit like Harry Potter, he suggests—his characters also attend a mysterious school where they learn exceptional lessons—except Yang promises that his readers will learn to "code," or write in a programming language, along with those characters. (Show me the Harry Potter fan who can actually soar above the clouds on a broomstick!)
"You get to be a secret coder!" he promises.
His talk is equal parts inspiration—"The line between comic book fan and comic book creator is very thin, you could cross it tonight," he tells students—and education, specifically in binary code.
After his event at Swanson Middle School, Yang sat down with NEA Today to talk about diversity in young-adult books, and to recommend a few authors for teachers to discover:
Q: There is an illustrated chart, done by (illustrator) David Huyck and shared by (author) Ellen Oh, which shows the distribution of characters of color in children's books—like how many are White kids, how many are Black or Latino or Asian kids, etc. It turns out there are more characters that are talking cars or buses or animals than kids of color. What can NEA members do about that?
A: I haven't seen that, but it sounds about right. As a teacher, the easiest thing to do is buy books with characters of color. Seek them out, and share them with students. Good stories with good characters are out there.
Q: Who are you reading, or who are you wishing more students were reading?
1) Meg Medina. "I'm in the middle of her latest—and it's awesome!" says Yang. That would be Burn Baby Burn, a young-adult novel that follows a young woman growing up in New York while murderer Son of Sam prowls.
2) Matt de la Pena. "I'm a fan of everything Matt De La Pena does," says Yang. Also a young-adult author, de la Pena's most recent offering is a children's book: Last Stop on Market Street.
3) Jason Shiga. "He's brilliant," says Yang, who particularly loves Shiga's Meanwhile, a choose-your-own-adventure comic book that explores "the role of probability in life," says Yang.
4) Tim Federle. "I wish he was better known—he has such a compassionate voice," says Yang. Check out Better Nate Than Ever, the story of a teen who crashes an audition for "E.T.: The Musical."
Learn More
Get more from

We're here to help you succeed in your career, advocate for public school students, and stay up to date on the latest education news. Sign up to stay informed.