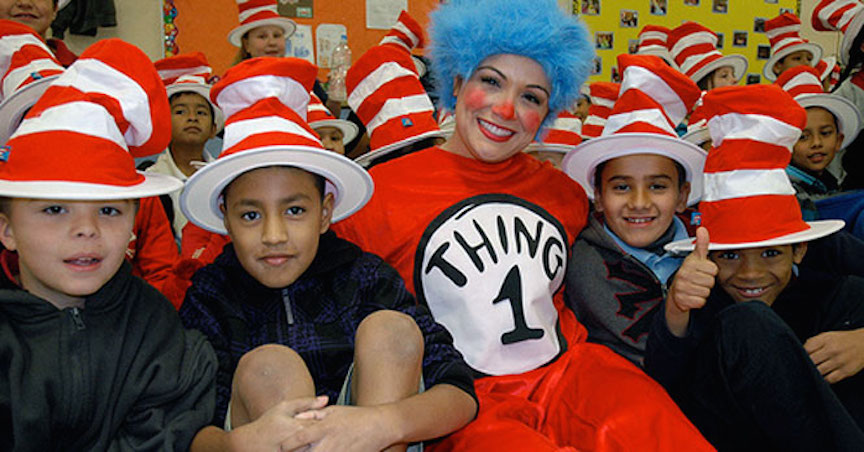 Kentucky middle-school teacher Kandie McDaniel will never forget the very first Read Across America Day in 1997. "It was the day my daughter was born," says McDaniel, a member of NEA's Read Across America Advisory Committee and a seventh-grade science, language arts, and history teacher in Daviess County Public Schools.
Eighteen years later, McDaniel will celebrate her daughter Alexandra's birthday and graduation from high school by reading Oh, the Places You'll Go, the beloved Dr. Seuss tale of promise and possibility.
"[It's] one of my favorite books and I'm thrilled that it's the featured book for the 2015 Read Across America celebration," says McDaniel, who's planning a school-wide reading party. Read Across America Day is on March 2, 2015.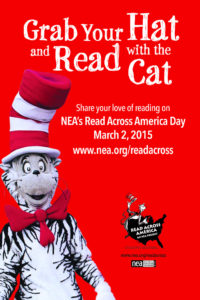 Annually, more than 45 million students, parents, and educators participate in NEA's largest reading party by organizing community read- ins, character parades, and book fairs.
Random House Children's Publishing will support this year's celebration with a special teachers' guide featuring the book and activities focused on science, technology, engineering, math, and the arts. The STEAM Read Across America guide, featured on the Read Across America website, includes tips, resources, and book lists.
"This is an invitation to work across disciplines and establish new partnerships in reading," says Fran Bellinger, Chair of NEA's Read Across America Advisory Committee and a physical education teacher at King Intermediate School in Kanoehe, Hawaii. "Incorporating STEAM into reading activities builds bridges that strengthen learning all year long."
This year's celebration will also include the popular Read Across America Cat-a-Van tour—a two-week event featuring reading stops at schools across the nation and donations to school libraries. NEA will announce tour locations online.
"Even if your state, city, or school is not on the tour, you still have a chance to help make 2015 the best year yet for NEA's Read Across America," says Bellinger. "This is the time to get busy, and plan creative events from flash mobs to book drives to community read-ins."
STEAM Scholarship Opportunity
In recognition of the 25th anniversary of Oh, the Places You'll Go, Dr. Seuss Enterprises in partnership with NEA's Read Across America will offer a Kids You'll Move Mountains! STEAM Scholarship. The $10,000 scholarship includes a trip to Universal Orlando's Islands of Adventure theme park and an once-in-a-lifetime ride on the Goodyear Blimp!For official rules go to KidsMovingMountains.com. The nomination period begins on March 2, Read Across America Day, and ends March 29, 2015 with voting to follow. The contest is open to legal residents of the 50 United States between the ages of 5 and 18 at the time of application. Children under the age of 13 must be nominated by a parent or legal guardian.
Get more from

We're here to help you succeed in your career, advocate for public school students, and stay up to date on the latest education news. Sign up to stay informed.