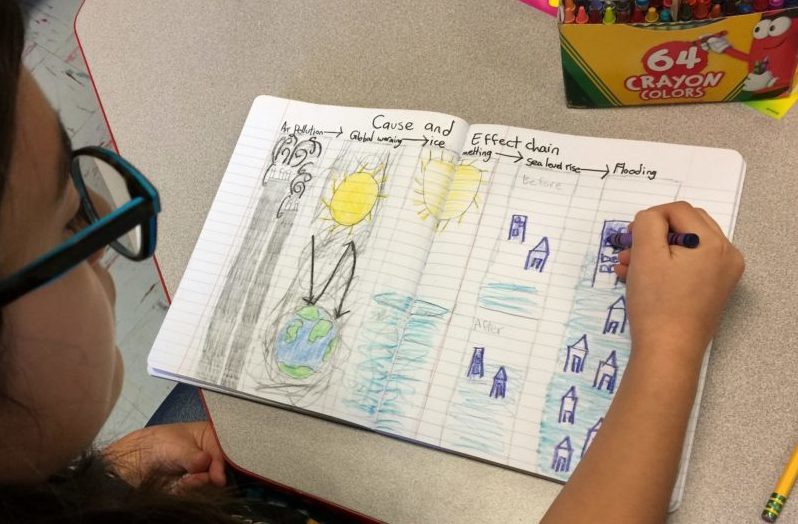 After several years of often rancorous debate—and more back-and-forth action than a beach restoration project—Idaho lawmakers finally have decided that climate change will be taught in Idaho schools.
"It's a wonderful thing for for our state and its students!" said Coeur d'Alene environmental science teacher Jamie Esler, who served on a state committee of award-winning educators, parents, and scientists that developed the K12 science standards.
"These standards don't just allow students to learn science, they allow students to do science," said Esler. "Approval of these standards will allow Idahoans to have access to a 21st century science education across all branches of science in every grade level. When I heard word that the standards had passed the Senate Ed committee the first thought I had was 'Today is a great day to be an Idahoan!'"
The science standards developed by the highly qualified committee, over painstaking months of work, maintain "integrity around the science of climate," and will enable Idaho science teachers to fully educate their students about human-caused climate change, said Esler.
"This means that every child attending public school in Idaho will learn about climate change and our human impact," announced Emily Her, a 17-year-old senior at Timberline High School in Boise, who started a petition to protect students' "right to learn about their environment" that has received more than 1,200 signatures. "Together we showed we care and that we stand for our students," she added.
It wasn't easy getting to this point. In 2016, the Idaho House and Senate education committees first rejected the state's science standards with members specifically objecting to aspects that referred to how human activity has caused climate change. With that, temporary standards were put into place for 2017—edited by the House committee to remove five paragraphs about climate change—and the state committee went to work on a solution.
This past year, when the state Department of Education called for public feedback on the new standards, they received 1,000 emails—all but five in favor of the standards. During public testimony in front of the House Education committee this February, 28 people spoke—all urging passage. Meanwhile, a petition started by Idaho students, in association with the Idaho Sierra Club, that calls on lawmakers to help protect Idaho students'
Still, despite overwhelming public support for the standards, the House committee voted to reject the standards, making it possible for Idaho to be the only state in the U.S. to specifically exclude education about climate change from its classroom.
In late February, the state Senate Education Committee nullified the House action—by a vote of 6 to 3. With that, the new standards will be in place for five years.
"To be honest, it's kind of embarrassing that it's been so controversial," said state Senator Jamie Ward-Engelking, a retired teacher and member of the Senate committee that overrode the House vote, to The New York Times.
Embarrassing, maybe, but not too surprising. Climate change has become an identity issue in the U.S., and studies show that what a person thinks about climate change is dictated mostly by political party affiliation. In Idaho, according to a 2016 Yale survey, just 24 percent of Republicans in Idaho agree with this statement: "Climate change is caused mostly by human activities," compared to 59 percent of Idaho's Democrats.
Across the nation, on average, 31 percent of Republicans nationally agree that climate change is human caused, compared to 65 percent of Democrats. Meanwhile, there is no uncertainty among the world's climate scientists that human activity has caused climate change.
Learn More
Get more from

We're here to help you succeed in your career, advocate for public school students, and stay up to date on the latest education news. Sign up to stay informed.