On a recent morning, Wilmington, Del., school nurse Donna O'Connor was reading the local news online "and saw that one of our fathers had been shot the night before." She knew it would mean a bad day—week, month, year—for his children, and a new challenge for their educators. And, unfortunately, that kind of trauma isn't unusual in their community, she says. "What does normal mean? What we consider normal [may not be] normal for them. How many of our students sleep in a bed?"
Scientists tell us that a child's brain changes when they witness violence at home or in their communities, or experience poverty, eviction, and hunger. It adapts, altering its structure in a way that can be observed in brain scans. As a result, educators of these children will notice frequent "fight, flight, or freeze" responses to stress.
But what educators need to know is that they can adapt too, says Deb Stevens, director of instructional advocacy for the Delaware State Education Association (DSEA).
With professional training, they can reduce the impact of traumatic experiences and help all children learn. "You must believe you can make a difference," she tells educators.
In 2017, DSEA won a $253,683, three-year NEA Great Public Schools grant for a collaborative project supporting educators at five Wilmington and Newark, Del., schools through frequent after-school and summer trainings, book studies, and more. "This is not another program," says Stevens. It is a promise by the union, rooted in compassion and science, to change everything.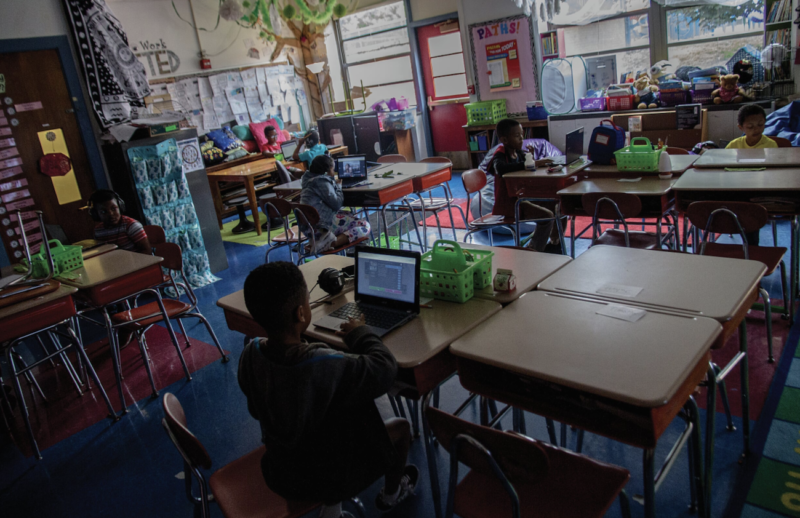 Dim The Lights!
Heather Harrison's second-grade classroom at Highlands Elementary in Newark, Del., is an oasis of tranquility. The ceiling fluorescent lights are off. Natural light filters through sheer, handmade shades, while floor lamps glow in the corners. Wall posters say: "Relax" and "Just Breathe."
Against the back wall, dozens of yoga mats and bolsters are stacked. "That classroom is a happy place for me!" says Principal Barbara Land. It's also a trauma-informed space with flexible seating that allows for small movements by students, and a cool-down corner for students who need a break. During a recent math lesson, when a student yawns loudly, Harrison points to her own head and whispers to him: "Mindful! Be mindful of our actions!" Down the hall, in Sabra Lyons' first-grade classroom, another math lesson is going on: "Last week, our brains were warming up," she tells her students. "This week our brains are building on."
Inside the Cool-Down Corner
Predictability and consistency help. But educators can't always know what might spark fear or anger in a traumatized student. A "cool-down" or quiet corner can help stressed-out students avoid eruptions by taking a break, and almost every trauma-informed classroom has one. These places can be equipped with audio headphones, children's books (Grumpy Bird is a favorite), or calm-down kits with stress-relieving putty, magic sand, stress balls, etc. "These are not toys," says Stevens. They're sensory tools that help students regulate their emotions. Recently Harrison had every one of her second graders visit her cool-down corner to practice their self-soothing skills. When they feel the need, they should be able to freely relocate there—and know what to do to take care of themselves.
At Shortlidge Academy in Wilmington, first grader Taralyn explains it like this: "You play there if you're mad."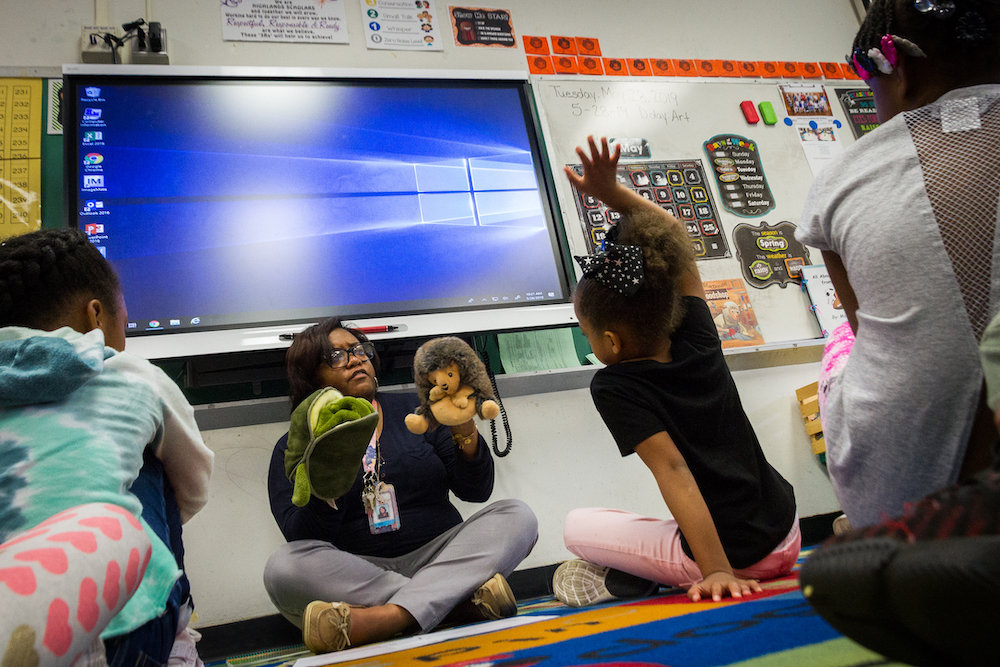 Highland Elementary teacher Shayna Moon (Photo: Luis Gomez)
Social and Emotional Learning
"Good morning, Henrietta!" say Highlands Elementary kindergartners to their hedgehog puppet mascot. But it is not a good morning! Henrietta, a character from Highland's social and emotional learning curriculum, is feeling frustrated and losing her cool. "Boys and girls, what should Henrietta do to calm down to think about her choices?" asks teacher Shayna Moon.
Says kindergartner Serenity: "Do turtle." Sitting with crossed legs, Moon's kindergartners demonstrate by tucking their heads against their chests, and getting "in their shells." They breath deeply, and then "say the problem and how you feel." These kinds of lessons will help their students in all aspects of their lives, educators believe. Meanwhile, at Shortlidge Academy in Wilmington, kindergartners learn about their brains as engines—if you're revving too fast, it's not a safe time to drive! "We teach the same thing,the same language, to our families," says O'Connor.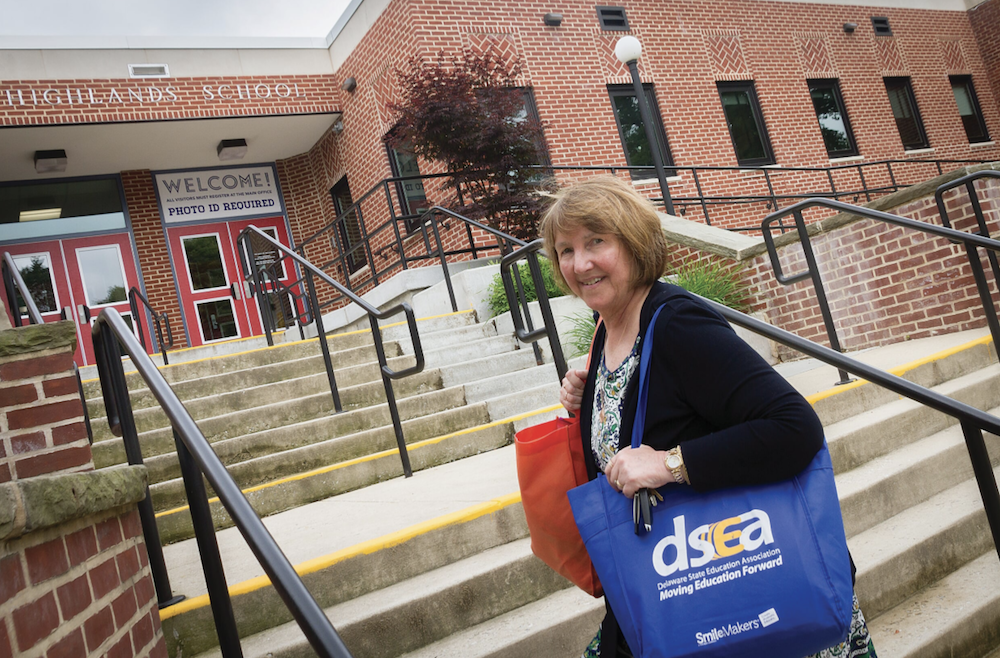 Deb Stevens, director of instructional advocacy for
the Delaware State Education Association (DSEA). (Photo: Luis Gomez)
It's a Good Thing She Loves Her Job...
From early Monday classroom visits to all-day trainings on Saturdays, the trauma project means DSEA's Stevens is always on the go with bags full of handouts, books, and other resources.
Her recommended reading? Disrupting Poverty: Five Powerful Classroom Practices by Kathleen Budge and William Parrett; Fostering Resilient Learners: Strategies for Creating a Trauma-Sensitive Classroom by Kirstin Souers and Peter Hall (who came to Delaware this summer to work with DSEA members); and Help for Billy: A Beyond Consequences Approach to Helping Children in the Classroom by Heather Forbes.
Recently, Forbes visited a book study group that Stevens coordinated with interested teachers, where they talked about the importance of making kids feel safe and building community in classrooms.
In the first year of the NEA GPS grant, Stevens focused on steering committee members at each school—doing poverty simulations and brain-architecture maps, and exploring school strategies that can counteract those effects. This past year, compassionate- schools training unfolded to all staff members.
Get more from

We're here to help you succeed in your career, advocate for public school students, and stay up to date on the latest education news. Sign up to stay informed.