The accountability pressures ushered in by No Child Left Behind more than decade ago reached the nation's kindergarten classrooms, according to a new study by researchers at the University of Virginia. In "Is Kindergarten the New First Grade?" Daphna Bassok, Scott Lathem and Anna Rorem tracked the level of academic focus in kindergarten from 1998 to 2010. While they expected to find some degree of increased attention on the reading and math skills emphasized by the now-replaced NCLB, the researchers were somewhat surprised by the magnitude.
"We've seen the kindergarten experience essentially transformed," says Bassok. "Academic skill-building has really taken center stage in today's kindergarten classrooms in a way that just wasn't the case" in the late 1990s.
Many educators and parents are concerned that the heightened focus on academics in kindergarten accelerates learning at the expense of play and other activities and skills.
There's nothing wrong obviously with higher expectations, but real concerns persist over how these young students are learning. "We know that early social skills are important predictors of students' learning trajectories," Bassok explains. "So our worry is that if done inappropriately, the focus on academics may have really pushed these other kind of learning opportunities aside."
The researchers compared data from the 1998 and 2010 Early Childhood Studies, which used nationally-representative surveys of kindergarten teachers, to examine how instruction, assessment, expectations and even classroom spaces have changed in kindergarten classrooms.
The frequency of instruction in specific literacy and math skills grew significantly over the 12 year period (see graph below). Ninety-four percent of teachers, for example, reported in 2010 that they taught students how to write sentences on a weekly basis, compared to 67 percent in 1998. Instruction in writing math equations more than doubled over the same period.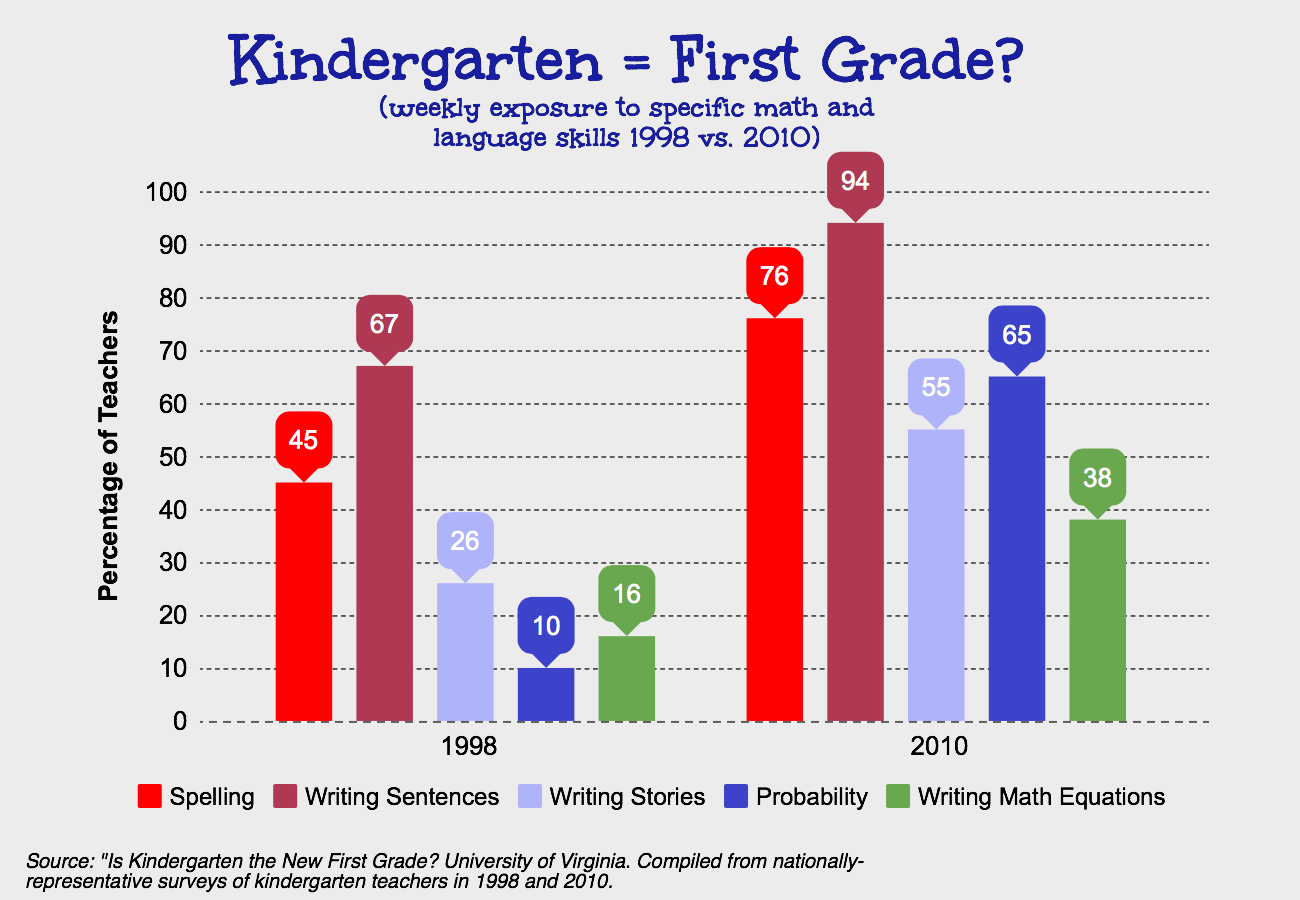 A greater focus on academic skills can lead to something else getting pushed out or sidelined. In between 1998 and 2010, music and art declined significantly. The percentage of teachers who reported offering music every day in kindergarten dropped by half, from 34 percent to 16 percent. and daily instruction in art plunged from 27 to 11 percent. Furthermore, 87 percent of teachers in 1998 said they had an area in the classroom specifically designated for play. Only 58 percent said the same in 2010. Similar declines were reported for art and science spaces.
The survey also reveals striking contrasts between 1998 and 2010 regarding the issue of assessments and accountability. In 2010, teachers were much more likely to indicate that evaluating students in relation to local or state standards was very important. In 1998, only 47 percent of teachers said evaluating a child's achievement relative to the rest of the class was important. That number rose to 67 percent twelve years later. In 1998, kindergarten teachers weren't even asked about the use of standardized tests to assess students. In 2010, 44 percent reported using them 1 or 2 times a year, 23 percent said one or twice a month.
The UVA researchers concede that more research needs to be conducted and note that the data is almost 6 years old and therefore doesn't reflect the impact of the Common Core State Standards (CCSS), which provide specific content standards for kindergartens in literacy and mathematics.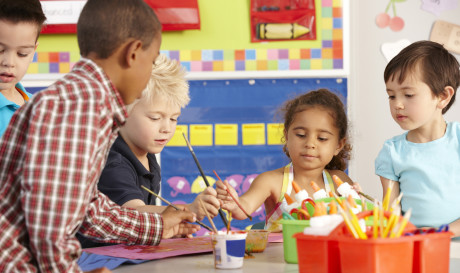 Time spent teaching art in kindergarten declined significantly between 1998 and 2010.
Last year, NEA Today asked educators who are implementing the CCSS how  the standards were affecting academic focus and expectations, particularly around reading. Betsy Wycislak, a kindergarten teacher in Illinois, said that while the standards are appropriate and her kids do have time in the classroom for play,  she was still concerned that the standards were not being interpreted or implemented properly.
"People are pressured to show good test scores and the standards are being re-interpreted to fit this idea that if we want students at a certain lexile level at the end of high school then they have to be reading in kindergarten," Wycislak explained. "This doesn't align with how kindergarteners' brains are wired or how they learn—but some [people] are panicked."
The UVA researchers also caution that while NCLB was a key driver behind the transformation of kindergarten, other factors have been at play.
"With our increased awareness of the importance of early childhood education, we have way more children attending preschool, and we have parents, particularly middle- and high-income families, investing in their young children's early education in a way that likely wasn't the case two decades ago," Bassok explains. "Children are exposed to academic content earlier than they used to be and, in part, kindergarten teachers may be responding to these changes."
Photos: Associated Press
Get more from

We're here to help you succeed in your career, advocate for public school students, and stay up to date on the latest education news. Sign up to stay informed.