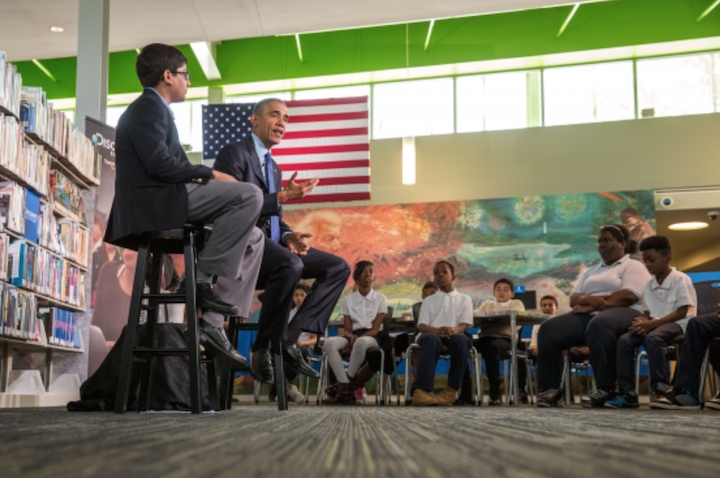 President Barack Obama answers questions from students during the Discovery Education webinar entitled "Read to Discover a World of Infinite Possibilities," at the Anacostia Neighborhood Library in Washington, D.C., April 30, 2015.
A lot of students at Hammond High School in Columbia, Maryland, don't have many books at home and don't get much encouragement to read from their parents, but after freshman orientation, they go home with a brand new library card and a newfound excitement about a community resource they didn't know existed.
"It's amazing," says Danielle Dunn, media specialist at Hammond High School, about 20 miles southwest of Baltimore. "I'd say about 70 percent of the students didn't have library cards when they first came through our doors, but when they hear about the resources the community library offers, it's huge for them. They learn that not only are there books they can check out and bring home, but that their cards also allow them to access the library's digital content 24 hours a day – and it's free."
It's all part of a partnership of the Howard County Library System (HCLS), Howard County Public School System (HCPSS), and Howard Community College (HCC) called A+ Partners in Education. Each student in the program receives a library card, each school is assigned a public library branch and library liaison, and there are book clubs, reading events and other programs that encourage students to use the library's resources.
Building on the success of Howard County's program and others around the country, last week President Obama traveled to the Anacostia Neighborhood Library in Washington, D.C. to announce new partnerships to expand access to free books for America's students, and to ensure every student has easy access to their local library.
"America's librarians, like our teachers, connect us to books and learning resources that help us dream big," Obama said.  "[These] new efforts will provide popular books to millions of underprivileged children and young adults around the country and connect more students to their local libraries -- because we know that reading just 20 minutes a day can make a tremendous difference in a student's success."
First, the President called upon library directors to work with their mayors, school leaders, and school librarians, to create or strengthen partnerships so that every child enrolled in school can receive a library card. The initiative follows the release of new data showing that children who visited the library during kindergarten had higher achievement scores in reading and science in third grade, particularly for children in households with low-income and low parental education.
"We are encouraged by President Barack Obama's announcement to ensure that all students have access to the wealth of reading materials, educational assistance and digital resources made available through our nation's public libraries," said American Library Association president Courtney Young. "We support the initiative's calls on public libraries, school administrators and government leaders to work collaboratively to create seamless learning opportunities for all of their students."
Obama also announced the Open eBooks initiative that will make over $250 million in popular e-books from major publishers available, for free, to children from low-income families though the The Open eBooks app . The app is being developed by the New York Public Library, which is partnering with the Digital Public Library of America and First Book to curate and deliver the e-books to students from low-income families.
"With this initiative President Obama acknowledges the powerful role libraries play in leveling the digital divide and empowering kids to dream big," said Maura Marx, Acting Director of the Institute of Museum and Library Services, who is investing $5 million to support the development of the e-reader app, as well as tools and services to help the public more easily access e-books and other digital content.  "We're thrilled to spotlight the work America's 16,500 public libraries do every day to inspire people of all ages to live better lives through learning and discovery."
Get more from

We're here to help you succeed in your career, advocate for public school students, and stay up to date on the latest education news. Sign up to stay informed.