Teacher Krista Degerness is focused. It is the final minute of her last class for the day.
She's zeroed in on a passage of dialogue written by one of her seventh graders for a storytelling lesson at Ken Caryl Middle School in Littleton, Colo.
"I think you're almost there," Degerness says to the budding writer as the seconds tick away. "That piece of dialogue should advance the plot or reveal something about the character. Almost there."
Degerness will soon be decked in airy cotton scrubs and high-traction sneakers as she reports to her second job as a part-time dental assistant and office manager at the Andante Endodontic Dental Clinic.
As the 3 p.m. bell announces the day's end, Degerness exits the main school building, and heads directly to her brawny Nissan Frontier truck. Fortunately, she has an easy commute to her dental gig: Ten minutes, three miles.
What seems like a world away, Degerness arrives at the dental facility, changes clothes, scrutinizes several digital X-rays for cavities and gum disease, scans a patient's electronic chart, and begins to sterilize dental instruments through the autoclave.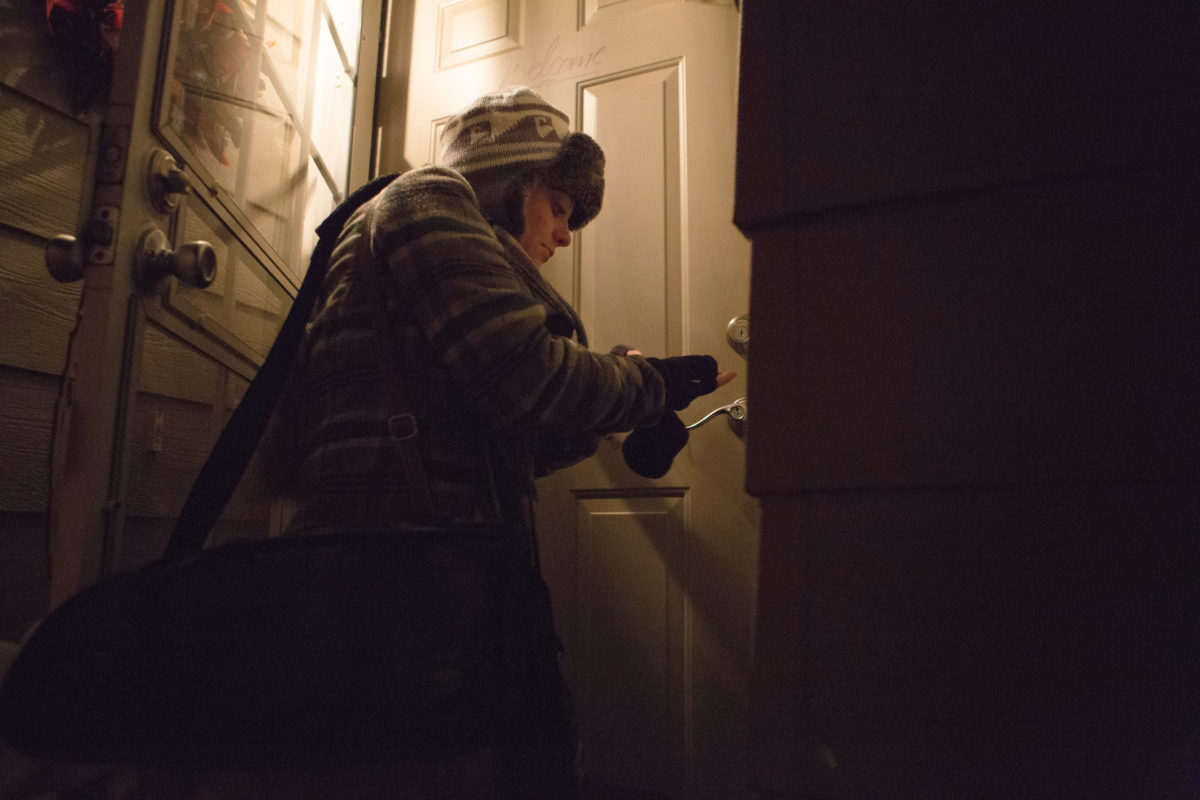 Teacher Krista Degerness leaves home before dawn and does not return until late evening after her second job. (Photo: Douglas Gritzmacher)
"I have to shift my focus pretty quickly from classroom setting to office environment," says Degerness, 35. "My teaching salary is not enough to cover my expenses, so I have to spend time working a second job to not go into the red every month."
During her final minutes at the dental office, she will prepare root canal trays for the next day. Afterward, she will drive through the chilly night, arriving home just in time for a 9:30 p.m. dinner. The next day, she will rise before 6 a.m. and do it all again.
Nationwide, many public school teachers and education support professionals (ESPs) work nights and weekends to supplement the income they receive from teaching. These educators are not pursuing a passion when working as waiters, bartenders, hotel clerks, and cashiers.
They are not trying out new careers as sales representatives at clothing, electronic, and auto stores. They are not attempting to bulk up their resumes working as freelance tutors, personal trainers, electricians, plumbers, and other jobs related to their area of expertise at school.
They are simply trying to keep their financial boats afloat.
"We work second jobs because our salaries alone are not sufficient to pay our bills, let alone save for the future," says Degerness, who works 15 to 25 hours a week at the office during the school year and over long weekends, and 40 to 70 hours per week during summer.
"But I want to work with students, especially those who struggle in academia with learning disabilities. It is incredibly rewarding."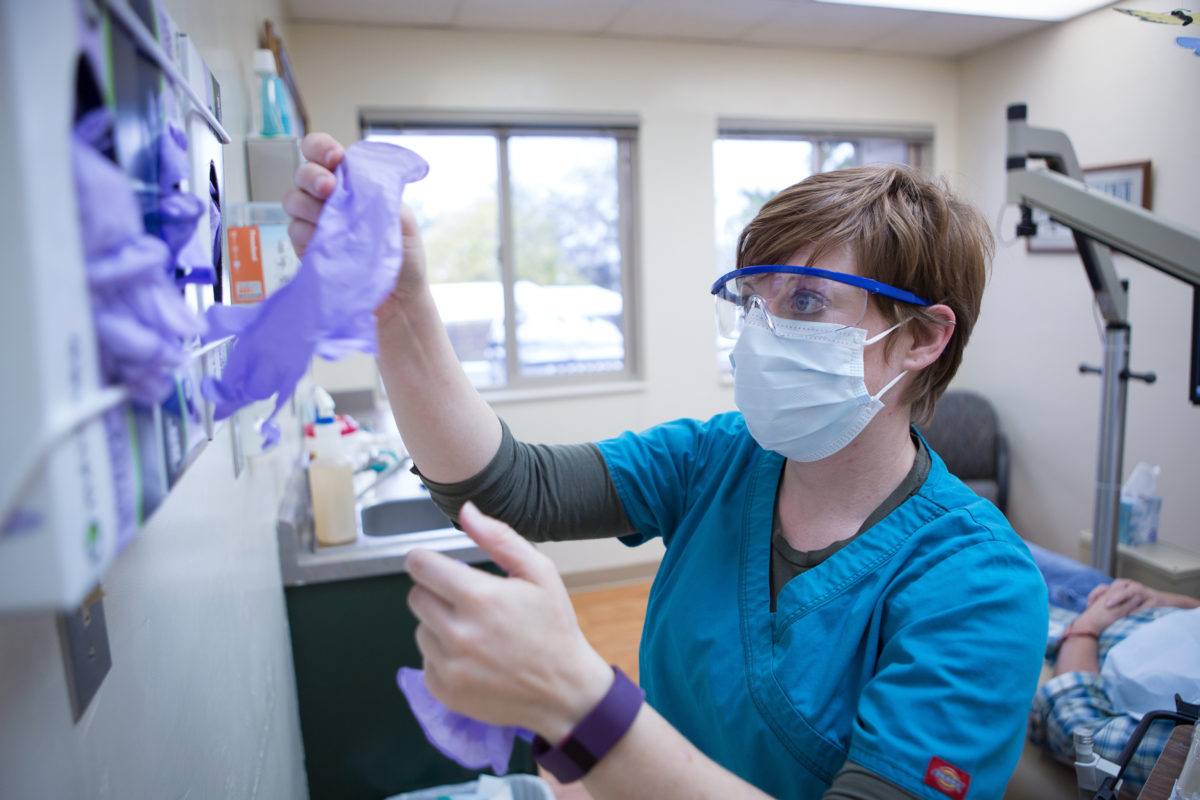 "We work second jobs because our salaries alone are not sufficient to pay our bills, let alone save for the future," says Degerness. (Photo: Douglas Gritzmacher)
A 2016 report from the National Center for Education Statistics states that about 16 percent of teachers across the nation work second jobs outside the school system. Even more, a report by the Economic Policy Institute (EPI) shows how teachers' pay continues to fall further behind the pay of comparable workers with similar experience and education levels.
In 2015, public school teachers' weekly wages were 17 percent lower than those of comparable workers—compared with just 1.8 percent lower in 1994, according to the EPI report. In Colorado, for example, teachers earned approximately 65 percent of what similarly educated professionals earn.
"Even with a second income, I still do not have enough to save, make a dent in my student loans, or plan for the future," says Degerness, who rents a room in a house with two roommates. "I'm making ends meet but I don't have my own apartment, let alone my own place."
In a 2017 NEA report, the U.S. average public school teacher salary for 2015 - 2016 was $58,353. State average teacher salaries ranged from those in New York ($79,152), California ($77,179), and Massachusetts ($76,981) at the high end to South Dakota ($42,025) and Mississippi ($42,744) at the low end.
A 2014 study by the Center for American Progress found that in Oklahoma, teachers with 15 years of experience and a master's degree earn less than sheet metal workers, while in Georgia those with the same credentials and experience earn less than a flight attendant in the state. Colorado teachers with a graduate degree and 10 years of experience earn less than a trucker in the state.
According to NEA, Colorado ranked 49th among states in 2015, paying teachers an average annual salary of $44,421. In 2016, the state moved to 46 in the rankings ($46,155).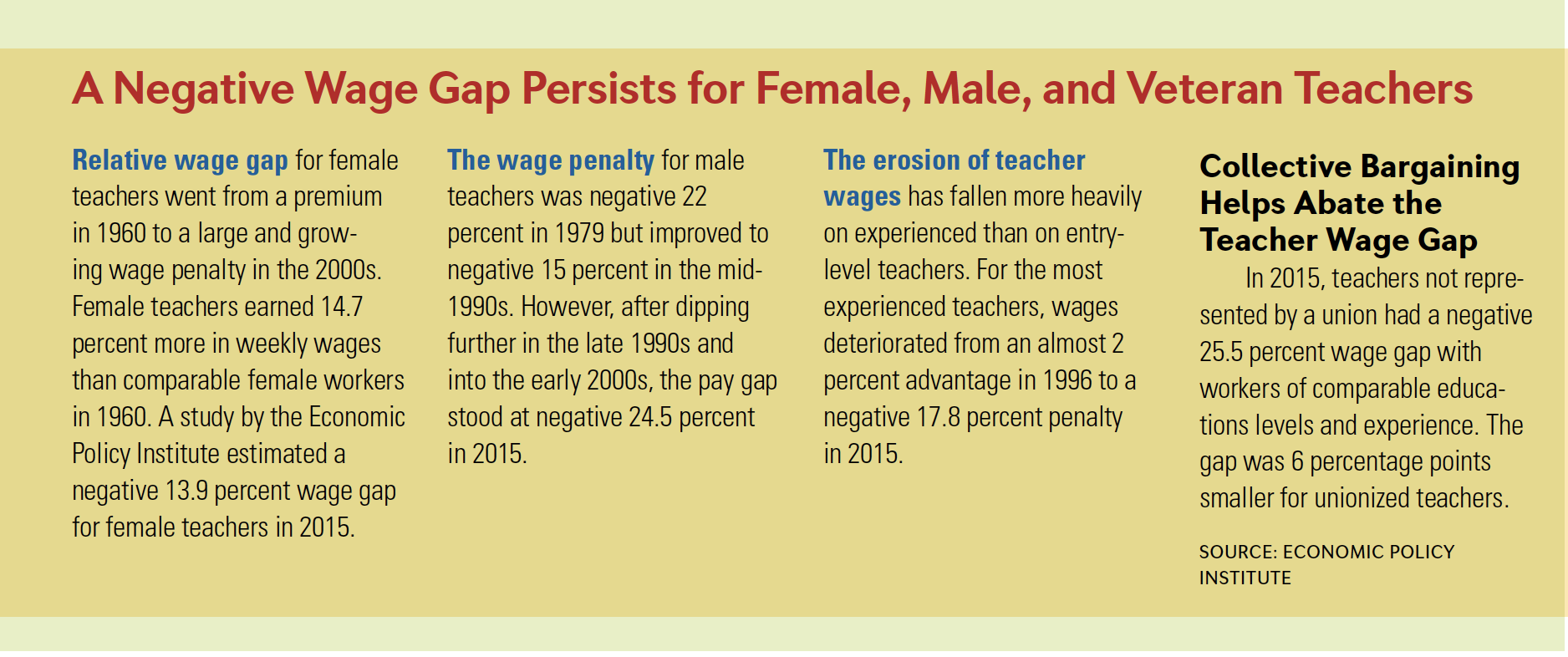 "Earning what I do with a master's degree is downright offensive, especially when the cost of living is so high in this area," says Degerness, a member of the Jefferson County Education Association. "Fortunately, I was able to earn a few grants for graduate school and work part time at the office."
Monthly, Degerness pays $800 in rent, $400 in truck payments, $200 for auto insurance, and $400 toward her student loan. Her take home pay: About $2,000.
"Throw in gas, food, or anything fun and it's pretty much gone right there," she says. "I'm in survivor mode."
In addition, her health plan calls for a 20 to 80 percent co-payment with a $3,000 deductible, which increases her monthly expenses for prescriptions and medical visits.
Strong Unions Improve Schools
"This erosion of relative teacher wages has fallen more heavily on experienced teachers than on entry-level teachers," says Sylvia Allegretto, a labor economist at the University of California, Berkley, and a co-author of the EPI report.
There are likely many reasons for the increasing pay gap, she says.
"The weakening of teachers' unions, pervasive anti-government sentiment, defunding of public education and the spread of charter and private schools all play a role," Allegretto says. "An effective teacher is the most important school-based determinant of education outcomes. It is therefore crucial that school districts recruit and retain high-quality teachers."
But this is difficult at a time when the supply of teachers is constrained by high turnover rates, annual retirements of longtime teachers, and a decline in college students opting for a teaching career. Providing adequate wages and benefits is crucial to attracting and keeping qualified teachers, according to the report.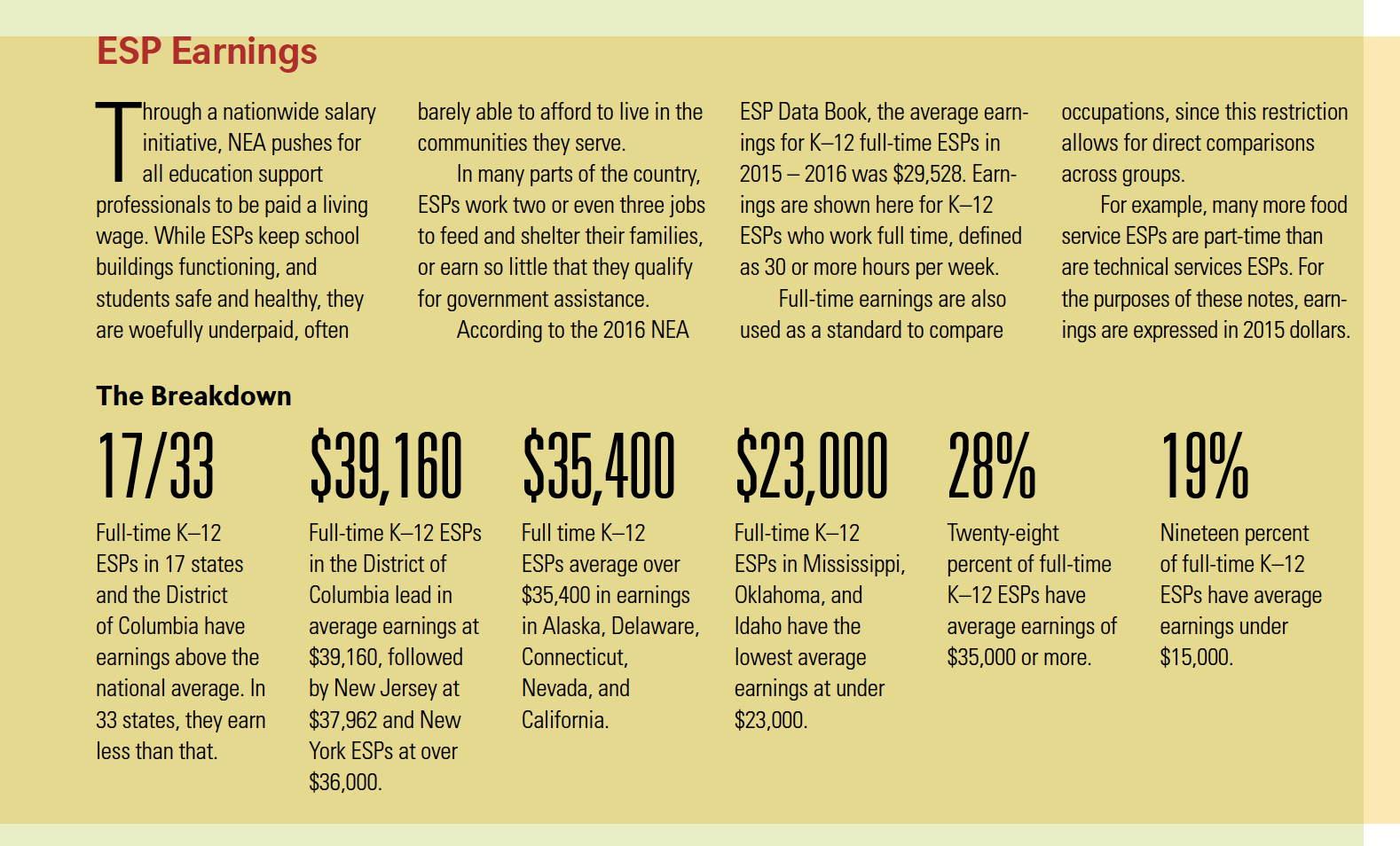 "Collective bargaining is the antidote to the teacher pay penalty," says Lawrence Mishel, EPI president and co-author of the report. "But it's not enough. Even unionized teachers have seen their pay erode relative to other workers."
EPI is a nonprofit think tank based in the District of Columbia that works to include low- and middle-income workers in economic policy discussions among legislators, academicians, journalists, and others.
The organization has conducted numerous studies on teacher pay gaps. Allegretto says collective bargaining agreements help to set teacher pay and benefits at levels that help educators maintain decent living standards.
"Even as the relative public school teacher pay gap is widening, unionized teachers do better than teachers without collective bargaining," she says.
Education unions also influence other workplace issues such as breaks, bus duties, or if teachers eat lunch with and while monitoring students.
"Strong unions, otherwise, increase job quality," she adds. "This helps to make teaching a more attractive profession."
Contrary to one grave misperception about education unions, they do not unfairly protect "bad apples."
In "The Myth of Unions' Overprotection of Bad Teachers," author Eunice S. Han says school districts with strong unions do a better job of weeding out bad teachers and retaining good ones than districts with weak unions.
The dilemma rests with district officials who may want to pay higher wages to attract good teachers but must contend with ever-tightening state budgets.
"If you have elected officials who are dedicated to shrinking government budgets, then it is difficult to raise wages for not only teachers but all public service workers," says Mishel.
Teachers in Some Cities May Need a Second Job to Afford a House
Across the country, housing prices in many cities are rising, while teacher salaries are not. To gauge what percentage of available homes teachers could afford, Redfin, a real estate brokerage firm, compared listed home prices over the last five years in more than 30 cities with average teachers' salaries. The number of homes within reach for an unmarried teacher has declined in some areas by more than 25 percent since 2012.
"Teachers don't go into their field to get rich," says Mishel, who has co-authored "The State of Working America," now in its 12th edition. "But they have reasonable expectations of earning a middle class living, being able to own a home some day and raise a family."
According to the Bureau of Labor Statistics, the average annual U.S. teacher salary in 2015 was $57,200 for high school teachers and $54,550 for elementary teachers, though compensation varies by state.
"If school administrators continue to squeeze teacher salaries, making it difficult for them to work toward the purchase of a home, for example, working teachers will do other things to support their families," Mishel says.
The residential real estate website, Trulia, compared average elementary, middle, and high school teacher incomes from 2016 with average home-buying prices in more than 90 cities. The report defined affordability as a property where monthly payments take up only 31 percent of a homebuyer's monthly paycheck or less.
"Teachers don't go into their field to get rich. But they have reasonable expectations of earning a middle class living, being able to own a home some day and raise a family" - Lawrence Mishel, president, Economic Policy Institute
The cities that fare best in terms of affordable housing for one-income households include Dayton, Ohio, where 83 percent of houses for sale at the end of 2017 were attainable on a teacher's $61,810 average state salary. Dayton was followed by Akron, Ohio; Detroit, Mich.; El Paso, Texas; and Bakersfield, Calif.
In cities such as Chicago, where the median listing price was just above the national average in 2017, teachers and other educators can afford about half of the houses on the market.
For teachers on one income, San Francisco is the least affordable city to live. There, the average teacher earns $72,340 and the average property costs $1.2 million to purchase.
To ease the burden in California, a bill passed in 2016 allows school districts to put local and state funds and federal tax credits toward affordable housing for school employees. By last year, the San Francisco Unified School District's plan to provide housing for 500 teachers and paraprofessionals by 2020 had helped 16 educators, according to The San Francisco Examiner.
A Third of Texas Teachers Work Second Jobs
Teacher-coach Rashad Bolds enjoys tracking money and economic trends for discussion in his finance classes at Thomas Jefferson High School in Dallas, Texas. He is equally adept at his second job: spotting and shaping raw talent among the young athletes he tutors in track, football, and other sports. He charges $20 an hour as a tutor.
"I mainly use the tutor money to pay back loans and credit card debt," says Bolds, 29. Currently, he has about a half dozen young clients.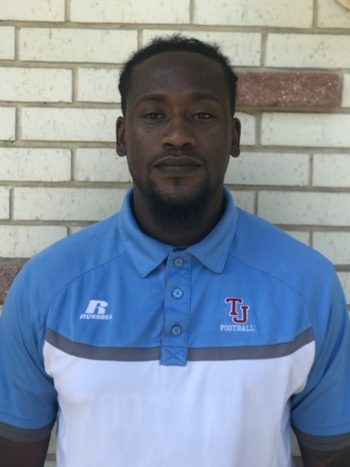 Teacher-coach Rashad Bolds, 29, earns $20 an hour tutoring a half dozen students several evenings a week and on weekends.
While paying back various loans and credit card debt, he hopes to begin saving to buy a house.
The added income has brought him close to owning his beloved 2012 Chevrolet Impala ($300 a month plus insurance).
"I'm so close to paying it off," says Bolds, who rents an apartment. "I've also started to save money to maybe buy a house."
When he isn't tutoring young athletes on weekends and several evenings a week, he works after school at Jefferson as the varsity football running back coach and junior varsity offensive coordinator.
A former sprinter and hurdler in college, Bolds is also head coach of the girls track team at Jefferson.
"When things slow down after football season, I might start helping a friend with his tax consulting business," says Bolds, a member of NEA-Dallas. "It can get stressful trying to stay on top of expenses."
A 2016 survey by the Texas State Teachers Association (TSTA), in conjunction with Sam Houston State University, showed that a third of teachers who responded said they needed outside jobs during the school year to support themselves and their families.
According to the survey, respondents work about 13 hours a week at their out-of-school jobs, and an additional 17 hours a week grading papers, preparing lesson plans and other school-related work outside of regular school hours.
"Although the weekend gives students a break from their classes, and time to relax with their families, for many teachers Saturdays and Sundays are spent working at extra jobs and preparing for next week's teaching duties," says TSTA President Noel Candelaria.
Almost half of the survey respondents had summer jobs, with 60 percent serving as primary income-earners for their families.
According to NEA, the average salary for teachers in Texas in 2016 was $51,890, a 2.3 percent boost from 2015 ($50,713).
"I can't imagine how teachers with families are able to carry two jobs and still spend quality time with their families," says Bolds, who is single.
In some cases, teachers with young children would prefer to have second jobs to save for their children's college careers, for example, but they are unable to work due to familial responsibilities.
"Being a responsive parent is itself a second job," says Bolds. "But I realize this is not unique to educators."
The TSTA study found that 72 percent of teachers forced to moonlight believe the time spent on extra jobs affects their teaching, and 86 percent of them said they want to quit their extra jobs but would need a pay raise of about $9,000 to do so.
The survey showed that only 8 percent of respondents believe legislators and state elected officials have a positive opinion about teachers, while only 30 percent of respondents said they believe the public has a favorable opinion of them.
"Our teachers work extra hours and spend their own money to buy school supplies, because they are dedicated to their students' success," says Candelaria. "It's time for elected officials to support students and educators with that same dedication by providing the resources needed for success in the classroom."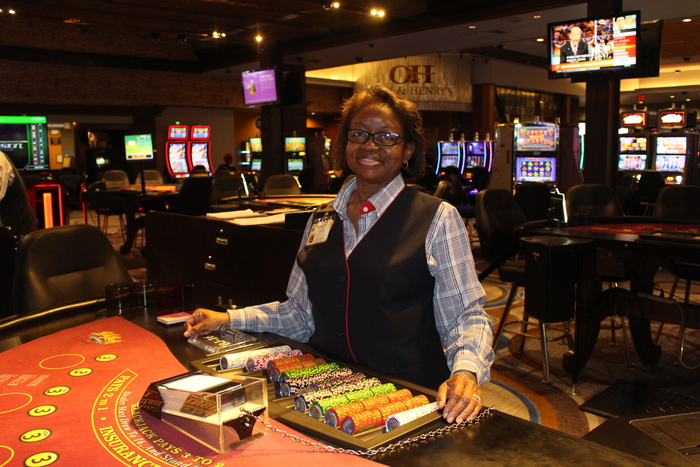 Paraeducator Mattie Barnes earns $6.25 an hour plus tips shuffling cards as a dealer at the Lady Luck Casino in Vicksburg, Miss.
Luck of the Draw
Paraeducator Mattie Barnes can play poker, blackjack, and other casino card games with anyone who walks into a casino, but she is not a gambler.
After a long day as a paraeducator at A.W. Watson Elementary School in Port Gibson, Miss., Barnes begins shuffling cards for her second job as dealer or croupier at the Lady Luck Casino in Vicksburg.
"Some days are good and others are nothing," says Barnes, who earns $6.25 an hour plus tips working part-time. "Even with my casino job, some months are rough."
Full-time K–12 ESPs like Barnes in Mississippi, and those living in Oklahoma and Idaho (see side bar, Page 42), have the lowest average earnings in the country at less than $23,000, according to the 2016 "NEA ESP Data Book."
"Some weeks I have nothing to save after paying health insurance, utilities, food, you know, the normal things," says Barnes, 61.
"Education is the gateway through which anything can be achieved. Every student has gifts and I work hard to capitalize on those strengths. I enjoy my work at school and would like to stay at it." - Krista Degerness
She has worked for the school district for 25 years, slightly longer than at the casino, where Barnes is a rarity. She was at a card table during the casino's grand opening June 20, 1994, and has never left.
"I thought it (casino job) would help me get started after college, but the more I worked there the more I needed the extra income to offset the cost of living," says Barnes, who has a bachelor's degree in home economics.
The added income has allowed her to buy a house and raise a son as a single parent.
"I couldn't have afforded to buy my house on just my paraeducator pay," she says. "If it wasn't for my casino job, I'd probably still be renting an apartment somewhere."
The extra income also allows her to buy books and other classroom supplies for students.
"I get them books from the Dollar Store during the year but especially at Christmas," Barnes says. "I might not make a lot of money, but watching the kids learn is a reward in itself."
At the casino, Barnes happens to work with a former kindergarten student, now a security guard. "I hadn't seen her since she was a little girl," Barnes says. "But I remembered her because she was so pretty back then and still is."
Table Games Manager Renza Grennell says Barnes is known among staff and guests for her expertise at the card table, "caring nature," and "warm heartedness."
"Her many years of experience are invaluable to us," Grennell says. "She arrives at the casino prior to her work schedule and can be found reading in the break room."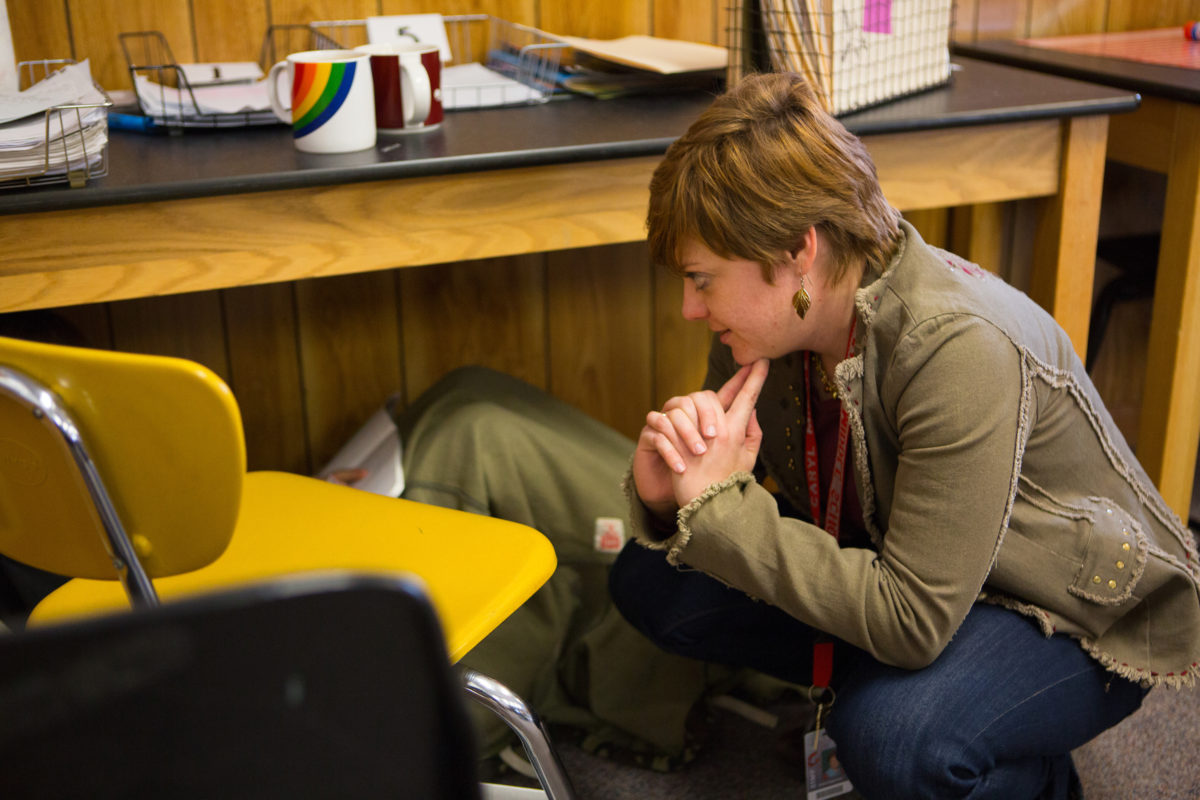 At day's end, Krista Degerness works with a student comfortably situated in his "quiet zone" under a table while contemplating his writing assignment. Other students are similarly strewn about the classroom in deep study. Soon, the teacher will don scrubs as a dental assistant/office manager. (Photo: Douglas Gritzmacher)
Educator at Heart
At times, Degerness's two worlds collide. An example is when she inadvertently warns students about the evils of consuming too much soda, candy, or chewing gum.
"My dental knowledge comes out at random intervals," says Degerness, who has worked part-time in the dental office since she was 16. "I've learned valuable skills that transferred laterally into my education career."
Dealing with certain patients, for example, has helped Degerness manage demanding parents.
"While I love my school, there are days when I need a confidence boost at the office where I know my work is both recognized for excellence and appreciated for effort," she says.
While all four of her grandparents were teachers, it wasn't until Degerness was in her mid-twenties that she felt inspired to enter the education field. After earning a master's degree, she began work as a teacher in 2015.
"Education is the gateway through which anything can be achieved," she says. "Every student has gifts and I work hard to capitalize on those strengths. I enjoy my work at school and would like to stay at it."
Learn More
Get more from

We're here to help you succeed in your career, advocate for public school students, and stay up to date on the latest education news. Sign up to stay informed.