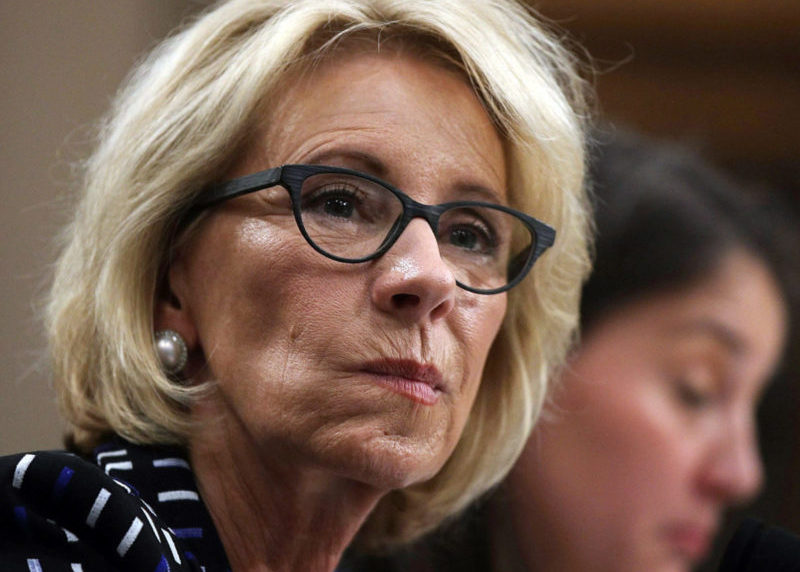 Stephanie Portilla wants to be a teacher.
So the aspiring elementary educator did her research and found an online program that meets her needs and the standards for certification in her home state of California. But now, even as Portilla, a 28-year-old mother of two, diligently studies and faithfully pays for her classes, the Department of Education has removed any legal obligation on her program to reveal if their accreditation changes, or if it fails to meet licensing standards.
Portilla's dream—and investment—are at risk.
That's why Portilla and other educators, backed by NEA, the California Teachers Association (CTA), and the National Student Legal Defense Network (NSLDN), have sued the U.S. Department of Education (DOE) and Education Secretary Betsy DeVos. In the suit, which was filed in a federal court in California, Portilla and NEA point to DeVos' July 3 rollback of federal protections for online students and ask that DeVos be ordered to put the rules back into effect.
"It's shocking but not at all surprising that the Department of Education would roll back student protections because this latest brazen attack on student rights is consistent with everything we have seen from the Trump administration and Secretary Betsy DeVos," said NEA President Lily Eskelsen García. "Without these rules, current and prospective students will remain in the dark. Students will be denied critical information about which programs are right for them and which would be a waste of their time and money."
Since 2010, student enrollment in online college courses has grown exponentially every year, reaching 6.3 million students in 2016. Fifteen percent are students who are enrolled exclusively in online courses, like Portilla.
As their numbers grow, so does the need to protect these students, advocates say. That's why the federal regulations to protect students in online or distance courses, which were published by DOE in December 2016 after a multi-year rulemaking process and went into effect on July 1, are so critical. The regulations, which DeVos has delayed until July 2020, would require online or distance programs to disclose to prospective and enrolled students whether their programs meet licensing requirements in their states, and whether the school is under investigation by a state or accrediting agency.
"Without them, students like Stephanie Portilla could end up saddled with debt and stuck with a worthless degree they can't use," said CTA President Eric Heins.
Portilla is enrolled in Western Governors University (WGU), an online-only program that touts its competency-based approach to higher education. But last year, a high-stakes audit by the Department of Education found that most WGU courses don't meet federal standards for online education because they aren't taught by qualified faculty, and interactions between faculty and students are too minimal. Federal auditors recommended the DOE force WGU to return $713 million in federal aid.
But since DeVos has revoked the rules for online institutions, Portilla and tens of thousands of other WGU students may have no idea of any future state or accreditory actions against WGU.
The other plaintiffs are a second-grade Kansas teacher who is enrolled in an online master's degree program, and a fourth-grade teacher from California who is planning to apply to an online Ph.D. program in educational leadership. Like Portilla, these teachers are NEA members.
An Anti-Student Approach
Meanwhile, the federal rules for online courses aren't the only higher-ed regulations that DeVos has delayed or dismantled.  Her administration also is seeking to redefine "distance education" so that it no longer requires "regular and substantive interaction" between a faculty member and her student. This would permit poor-quality programs, NEA notes, and overlooks the most influential element in any classroom, virtual or otherwise. That is the teacher.
Earlier this year, DeVos also rolled back protections for students at for-profit colleges. Known as the "borrower defense" and "gainful employment" rules, these regulations were developed over many years by the Obama administration with the input of student advocacy groups, including NEA. In effect, they require DOE to penalize the for-profit colleges with the worst records on student loan defaults and joblessness.
Last month, NEA formally urged DOE to implement the borrower defense rule now. "To delay and revise simply prolongs the situation where students and taxpayers are at risk, and irresponsible institutions continue to collect government money without any reasonable accountability to provide educational benefits to their students," wrote Donna Harris-Aikens, director of NEA's Education Policy and Practice Department.
By delaying or substituting these rules with weak versions, the government is breaking its own laws regarding how federal regulations must be developed, advocates note.
"Desperately needed as it may be, no law can force Secretary DeVos to care about protecting students. But the law does require a specific process to delay a rule, and Secretary DeVos tried to take an illegal shortcut instead," said NSLDN President Aaron Ament.
Learn More
Get more from

We're here to help you succeed in your career, advocate for public school students, and stay up to date on the latest education news. Sign up to stay informed.