Their own salaries continue to stagnate, and many are looking to a second job to help make ends meet. Still, practically all public school educators are reaching into their own pocket to pay for school supplies without reimbursement. According to a recent survey by the National Center for Education Statistics, 94 percent of teachers spend their own money to stock their classrooms with the necessary supplies and resources. On average, a teacher will shell out about $479, although 7 percent spent more than $1,000, according to the survey.
So what are they buying? It's not just pencils and masking tape. Recently, the National Education Association asked educators to share their #OutOFMyPocket stories - how much they spend annually on classroom supplies, what they purchase, and why they believe it's necessary to dig so deep into their own paychecks. Here are just a few of the stories from educators who, as they continue to stand up to lawmakers to demand better pay and school funding, are doing what they can in the meantime to help get students the support they need. 
Serra Laurenco, California
Every year I start "back to school shopping" as soon as school gets out. I have to buy pencils (hundreds), erasers, white board markers, packs of crayons, scissors, glue sticks, pencil boxes for all my kids, cases of copy paper, index cards, colored pencils, markers, and more!! I spend an average of $3,000 every year. I purchase books for my class and individual students who don't have any at home, sometimes backpacks and jackets for kids who need them as well. Being a teacher isn't easy; we spend so much time on our profession and money from our pockets.
Juli Taylor, Missouri
I'm a special education teacher, and many of my students have physical disabilities, so they need specific adaptive equipment in order to meaningfully access their education. These include sensory bins, vibrating teethers, fidget toys, and many other things. Each year, we are given a budget of $150 to place a requisition order. This year, I spent $109 out of $150 on a special order, and was told two weeks into the school year that the items I wanted were sold out. I have not heard back yet whether or not I can place a new requisition order for the year.
In addition to special adaptive items, I buy snacks for my students out of pocket. We also cook each Friday to practice important functional measuring skills. I think this activity is soimportant, and I am given a budget of $100 to spend on the groceries required to cook the food. We spend that $100 within the first eight weeks of school.
I do not have access to a colored printer in my building, although many of my students' level of literacy representation is colored line drawings. I can use the copy center if I can wait two weeks for the materials, but I frequently need visual supports the next day to help students who struggle with emotional regulation to be successful in their school day. So I bought my own printer, I buy my own colored ink, and I bought my own laminator. I spend hours at home printing and laminating my own materials, and hundreds of dollars on colored ink and laminating film.
My first year I spent well over $1,500 to decorate, stock my classroom library, and provide snacks for students who came without. I'm in year 9 now and I can't even guess what my personal total is up to #outofmypocket #redfored pic.twitter.com/tv10S0505i

— Mrs Kristina Presley (@Mrs_K_Presley) September 10, 2018
Regino Ramos, Texas
As a band director at a Title I district, I have many students that come from very disadvantaged families. In some cases, both parents work, and the father has an extra job. They make minimum wage, and with all that have a hard time making ends meet. In order for the student to march in the band, they must purchase marching shoes ($50), supplies for their instrument, ($25), band shirts and a band hat, ($35). Regularly I put in $1500 to cover the expense of these students. Then there are times when I need to purchase supplies, reeds, etc.
Our district is very supportive of the program, but these expenses are not covered by Title 1 funds and we are not always able to fundraise.
I love my kids, I love my community, but I wish that our state would give us higher wages, or a greater tax deduction, or maybe even a tax credit!
Jamie McAlpine, Maine
Out district does reimburse teachers up to $250 they may spend each school year, but as a paraeducator, I do not receive that benefit. I teach social skills and while I was extremely grateful that teachers in my building donated games and materials to me for use with my kiddos, I still spent around $200 on books, games, and teaching materials (amen for Teachers Pay Teachers!) to use with my kids. This year the district helped fund more of the curriculum I will be using, but that was a big hit last year working on a para salary. I'm thankful for supportive colleagues and online resources to help me get through!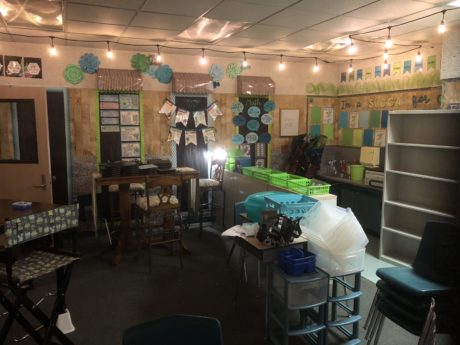 Mandy De Groote used her own money to create a flexible, more engaging learning evironment for her students.
Mandy De Groote, California
This year, we received 12 pencils, 3 boxes of crayons, 2 Post-it notes,  and a handful of composition books. Everything else in my classroom was funded by me. As teaching becomes more challenging, from a student and an administrative expectation standpoint, it is important to create a learning environment that inspires the students and yourself. This year I financed all the flexible seating, all the school supplies, additional chromebooks, and curriculum to meet state standards (we have none for NGSS) as well as curriculum that is innovative and engages students.
Alicia Fisher, Maryland
Even at the Dollar Store and Target, things add up. I have spent approximately $200 this summer for the 2018-19 year and my aunt spent approximately $50. Each year she makes a donation to my class. We bought crayons, pencils, bulletin board paper and border, a broom, wipes, snacks, folders, Sticky Tack and bins to name a few. Still need a couple pillows and a rug. That'll come later.
Elizabeth Brown, Utah
I'm an art teacher at four schools with almost 3,000 students. My budget is around $350. My budget covers a piece of construction paper per student. Without searching out grants, leg work for Donors Choose, and my own pocket, all we would do is draw with pencils and old broken crayons.
Larry Grimaldi, Illinois
I spent quite a bit last year knowing I might get a small portion of that back on my tax return. Not anymore. Teaching science is tough without supplies, and even in an affluent community such as the one I teach in, our science budget is lacking due to the other initiatives the district prioritizes. If I'm going to bring an engaging unit to life, I need supplies and consumables to do just that.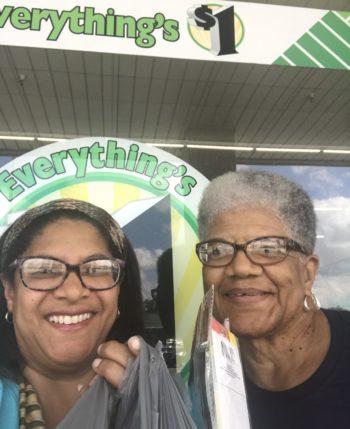 Alicia Fisher (left) and her aunt after a visit to the dollar store to buy classroom supplies.
I hope I can find some residual income to do similar things in my classroom this year that I was able to do last year.
Debra Deskin, Oklahoma
As a Gifted and Talented teacher for two school sites, I get little to no extra funding, even though students who are identified as Gifted get money brought into the district. STEM-related activities are wonderful, but these activities can become expensive for the teacher. I have literally had to choose whether to purchase items for my classroom and students or pay bills. Honestly, the bills get put on the backburner more often than not. I am embarrassed to not live in a home that I would like teacher friends to visit. I just can't afford this job, yet I have stuck with it for 15 years.
Ryan Knight, Indiana
Every year I budget $1,000 for my classroom expenses. I have to buy basic supplies for my room: tissues, paper towels, markers, cleaners, pencils, erasers, pencils, folders, binders, glue, hole punchers, whiteout, staples, tape, Post-it's, flash cards, "clickers," and more. Some people don't realize that middle and high school teachers rarely have classroom supply lists like elementary teachers do...the cost falls back on us.
I also bought my own audio system because my music classroom does not have a sound system. I spend money on educational posters and visual tools to help students remember details and stay engaged. I teach in three different classrooms, so I purchase materials for all three spaces. Our school has given us some help with supplies, but teachers can only request supplies up to $75 for the whole year.
Our school has been given 1:1 devices, but I had to buy my own case and accessories. I also bought a lot of the software used to run my department: website hosting, Adobe subscription, cloud storage, study tools, and other online resources that the school won't pay for. I've even bought styluses for my class because kids don't have them and the school can't afford to get one for every child.
Let's also remember that teachers are paying for more than classroom supplies. We take some field trips, so I often pay partial costs for students who cannot afford to go otherwise. I have also purchased clothes, shoes, and school tech accessories for students in need. I don't charge for voice lessons even though I should, but my kids can't afford to pay. I do these things out of love for my kids and I don't ask for a refund from anyone. But I think the community ought to know the real amount of money teachers are putting into their classroom, school, and kids' overall education.
Get more from

We're here to help you succeed in your career, advocate for public school students, and stay up to date on the latest education news. Sign up to stay informed.