According to new data released last month by the Centers for Disease Control, the suicide rate for young people age 10-24 soared by a staggering 56% between 2007 and 2017.
In the absence of comprehensive mental health supports in schools, signs that the stifling pressure, anxiety or trauma have become too much for a student can be hazy, often undetectable. How and when do suicidal thoughts or ideation lead to suicide attempts?
In California, the number of high school students who are thinking about suicide is alarming: one in five, according to the 2019 School Climate, Health, and Learning Survey.
"We're racing against the clock with a lot of our students," says Gavin Santillan. "It doesn't take much before they decide to take that step, that sudden act. And the masks they wear obscure what they're really feeling inside. It's fortunate that we have a space at our school where many students feel safe and can talk."
That space is Room 401, the Peer Counselor Center at Garey High School in Pomona, California. Any time during the school day, a student who is struggling can walk into this comfortable, uncluttered suite and sit with a fellow student who is there to empathize, ask questions -  most importantly, to listen.
Although no student has committed suicide over the past five years, the school's student population is far from immune to the stifling pressures and anxieties that have plagued U.S. teenagers across the nation, says Santillan, Garey's peer counselor advisor. "Too many of our kids are in crisis."
Roughly one-third of the 1800 student body has used the program over the past school year. For some, peer counseling became the last line of defense.
"A couple of students have told us that they were on their way off campus to take their own life," Santillan recalls. "But they stopped into the office on their way out, just curious enough to see if this was a place where they would hear something different.
"Luckily, it was."
Just Talk to Someone
Leveraging students as sources of support for other students is hardly a new idea. The increasing suicide rate and emerging focus on student anxiety and trauma, however, has sparked new interest in peer-to-peer programs. Furthermore, budget cuts, a lack of trained counselors and other mental health professionals - along with lingering stigmas around mental health - has districts scrambling to close the "treatment gap."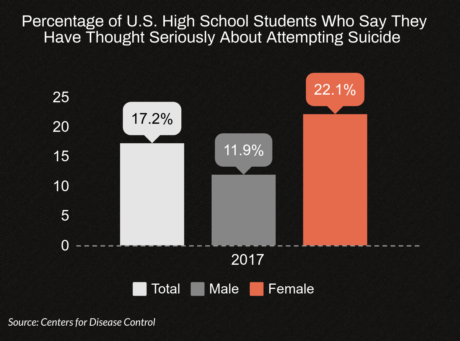 That's a burden students shouldn't be taking on, says Margo Ross of the Center for Supportive Schools.  Where students can and should make an important difference, however, is closing the "mentoring gap."
"Peer mentoring helps schools create safer and more nurturing school environments to help support students' social and emotional needs and general well-being," Ross explains.
Santillan makes sure students interested in participating in the program understand the boundaries of their role. It's not the peer counselor's job to fix the students' problems; it's to listen, ask questions, and, if necessary, refer them to an adult who can help.
"They don't dispense advice, or offer solutions," Santillan says. "That's not our business. We drill that into the students on day one."
Students do have a way, however, of creating trust and putting at ease their colleagues who may be struggling.   "We've had students that refuse to talk to anyone else - parents, adults. They want to talk to us. So we take time with them to make sure trust is established," said Garey peer counselor Lyann.
Garey has a formidable team of between 80 and 90 peer counselors, each one handling ten clients. Each undergoes training in empathy, active listening and basic social and emotional skills. The school invites Pomona County mental health agencies to speak to the students, and local parent groups are brought in to talk about red flags and warning signs that can be easy to miss. "We do a lot of role-playing," Santillan says.
A peer team often includes students who have struggled with anxiety or depression themselves, but who have since overcome their problems.  "I went through a lot early in high school and I wanted to make sure that other student goes through it alone," says Lyann.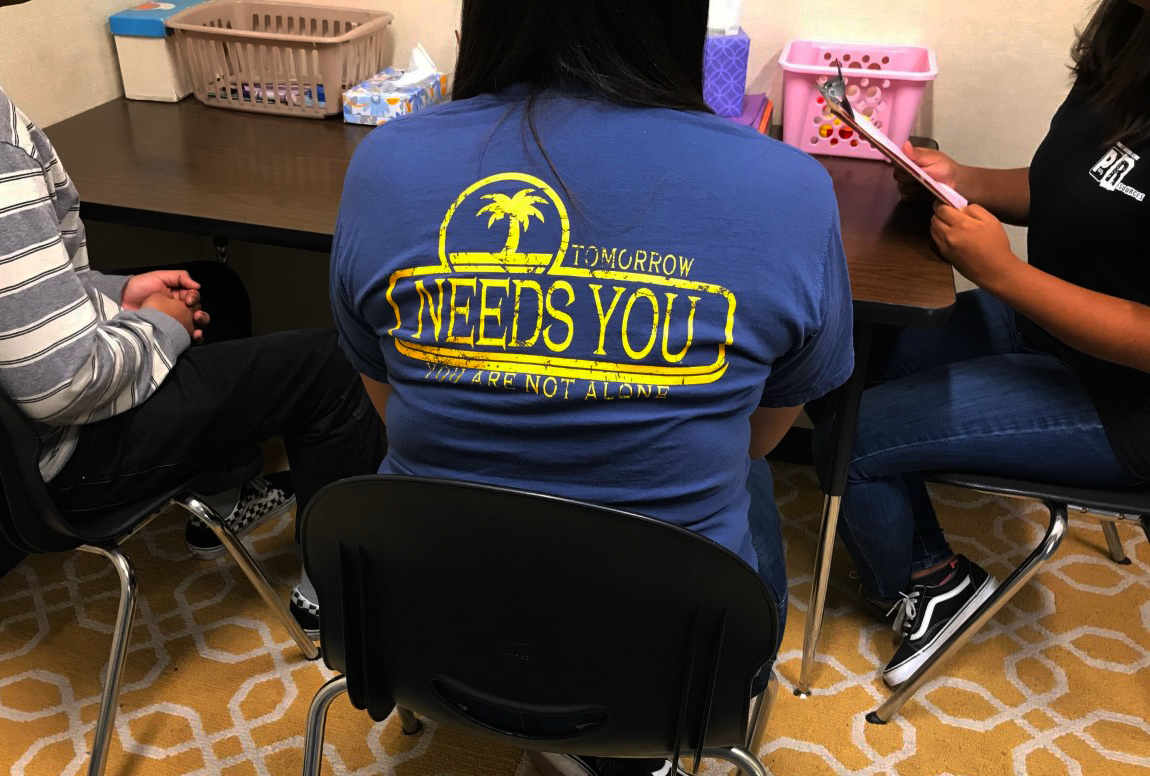 During the school year, between 80-90 students at Garey High School serve as peer counselors.
When Red Flags Appear
The students who need peer counseling don't fit one particular profile. "They come from different social groups, different academic backgrounds and have different issues," says Santillan. "Sometimes it's just student who is having a bad day, just needs a time-out. But then it can move into darker territory and we're dealing with self-harm, suicide ideation."
Students who need help come to the program through referrals from teachers, counselors, or they just walk into the office asking for help.
"Walk-ins have increased dramatically," Santillan reports. "We do everything we can - posters, flyers, word-of-mouth -  to let every student know that we are here, and they can come in anytime."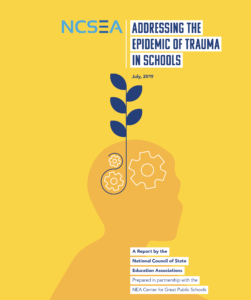 In 2019, the National Council of State Education Associations partnered with the NEA Center for Great Public Schools to help build a framework for trauma awareness and trauma-informed approaches. (Click on the image to read the report)
"This is invaluable resource for our students because they often have an easier time talking to their peers," says Liliana Fasting, one of Garey's four school counselors.  "But conversations can get tricky. If red flags appear, then a staff member gets involved."
Santillan sees himself as the "air traffic controller" when additional support and resources are required. Should a counselor be brought in? Should the district mental health office or a county program be contacted?
Psychology interns from nearby Claremont Colleges volunteer their time every week. "They take some of our tougher cases, students who have  just returned from hospitalization," says Santillan.
Being alert and responsive to individual student needs doesn't prevent more strategic approaches to ongoing challenges.
Last year, Santillan distributed students who had at least 3 F's among the peer counselors to help identify what was going outside of school that was disrupting their schoolwork.
The failing grades were a symptom of " the bad things that were happening in their lives," says Ashley, a peer counselor.
What comes next may involve interventions that don't involve the peer counselor, but the importance of the work in helping colleagues open up can't be overstated, adds Santillan.
"That's where it can start: students just talking to students."
Breaking the Silence
Student leadership was instrumental in getting a peer-to-peer program off the ground at Brusnwick High School in Brunswick, Maine. Junior Nicco Bartone brought the idea to his guidance counselor, who then reached out to Sources of Strength, a suicide prevention program that trains "peer leaders" to work with adult advisors in schools to help students deal with difficult issues, or as founder and executive director Mark LoMurray says, "the rough stuff."
In 2018-19, Sources of Strength trained 30 Brunswick students to serve not only as resources for their peers, but to design school awareness campaigns around trauma, mental health, and suicide prevention.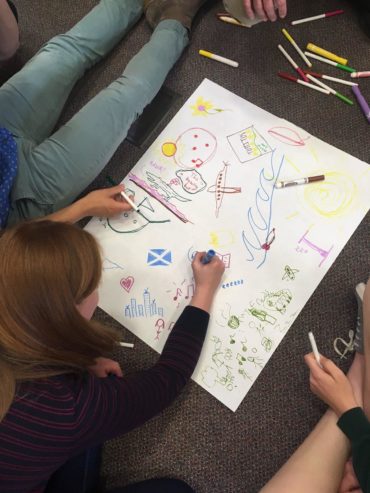 At Brunswick High School in Maine, peer leaders create mental health awareness campaigns. (Photo: Maine Public)
The idea, explains Brunswick counselor Mary Kunhardt, is to help create a positive school culture that breaks the silence around these issues and "recognizes that everyone has ups and downs. Peer leaders listen, connect to adults and spread hope."
The Sources of Strength program identifies potential student leaders from every school social group. "We know that students most likely talk with their friends before talking with adults," Kunhardt says. "So, if at least one friend from each group has ears on their peer group, they will be the first to hear if a person is struggling."
Sometimes students are more peer "advocates" than peer "counselors." That's the  focus of the program designed by the Depression Center at the University of Michigan.
In 2009, staff members teamed up with Ann Arbor public schools to launch the Peer-to-Peer Depression Awareness Campaign.
Every year, ten to 20 students from participating schools attend an all-day group training session led by social workers and psychiatrists. In addition to learning about mental health, coping skills, and active listening skills, the students are also trained in social marketing and communication strategies.
Students team up with mental health professionals to create publicity campaigns, which are presented and displayed throughout the school. The goal, says program manager Stephanie Salazar, is to find "creative ways to convey their knowledge about these issues throughout the school and help reduce stigma and remove barriers to help-seeking."
After a campaign, says Salazar, schools have seen noticeable shifts in school climate and students' comfort level in talking about mental health with their peers. "Year after year, their knowledge about these issues improves and students say they are more likely to seek help."
"We Will Always Need This Program"
Some peer programs - an outreach campaign to students, for example - can be implemented at a relatively low-cost and with minimal hassle, says Salazar. Challenges inevitably arise, however, around creating the infrastructure necessary to sustain them long-term. Are staff members trained? Are they committed to the program? Are the resources that started the program always available?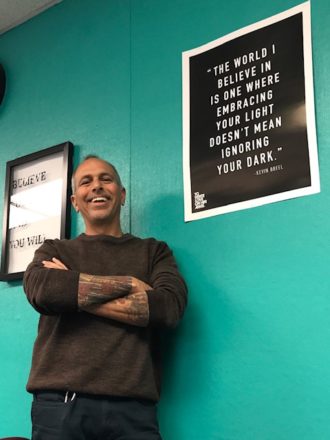 Gavin Santillan taught English and Drama for 23 years before becoming Garey High School's peer counselor advisor in 2017.
A lack of program advisors and scheduling obstacles can make prevent schools from "providing the appropriate frequency and dosage of program activities to see a significant impact," says Margo Ross at the Center for Supportive Schools.
"Effective student peer counseling programs, while cost effective, do require a deep investment by schools into training both the mentors and the adults who support them."
Still a relatively new resource, Garey's peer counseling program is bolstered by deep support inside the school and in the community. Parents in particular have been encouraged by positive changes they have seen in their children.
Encouraged by the program's impact, Santillan flinches a bit when he hears the word "success."
"It's just sobering to think about," he says. "I wish they didn't need to, but more and more students are using peer counseling. We've seen an increase in walk-ins.  We had more hospitalizations in the last school year.  The wheels are turning. So we're helping catch them."
"It would be great if we could double or triple the number of psychologists and counselors in our school," Santillan adds. "But if we want to reach all our kids who are in crisis, we will always need this program."
Get more from

We're here to help you succeed in your career, advocate for public school students, and stay up to date on the latest education news. Sign up to stay informed.