The U.S. general public is sharply divided over most public policy issues, including education. Still, according to the just-released 2020 PDK International Poll of the Public's Attitudes Toward the Public Schools, a strong majority say they want the federal government to take on more active role in helping school districts hire and retain quality teachers, make college more affordable, and fight discrimination in school.
"Americans tend to agree that we need to support our public schools," said Josh Starr, CEO of PDK International "Right now, we're all struggling to respond to the coronavirus. But even in the midst of the immediate crisis, we can't afford to lose sight of our long-term goals and commitments. Public education is the cornerstone of our democracy."
The PDK survey, now in its 52nd year, is conducted annually to gauge the general public's opinions on a variety of issues affecting public education. More than one thousand adults, including 206 parents of children in K-12 public schools, were surveyed this year.  It's important to note that the survey was conducted back in March, just as the nation's schools began to close down due to the coronavirus pandemic. Accordingly, rather than "revealing immediate reactions to the pandemic," Starr said, the survey "sheds light on gradual changes in Americans' beliefs and attitudes about the public schools."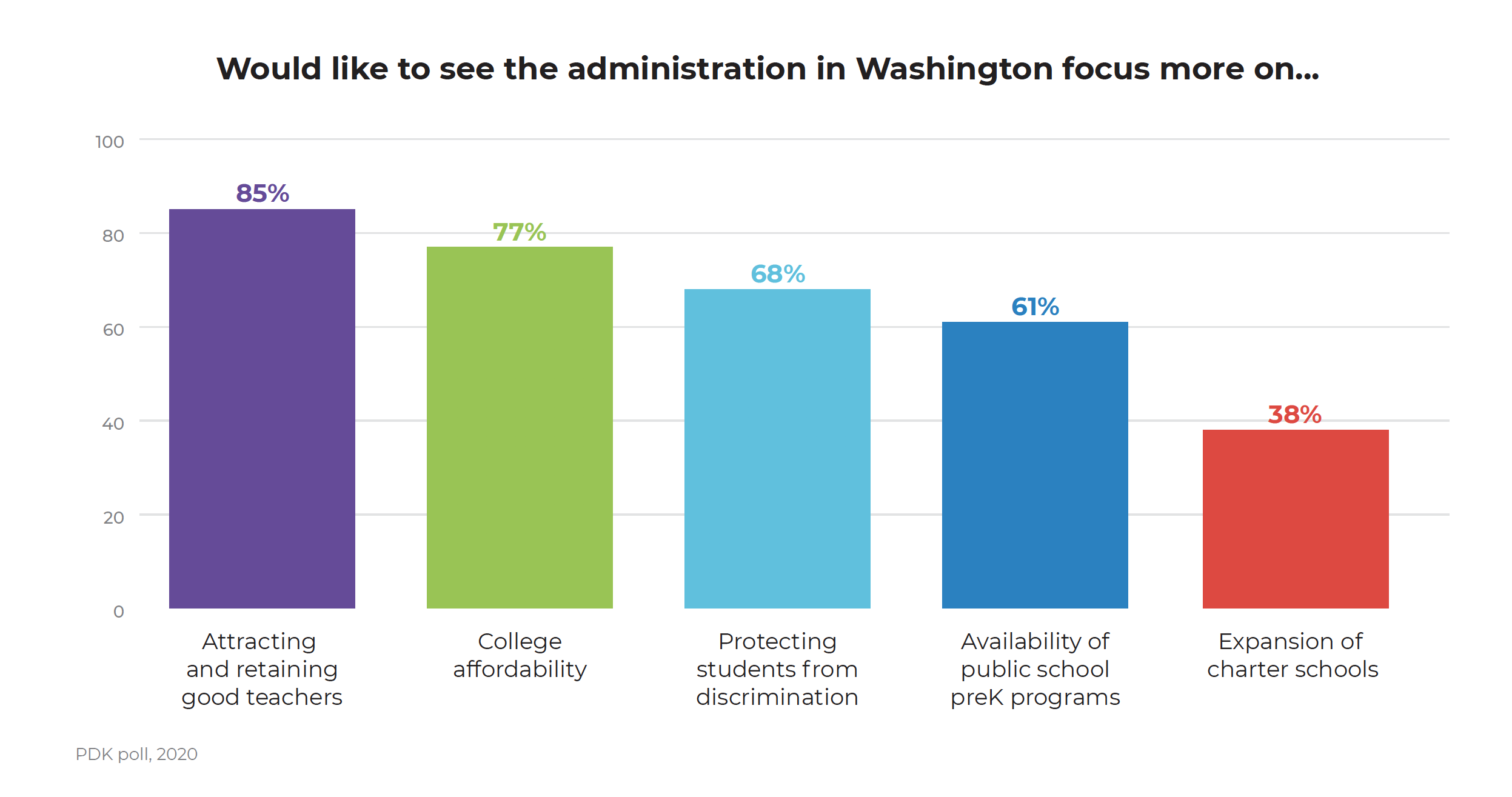 Because the survey was conducted during COVID-19's earlier stages, when asked to name the most pressing issue facing public schools, only 5 percent of the public (and 6 percent of parents) named the pandemic. School funding, bullying, and substance abuse were the top three. The percentage  for funding was only half of what is was in last year's survey - 13% compared to 27%. Obviously, as schools face crippling budget cuts from the recent economic collapse, concerns over funding have grown exponentially since March.
"There's no doubt that the coronavirus pandemic has thrown public education into a tailspin, but we can't lose sight of what's important to parents and the public in the long term, and that's having a quality teacher in a great school for every child," said Starr.
A slim majority of respondents say they disapprove of President Trump's performance in the area of education policy. Looking head to the election, six in 10 respondents said education will be "extremely or very important" in deciding how to vote, including a quarter who call it "extremely important." Among parents, that number rises to 7 in 10. For communities of color, education will especially important as they cast their vote.  Seventy-nine percent of Black and 71% of Latino respondents said it was highly important issue, compared to 52% of white respondents.
Additional highlights from the 2020 PDK survey:
Forty-one percent think the public schools in their community put too much emphasis on achievement testing, while 21% say the emphasis is not enough. Thirty-six percent think the current level is about right.
Large majorities across all demographic groups see e-cigarettes as a significant problem in their community's public schools.
Asked about the best way to teach reading and literacy - using phonics, whole language instruction, or the "balanced approach" combining both - roughly two-thirds of adults believe a balanced approach is most effective method.
Get more from

We're here to help you succeed in your career, advocate for public school students, and stay up to date on the latest education news. Sign up to stay informed.