Key Takeaways
Proponents of QAnon allege that Satan-worshipping pedophiles are secretly running the country, and they also have spread false information about COVID-19, Black Lives Matter, the recent election and more.
When they get elected to local offices, they endanger citizens because their potential decisions—around budget, safety, school curriculum and more—aren't grounded in reality.
Recently, retired teachers and students protested the election of a Michigan school board member who has tweeted her support for QAnon theories.
When retired teacher Patty Duffy opened TIME magazine last summer to read how members of QAnon are infiltrating and radicalizing local school boards, she was stunned to find one of her own Grand Blanc, Michigan, school board members featured.
QAnon theorists believe, among other things, that a shadowy cabal of Satan-worshipping pedophiles, including Pope Francis, Oprah Winfrey, and President Joe Biden, are secretly eating white children and taking over the world. Their neo-Nazi beliefs are anti-Semitic, purporting that wealthy Jews finance these pedophiles and control the media.
Additionally, despite bans on Facebook, Twitter, and TikTok, QAnon's promoters also are spreading false information online about COVID-19, Black Lives Matter, the Sandy Hook mass shooting, refugees and immigrants, and the presidential election.
Duffy couldn't believe these conspiracy theorists now have a voice in choosing curriculum for Grand Blanc students, buying their textbooks, hiring and training their educators, and more. "We have a wonderfully diverse district with African American students, Jewish people and more—and they're all at risk with Amy on the board," says Duffy.            
The Radicalization of Local Boards
This isn't just about Grand Blanc, a small suburb of Flint, Michigan.
In a small town in Washington State, the newly elected mayor calls QAnon, "a truth movement," and recently fired the town's skeptical city manager.
In coastal San Luis Obispo, California, a school board trustee's Facebook posts include a QAnon video, misinformation about COVID-19 and Black Lives Matter, and promotion of the ex-gay, conversion movement. She won, says the town's mayor, who is calling for her resignation, because "people had no idea this was going on," and didn't have the "bandwidth to research the school board election," reports the local newspaper, the Tribune.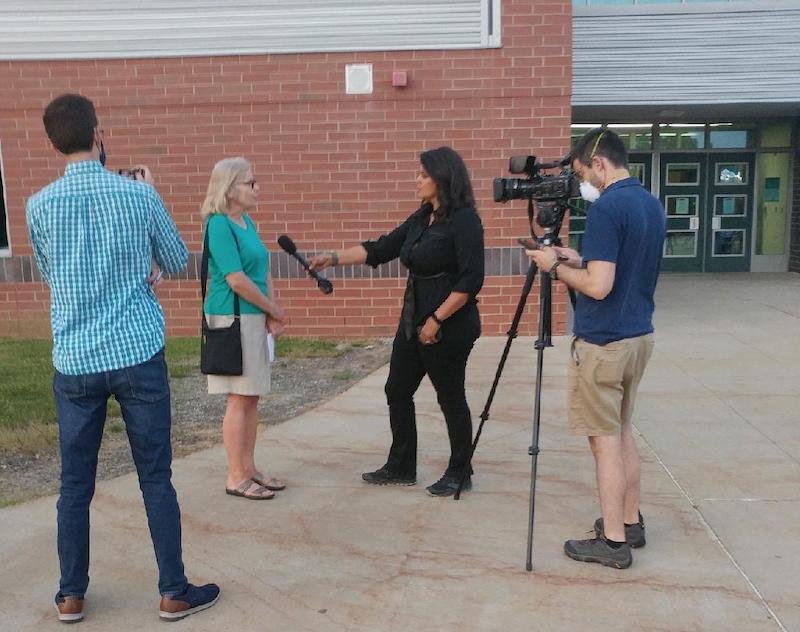 Meanwhile, in Florida, a newly elected county sheriff is now explaining why he posed for photos last year with a supporter in a "We are Q" t-shirt.   
Across the county, conspiracy theorists and proponents of fake news are winning local elections. And their new positions give them a powerful voice in everything from local law enforcement to libraries, trash pickup to textbook purchases.
"The long-term impacts are really dangerous," Jared Holt, a disinformation researcher at the Atlantic Council, told TIME this summer. "We're supposed to have our leaders make decisions based on shared sets of facts. If we decide [it's okay] for elected officials to believe in an outlandish byzantine conspiracy theory like QAnon, then the door is left open for that shared sense of understanding to further erode."
"This is Not What We're About."
In Grand Blanc, school board member Amy Facchinello won a 6-year term in November, with 26 percent of the vote. (There were four candidates for two seats.) Weeks later, a then-Grand Blanc High School senior, Lucas Hartwell, found her Twitter account.
"He documented her Twitter posts, brought them to a school board meeting and said, 'This is not what we're about!'" recalls Duffy.
In her tweets, now deleted but preserved in Hartwell's Twitter posts, Facchinello repeatedly shares QAnon videos and hashtags, adding comments like, "Excellent work Patriot!" One post shows an image of a fiery Q and her comment: "They can delete our YouTube Channels, our Facebook groups, Twitter accounts and links, but they'll never break our spirit or stop what is coming." Another post says, "Healthy people do not need and do not want to be tested for Coronavirus!"
Her views "give conspiracy theorists a voice," says Duffy. "It normalizes misinformation, promotes fear, and skews reality."
Across the county, conspiracy theorists and proponents of fake news are winning local elections. And their new positions give them a powerful voice in everything from local law enforcement to libraries, trash pickup to textbook purchases.
During her campaign, "[Facchinello] talked a lot about 'outside forces infiltrating our schools,'" says Duffy, including the 1619 Project, a Pulitzer-Prize winning journalism project that launched in 2019 to commemorate the 400th anniversary of the first enslaved Africans arriving in Virginia.
"Nobody in Grand Blanc teaches the 1619 Project, but she's afraid they will," says Duffy, who taught English for 35 years and now works as an adjunct professor at Mott Community College. "She doesn't want a fair view of American history—she wants a whitewashed one. She wants [a history] that looks like her."
If people had known what Facchinello really stood for, "I do not believe she would have been elected," Hartwell told local TV reporters. "What we have is a situation where someone who is completely detached from reality is making choices related to children's lives—and that's something that I just cannot get on board with."
Not a Partisan Battle
Last week, Duffy and Hartwell led more than 100 retired teachers, students and community members to protest Facchinello's presence on the board and call for her immediate resignation. Gathered outside Grand Blanc High School, they held signs that said such things as "Keep Q Out of Schools," or "You Already Destroyed the Capitol, Now Stay Out of the Schools!"
Michigan law requires voters to wait six months before recalling elected officials. If Facchinello doesn't resign—and she's said she won't—Duffy and others will kick off a recall effort this summer, says Duffy. "We want to make voters aware. The way forward is to outvote [the conspiracy theorists]," says Duffy.
This is not a partisan battle, she adds. "Amy's side claims we're trying to cancel conservatives. But she's not a conservative voice! There's nothing wrong about conservatives, progressives, whatever—you need these different voices on a school board," says Duffy. "We're not worried about conservative beliefs. We're worried about false beliefs. We need our school board to make decisions based on reality."
Learn More
Get more from

We're here to help you succeed in your career, advocate for public school students, and stay up to date on the latest education news. Sign up to stay informed.