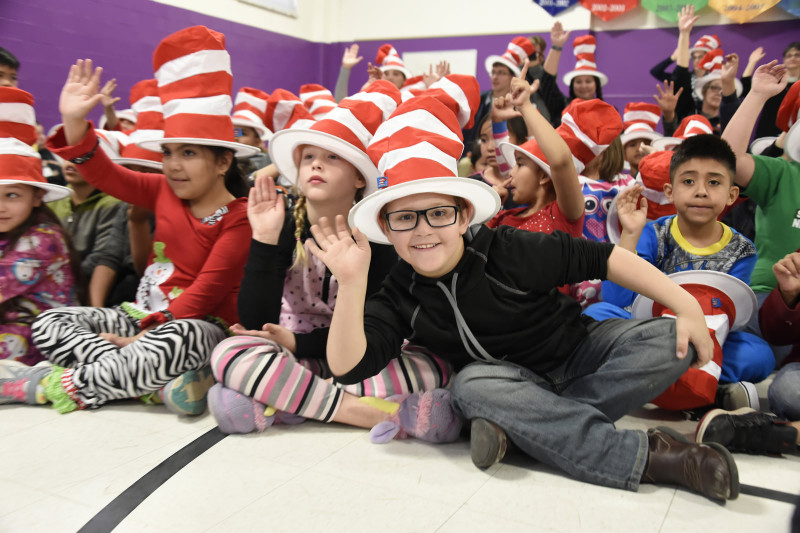 Set your sights to the sky! The National Education Association is taking flight with Southwest Airlines for this year's annual Read Across America reading program. Millions of students nationwide will pick up a book and set Seuss on the loose in honor of NEA's 19th Read Across America Day reading celebration and Dr. Seuss's birthday on March 2.
Once again co-sponsored by Dr. Seuss Enterprises, Read Across America engages an estimated 45 million educators, parents, and students nationwide with school and community celebrations from coast to coast. These events are designed to pay homage to the beloved children's book author and get young people excited about reading.
A six-city reading tour will kick-off Read Across America 2016.
"Every year on NEA's Read Across America Day, the imaginations of children across the country are ignited when they open up a good book," said NEA President Lily Eskelsen García. "While we take a fun and lighthearted approach to our Read Across America celebrations, we do so with a serious purpose in mind: to encourage a love of reading."
The Read Across America reading tour will board Southwest Airlines and make stops in:
Dallas, Tex. on February 26
Nashville, Tenn. on February 29
Phoenix, Ariz. on March 1
San Diego, Calif. on March 2
Denver, Colo. on March 3
Atlanta, Ga. on March 4
This year's featured book is Dr. Seuss' recently released What Pet Should I Get, which will be presented at the San Diego Humane Society on March 2nd. The party will feature activity stations that highlight pet adoption and the importance of pet responsibility.
The entire tour promises to be a fun-filled reading extravaganza, with surprise visits by the Cat in the Hat (the Read Across America mascot) and his friends, Thing 1 and Thing 2!
"This national celebration is not just about one hour or one day of reading, it is about cultivating a lifetime of good reading habits that will translate into academic success," added Eskelsen García. "NEA's Read Across America brings students, parents, educators, and the entire community together to share the joy of reading."
Photo: Brett Flashnick/NEA
Get more from

We're here to help you succeed in your career, advocate for public school students, and stay up to date on the latest education news. Sign up to stay informed.