Curbing the national teacher shortage depends a great deal on paying educators a professional salary.  Teachers are struggling to make ends meet, and the gap between their salaries and those in professions requiring similar levels of education turns many potential candidates away from the classroom.
Focusing exclusively on the "teacher pay penalty," however, underplays the complexity of the teacher shortage and the challenges school districts face in attracting and retaining quality educators.
Will a second or third year teacher decide to stay in the classroom if he is expecting a bump in salary the following year? Perhaps, but suppose the barriers to student learning are accumulating, encouragement and support from the administration is scarce, or classroom autonomy has been stripped away.
These are just some of the factors that determine the quality of the work environment or "school climate."  An unduly stressful and taxing school climate erodes job satisfaction and morale, driving a growing number of teachers out of the profession.
Which is why improving the working and learning environment in schools has been a centerpiece of the #RedforEd movement. Educators across the nation are hitting the streets to demand increased funding for the kinds of resources and supports that improve teaching conditions and foster greater student learning.
According to a new study by the Economic Policy Institute, (EPI) more than half of teachers do not feel supported in their jobs, and 25%  consider leaving the profession as a result. The study is the fourth in EPI's series looking at the trends - challenging working environment, low pay, lack of professional development opportunities, and the diminished status of the profession - that have undermined the teacher labor market.
"The teacher shortage is a growing national crisis that needs to be addressed in a comprehensive manner," said EPI research associate Elaine Weiss. "Obviously compensation is a major part of the issue, but improving teaching environments would go a long way toward helping teachers feel more supported."
Analyzing data from the U.S. Department of Education's National Teacher and Principal Survey, Weiss and EPI economist Emma Garcia identify several factors that shape school climate, including barriers to student learning, administration support, autonomy in the classroom, a voice in school policy decisions, and job stress and personal safety.
Specifically, half of teachers reported not feeling a great deal of support or encouragement from the administration, and 6 out of 10 said cooperation and collaboration among staff at their school was lacking.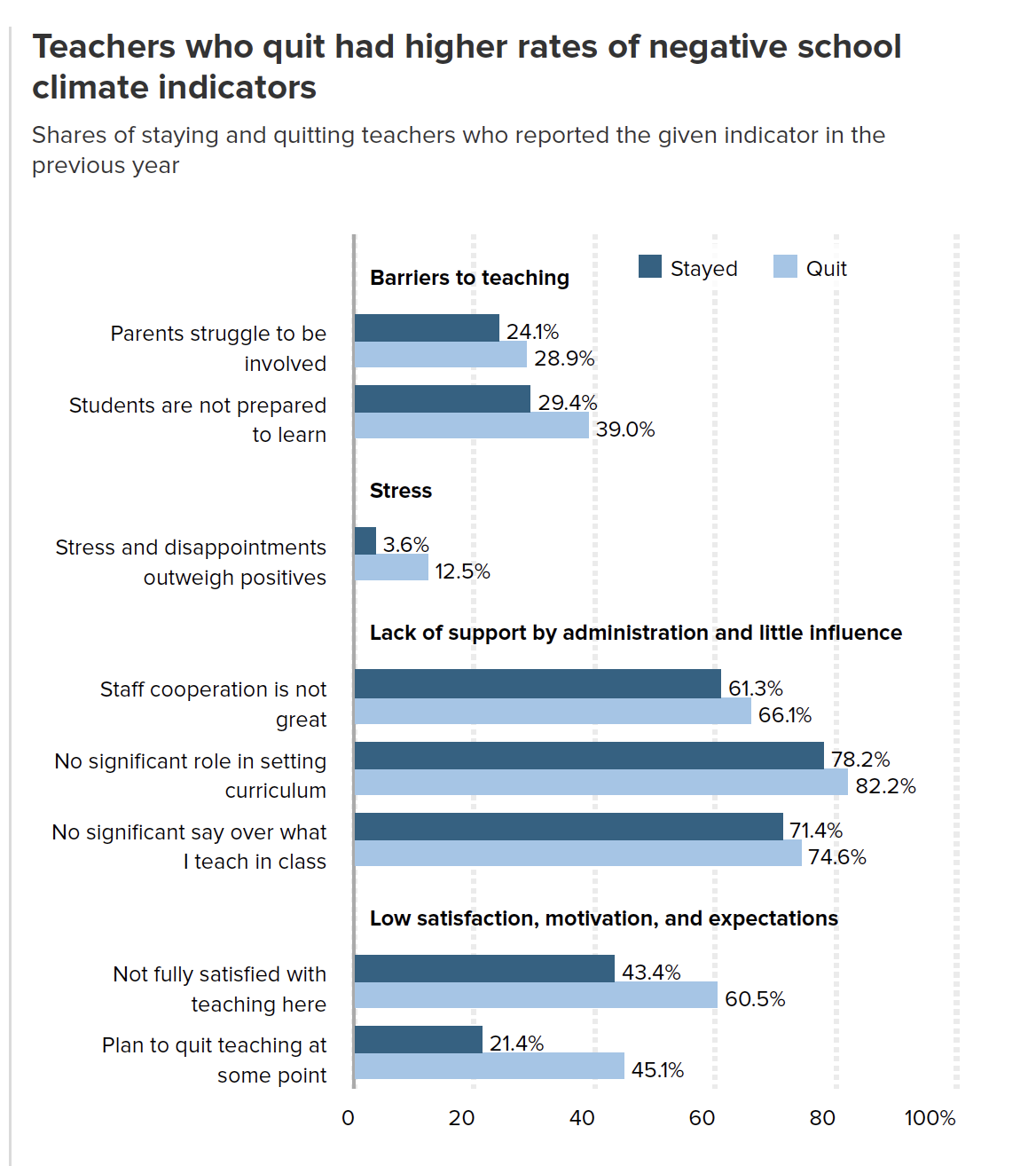 Over one in four teachers also reported that poverty was a "serious problem" challenging their ability to teach and their students' learning. And roughly a quarter said that students' unpreparedness to learn and parents' struggles to be involved were also serious problems.
These challenges are widespread, the report finds, but are felt most severely in high-poverty areas.
For example, in low-poverty schools, only 12% of teachers report that student come to school unprepared to learn. That number triples to 38% in high-poverty schools. A wide gap also can be found in parental involvement. Only 9% of teachers in low-poverty schools report it as a serious barrier, compared to 31% in high-poverty schools. Student apathy, absenteeism, poor health, and class-cutting are all seen as greater problems in high-poverty schools.
On other factors, the gap is narrower. Teachers in all schools believe they lack any sort of voice in shaping curriculum, setting performance standards for students, devising discipline policies, or evaluating teachers.
The impact of school climate on the decision to stay or exit the profession is real.
Across the board, the EPI report said, "teachers who quit the profession were more likely to have reported, in the year before they quit, feeling stressed, unsatisfied, unsupported, and not involved in setting school or classroom policies."
Despite their substantial training, expertise, and ability to deal with everyday challenges of the job, said Garcia, educators can be expected to do so much to improve working conditions. The focus needs to be on reversing the chronic underfunding of schools and elevating the status of the profession.
"Schools' climates are shaped by rising poverty, ongoing racial and economic segregation of schools, and insufficient public investments," García explained. "Because these larger societal forces contribute to deteriorating working environments in schools, they can't be blamed on students or parents. Rather, improving the funding and resources to counter them should be made a priority."
Learn More
Get more from

We're here to help you succeed in your career, advocate for public school students, and stay up to date on the latest education news. Sign up to stay informed.