Key Takeaways
Student social and emotional needs have risen exponentially during the pandemic.
Counselor and social worker caseloads have increased dramatically, even as staff shortages force educators to take on new responsibilities.
The American Rescue Plan is providing schools with desperately needed resources, including mental health services.
In the halls of Milton Elementary School in Delaware's Cape Henlopen School District, social worker Gloria Ho is known for her warm greetings and her exhaustive efforts to help students in need. Ho's colleagues describe her as exceedingly energetic and eternally upbeat, but these days, she sometimes feels dispirited.
"I've been doing this for 23 years, and it's never been like this," she says, stepping away briefly from a hectic morning at work, where she now addresses four to five student and family crises daily.
"I can't always see students I have scheduled because I'm so often responding to a crisis, and frequently I'm unable to call parents and service providers back or respond to email until after the school day has ended," Ho says. "I know all educators are facing this. It's just so frustrating to struggle to meet the need."
Ho echoes the experiences of school social workers, counselors, school nurses, and other specialized instructional support personnel across the country. Overworked and underpaid, they often lack the necessary resources to address students' social and emotional needs.
A Tsunami of Student Trauma
For Ho and the one other counselor in her rural school, caseloads have always outstripped their capacity. But when the pandemic struck, a river of need turned into a tidal wave: Parents lost jobs, family members became sick, and kids struggled to learn and cope with isolation.
"We…are the important bridge between home, school, and community," Ho says. And the needs became overwhelming. 
Supporting the School Community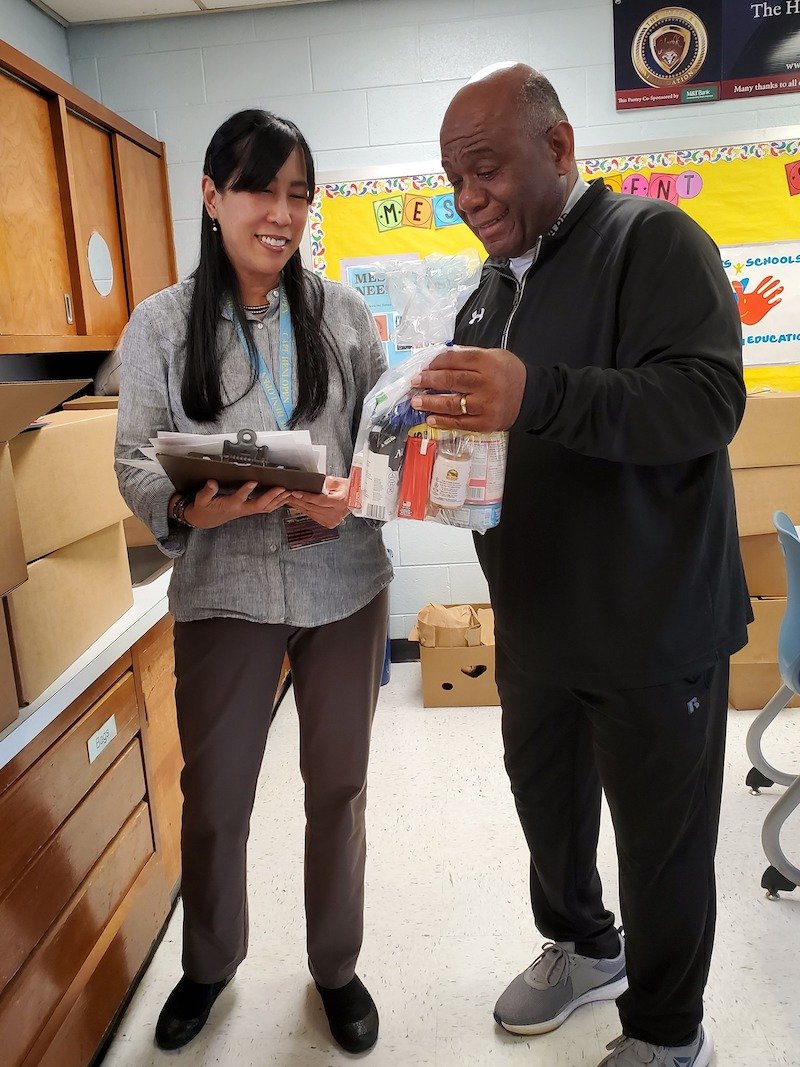 Before the pandemic, Ho opened a community food pantry at her school as well as a "basic needs closet," with everything from school supplies and basic hygiene items to winter clothing. She even provides kids with a weekly backpack of healthy foods to take home.
She has also co-founded the new School Social Workers Association of Delaware. The group teamed up with Ho's NEA state affiliate, the Delaware State Education Association, to successfully lobby for legislation requiring that one social worker and one counselor be assigned for every 400 students in each school, with the caseload dropping over time to 250. That was a huge step forward!
But now, she has an even bigger concern: the dire shortage of well-trained educators, including teachers and support staff. Ho's days are often spent in the classroom and around the school, filling in for sick teachers, which leaves her even less time to provide mental health support for students.
NEA Advocacy Helps Bring Relief
Ho hopes her school will receive desperately needed resources through the Biden administration's American Rescue Plan, which received early and strong support from NEA. The legislation provides districts with funds to address learning loss and bolster mental health and social services.
"Because of the American Rescue Plan, the lives of America's students, educators, and their families will improve in significant ways—including the nearly $170 billion dedicated to public schools and colleges, more than $7 billion to help address the digital divide, the $350 billion in local and state aid to keep frontline workers, including educators, on the job," said NEA President Becky Pringle, who met with Ho this fall on her national "Joy, Justice, and Excellence Tour" of public schools.
For Ho, the needs are urgent. "After consecutive years of pandemic, [students] just don't have the stamina. The frequency and intensity of mental health issues is dramatic, and the number of suicide risk assessments has been unprecedented," she says.
Students are unable to focus on their work, many are acting out in class, and sometimes fights break out.
"I know it will get better—for everyone. It is such a challenging time for us all, but I believe schools are bearing the brunt of it, and I'm glad to see the needs are being addressed. It can't come soon enough."
Learn More
American Rescue Plan Checklist
The American Rescue Plan can fund our schools' most critical needs. Help us rank what the funding priorities should be in your state and district to share with lawmakers.
Get more from

We're here to help you succeed in your career, advocate for public school students, and stay up to date on the latest education news. Sign up to stay informed.