At least four staff members have tested positive for COVID-19 at Athol Elementary School in Worcester County, Mass., with the school set to reopen for in-person instruction in mere weeks. After a notice about the cases was posted on the school's Facebook page, parent comments started pouring in.
"So scary. Our children aren't even back in school yet and it's already starting in the schools. Terrifying," said one parent.
"All schools should be shut down throughout the country. Just too risky. I fear for my children's safety. I'm doing home schooling," wrote another.
Meanwhile, a mile away at Athol High School, a report about its HVAC system was released. The ventilation system, original from 1957, failed every test.
According to the report, the system was found to be "inadequate and nonfunctioning." Fresh air vents were blocked with insulation, classroom exhaust fans had defective motors and controls, zone valves were removed or defective, and fresh air dampers that allow outside air in to circulate had been disconnected or were defective.
"Given the above deficiencies, this leaves the school with no active functioning ventilation and zero percent air exchange per hour," the report found.
Study after study has shown that the coronavirus spreads most rapidly in poorly ventilated areas, let alone inside hallways and classrooms like those in Athol High School with absolutely no ventilation.
It's not just a problem at Athol, but throughout Massachusetts and across the country, says Jean Fay, a special education paraprofessional from Amherst, Mass., and a member of the Massachusetts Teachers Association (MTA) Environmental Health and Safety Committee.
"Poor ventilation inside schools is extremely prevalent, especially in older buildings," she says.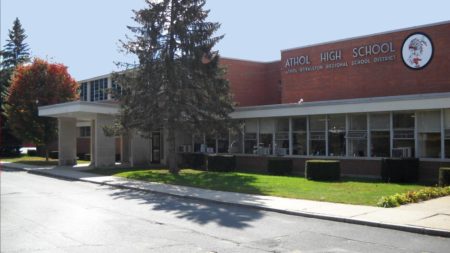 A recent assessment of the ventilation system at Athol High School concluded that the school "has no active functioning ventilation."
In fact, the U.S. Government Accountability Office said in a report in June that to prevent the spread of the coronavirus when inside schools, more than 41 percent of school districts need to update or replace their heating, ventilation, and air conditioning systems in at least half of their buildings.
It's an unlikely proposition, says Fay's colleague Kevin Enos, a Franklin, Mass. science teacher and fellow member of MTA's Environmental Health and Safety Committee.
"Older buildings make up the lion's share in Massachusetts, as they do in many areas around the U.S., and schools just don't have the financial resources to fix them," Enos says. "It's not a question of the willingness of districts, it's about the financial ability. The federal, state, and local governments are not putting in the money necessary, but I am sure they wouldn't want go to work in a building with this kind of air quality."
Fay agrees. She says it's "appalling" what we expect students and staff to endure in terms of building quality, yet with schools so drastically underfunded year after year, HVAC systems are not at the top of the list for investment.
For years, students in older buildings have contended with mold, leaky ceilings, and frequent colds and flu as well as increased asthma rates from poor air circulation and lethargy from high CO2 levels.
Fay works in a relatively well-funded district in Amherst and even in her school they've had to move kids' desks and place trash cans to catch water under leaks whenever it rained. Because of mold, she had pneumonia two years in a row. When she moved to a different classroom, her health "mysteriously" improved.
"Unfortunately, it took a pandemic to point out that air quality is critical for the health of those who occupy a building," she says. "And it is absolutely necessary for fighting the spread of the coronavirus."
Low Cases in A Community Doesn't Always Indicate Low Risk
Last week, the Massachusetts Department of Elementary and Secondary Education sent a letter to superintendents suggesting how the state's new color-coded coronavirus map should play a role in school reopening decisions.
Governor Charlie Baker unveiled the color-coded map identifying community risk with the colors red, yellow, green and white, with red being the highest risk and white the lowest.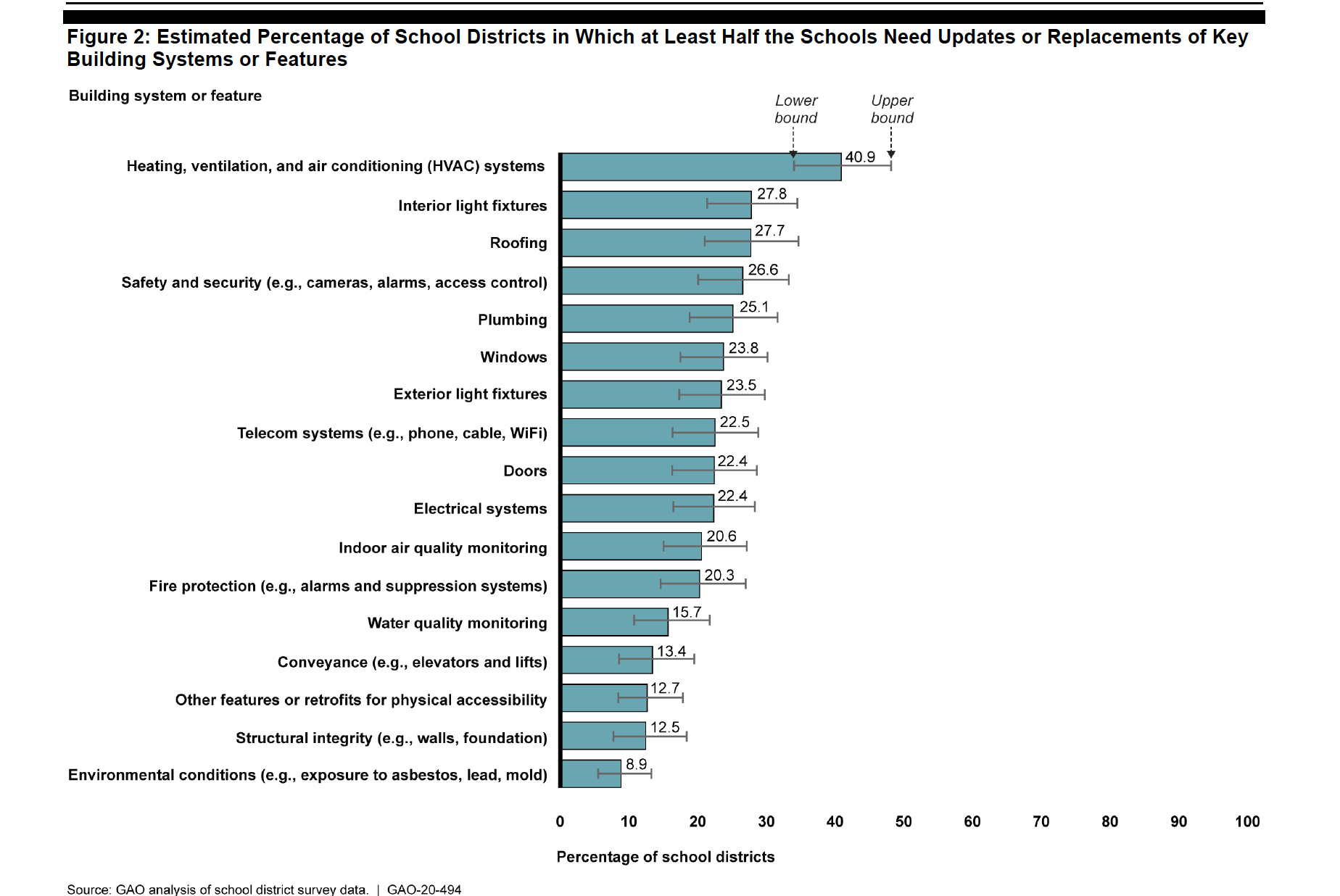 A letter from the Education Commissioner Jeffrey Riley to school leaders said that red would mean remote learning, yellow a hybrid version, and green and white would be full-time, in-person classes.
That plan, however, presupposes that kids or staff in a red area aren't interacting with those in a white area.
"We don't live in bubbles and you can't close the borders between towns," says Fay, pointing to cases where some staff might work in a white area but live with their family in a red area.
The Athol school districts where four coronavirus cases were identified and the high school ventilation system is nonfunctional are in a white zone. With the schools set to reopen for in-person classes, Athol Teachers Association President Mary Grutchfield said, "We're going to address the School Committee on Wednesday, and implore they take a re-vote on the reopening of school."
Before Opening Request an HVAC Assessment at Your School
Fay acknowledges that educators are in information overload as they try to navigate and plan for technical issues, PPE supplies, sanitation, transportation, and meals.
"Now they have to be HVAC and ventilation experts, with all the intricacies and the legal aspects that go along with that?" she says. "It's not feasible."
Fay and her committee colleagues have held several virtual meetings with NEA members and school leaders to explain what is necessary based on recommendations of the CDC and the American Society of Heating, Refrigerating and Air-Conditioning Engineers (ASHRAE).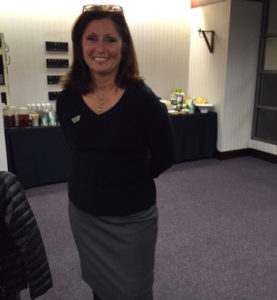 Jean Fay
Among the many recommendations, districts should increase ventilation with outdoor air and ensure that the air exchange rate is set at the minimum standard set forth by ASHRAE; increase air filtration by upgrading filters to MERV-13 or higher, if possible, and ensure that air filters are properly fitted and installed; ensure that indoor C02 levels are at or below the recommended standard; maintain relative humidity between 40-60%; and ensure that there is regular maintenance and inspection of HVAC systems.
Filtering and circulating indoor air with fresh air is critical to reducing airborne virus, Fay explains.
Educators should also ask about plans for nurse's offices and isolation rooms, Fay says. As schools prepare to reopen, they have announced plans to create isolation areas for any COVID-19 cases that occur during school hours. Air quality and ventilation is even more critical in these areas.
Isolation rooms should have a dedicated HVAC system and prevent that air from mixing with any other spaces in the school.
Unfortunately, much of this is impossible with outdated systems, which is why remote learning is necessary until the air and ventilation issues are resolved. And it's not safe to say that we don't need these precautions because kids are spared from the virus and don't spread it easily.
"There is so much that is unknown about the coronavirus," Fay says. "Kids haven't been in school or camp so they haven't been exposed to that many people for months. And we are seeing cases in kids going up around the country. We cannot be complacent. It's dangerous to make statements about how COVID-19 affects kids when we don't know for sure."
Fay and all educators are eager to resume in-person learning. That is how education is supposed to be conducted. But our greatest priority is to keep students, families, and the entire school community from harm.
"If anyone wants to say that educators are pushing too hard for us to go remote, by all means, blame me if that keeps us safe," she says. "I'm in a high-risk group age-wise. I would rather be considered a selfish educator than a dead martyr."
Get more from

We're here to help you succeed in your career, advocate for public school students, and stay up to date on the latest education news. Sign up to stay informed.